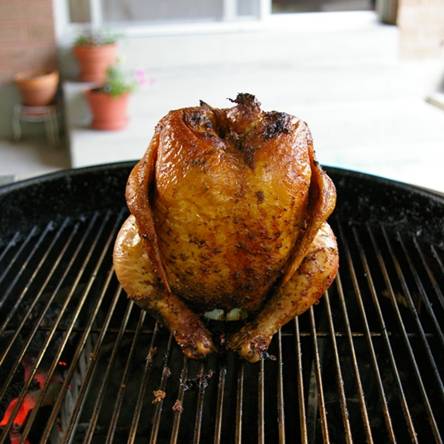 Last summer at a yard sale my husband found a cookbook called
"A Man, A Can, & A Grill"
. It was like a beacon to my grill-loving husband! If you knew my husband you would know that he had no choice but to buy the book.
What could be better than meat cooked on the grill with soda pop? To him, very little! I must admit that I chuckled at his excitement over his bargain find, but I wasn't chuckling when I got a night off in the kitchen and he made a deliciously tender chicken meal with cherry soda.
Besides the flavor and tenderizing it can bring to meat, canned pop can add wonderful flavor to baked goods as well. There are so many flavors to choose from and diet options in almost all of them. My husband is much more likely to indulge in a wonderfully flavored steak while my guilty pleasures definitely rest in baked goods. With soda pap cooking we can both endulge in some new, fun, and flavorful recipes just for our tastes!
Here are a few recipes with something for everyone!
Beer Can (or Soda) Chicken
This delicious chicken dish is also called beer butt chicken. The method involves placing a can of liquid up into the cavity of the chicken, then roasting. The liquid inside the can boils forcing flavor up and through the meat. Try experimenting with various fruit juices or fruity sodas in the can instead of beer. Tomato paste cans work for cornish hens. You can purchase can stands to make the bird more stable. This method may also be used in the oven, but do not attempt to smoke food indoors.
1 can (12 ounces) beer
1 chicken (31/2 to 4 pounds)
2 tablespoons All-Purpose Barbecue Rub (recipe link below) or your favorite commercial rub
2 teaspoons vegetable oil
You'll also need: 2 cups wood chips or chunks (preferably hickory or cherry), soaked for 1 hour in water and/or beer to cover, then drained.
Pop the tab off the beer can. Pour half of the beer (3/4 cup) over the soaking wood chips or chunks, or reserve for another use. If cooking the chicken on the can, using a church key-style can opener, make 2 additional holes in its top. Set the can of beer aside.
Remove the packet of giblets from the body cavity of the chicken and set aside for another use. Remove and discard the fat just inside the body and neck cavities. Rinse the chicken, inside and out, under cold running water and then drain and blot dry, inside and out, with paper towels. Sprinkle 1 teaspoon of the rub inside the body cavity and 1/2 teaspoon inside the neck cavity of the chicken. Drizzle the oil over the outside of the bird and rub or brush it all over the skin. Sprinkle the outside of the bird with 1 tablespoon of rub and rub it all over the skin. Spoon the remaining 1-1/2 teaspoons of rub into the beer through a hole in the top of the can. Don't worry if the beer foams up: This is normal.
Hold the bird upright, with the opening of the body cavity at the bottom, and lower it onto the beer can so the can fits into the cavity. Pull the chicken legs forward to form a sort of tripod, so the bird stands upright. The rear leg of the tripod is the beer can.
Tuck the tips of the wings behind the chicken's back. Set up the grill for indirect grilling and preheat to medium. If using a charcoal grill, place a large drip pan in the center. If using a gas grill, place all the wood chips or chunks in the smoker box or in a smoker pouch and preheat on high until you see smoke, then reduce the heat to medium.
When ready to cook, if using a charcoal grill, toss all of the wood chips or chunks on the coals. Stand the chicken up in the center of the hot grate, over the drip pan and away from the heat. Cover the grill and cook the chicken until the skin is a dark golden brown and very crisp and the meat is cooked through (about 180 degrees F. on an instant-read meat thermometer inserted in the thickest part of a thigh, but not touching the bone), 1-1/4 to 1-1/2 hours. If using a charcoal grill, you'll need to add 12 fresh coals per side after 1 hour. If the chicken skin starts to brown too much, loosely tent the bird with aluminum foil.
Using tongs, hold the bird by the can and carefully transfer it in an upright position to a platter.
Present the bird to your guests. Let the chicken rest for 5 minutes, then carefully lift it off its support. Take care not to spill the hot beer or otherwise burn yourself. Halve, quarter, or carve the chicken and serve.
Yield: 2 to 4 servings
Cherry Coke Ham
Take one whole ham, scored, then add whole cloves in the scored areas.
Use 1 cup dark brown sugar patted on to ham. Reserve about 2/3 cup.
Add 1 1/2 liter of Cherry Coke®. Pour some over the brown sugar slowly. When some of the sugar washes off, add the rest of the brown sugar.
Bake at 350 degrees for 45 minutes.
Let cool, remove cloves and slice when cool.
Take the liquid that is left and freeze until the next time you cook a ham.
The ham will be very moist and delicious.
Submitted by Darlene Woods of Essexville, MI
Limelight Steak BBQ
2 large T-Bone steaks (or other select cut suitable for barbequing)
Marinade:
2 cans Coca-Cola with Lime™
6 cloves fresh minced garlic
3 tablespoons Worcestershire Sauce
2 teaspoons seasoning salt or steak seasoning
Fresh ground black pepper
Using a fork, pierce each steak several times on both sides and place in a shallow glass banking pan. (Do not use stainless steel.) Sprinkle steaks with seasoning salt and fresh ground black pepper. Pour Worcestershire Sauce over steaks and add garlic. Turn steaks over to ensure they are well coated with seasonings.
Pour Coca-Cola with Lime over steaks to completely cover. Cover pan with plastic wrap. Refrigerate for 2 hours, turning steaks after the first hour. Discard marinate and BBQ steak to desired doneness.
Cracker Barrel Coca Cola Cake
Jill Greenwood
Winnipeg, Manitoba, Canada
This cake is to die for!!!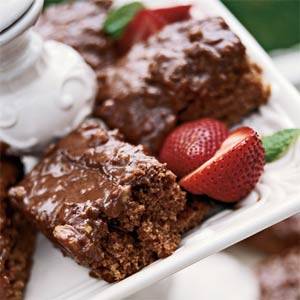 1 Stick Butter
1 cup Coca Cola
3/4 cup Miniature Marshmallows
1 Square Semi Sweet Baking Chocolate
1/2 cup Shortening
1/2 cup Vegetable Oil
3/4 cup Cocoa
2 Eggs
1/2 teaspoon Salt
2 teaspoons Vanilla
3/4 cup Buttermilk
2 cups Sugar
2 1/3 cups Flour
1 teaspoon Baking Soda
1 1/2 teaspoon Baking Powder
Frosting:
1 Stick Butter
1/2 cup Cocoa
1/4 cup Coca Cola (plus 2-3 Tbsp. if needed)
3 cups Powder Sugar
1 teaspoon Vanilla
1/4 cup Hershey's Chocolate Syrup
Place in a sauce pan butter, coke, semi sweet baking square and bring to a boil remove from heat and add marshmallows and stir until all is blended and the marshmallows are disappear. Set aside to cool enough to tepid or room temperature.
In mixing bowl blend the shortening, oil, vanilla and sugar until fluffy. Add eggs and buttermilk and beat until smooth. Mix flour with baking soda, cocoa, baking powder and salt, add half of flour mixture to shortening, egg mixture, and beat. Scrape bowl time to time to clean the sides off so ingredients are blended in batter. Add cooled coca cola mixture and beat. Add remainder of flour and beat until completely smooth about 3 - 4 minutes. Batter will be thick.
Place batter into a 13" x 9" x " 2 oiled and floured baking pan. Set pan on top shelf in a preheated 350 degrees oven for 35 - 40 minutes. Check for completed baking time with a toothpick. If the toothpick comes out clean by sticking in the middle of the cake it is time to come out of the oven and cool.
For Frosting:
Cream butter, add cocoa, vanilla, Hershey's Syrup, and coca cola, beat until smooth. Add powder sugar a little at a time and beat constantly. Scrape the sides of bowl time to time to get all ingredients into the frosting. If the frosting seams a little dry add a little more coca cola and beat well.
Frost warm cake. Serve with natural vanilla bean ice cream and enjoy.
Serves 10.
Amazing Diet Soda Cake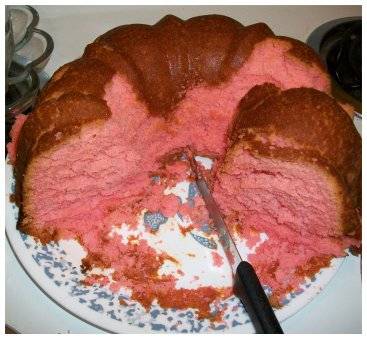 1 yellow cake mix, 18.5 ounce package
12 fl oz diet 7 Up soda , equal to 1 can
1 oz whipped fat-free topping (Cool Whip, optional)
1) Spray 13 X 9 cake pan with cooking spray. In large bowl, mix together both ingredients. Carbination will make it expand. Pour into pan and bake as directed on the box.
2) Add diet Cool Whip if desired.
Serves 12.
Try These Variations!!!
Vary this recipe by using Diet Coke with a chocolate cake mix, or Diet Orange with a white cake mix. Use your imagination!
Check out this site by Coca Cola for even more fantastic
soda pop recipes
using their products!
---
* DVO welcomes your kitchen hints and cooking or nutrition questions! Email us and we'll post your hints and Q/A's in upcoming newsletters! *