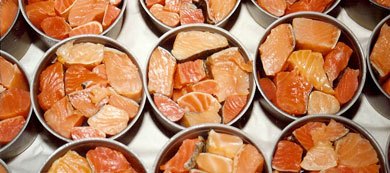 Canned salmon provides high quality protein and is full of heart-healthy omega-3 as well as vitamin B12. The delicate, edible bones are readily digested and rich in calcium and magnesium. In fact, canned salmon is one of the most calcium rich, non-dairy foods available.
Because of the rising levels of environmental contaminants, it is a good idea to eat no more than 2 servings of fish each week. Since canned salmon is usually canned from wild salmon it is very low in heavy metals and pesticides, making it a quick, healthy, and delicious way to get in the 2 recommended servings of fish each week.
Here are some savory salmon dishes you can whip up in a snap!
Alaskan Salmon Melts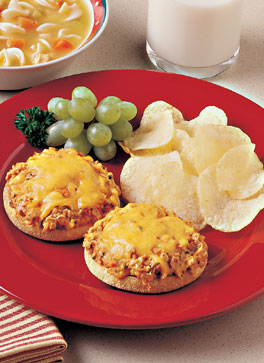 1 (14.75 ounce) can salmon
1/3 cup low-fat mayonnaise
1 teaspoon dried parsley
1 1/2 teaspoons lemon juice
1/2 teaspoon seasoned salt
1/4 teaspoon celery seed
1 cup cheddar cheese, divided
4 english muffins, split
Spread:
Mix salmon with mayonnaise, parsley, lemon juice, seasoned salt, and celery seed. Stir in 1/2 cup cheese.
Sandwich:
Set oven to broil. Lightly toast cut side of muffins on baking sheet about 5 inches from heat. Spoon 1/4 cup salmon mixture (for 8 servings) or 1/3 cup (for 6 servings) onto each toasted muffin half. Top with remaining cheese. Broil 3 to 4 minutes until cheese melts and is lightly browned.
Variations:
Substitute shredded pepper-jack OR Swiss cheese for Cheddar. Makes 8 servings.
Salmon, Artichoke and Bean Salad
1 jar (14 oz.) marinated, quartered artichoke hearts
1 jar or can (16 oz.) marinated bean salad
1 1/2 teaspoons Dijon-style mustard
1/2 teaspoon ground cumin
1 can (14.75 oz.) or 2 cans (7.5 oz. each) traditional pack Alaska salmon OR 2 cans or pouches (6 to 7.1 oz. each) skinless, boneless salmon, drained and chunked
1 package (10 oz.) ready-to-eat salad greens or spinach leaves
Dressing: Drain liquid from artichokes and beans into a small bowl or pitcher. Blend in mustard and cumin. Salad: In separate bowl, combine beans, artichokes, salmon and dressing. Portion 2 cups greens onto each of four plates. Top each plate of greens with 1-1/4 cup salmon mixture.
Easy Salmon Cheese Dip
1 can (10 oz.) Cheddar Cheese Soup
1 tablespoon chopped chives
1 tablespoon finely chopped Spanish onion
Pinch each: paprika, salt, pepper
1 small can salmon
Parsley for garnish
Combine soup, chives, onion, paprika, salt and pepper in a microwave safe bowl. Microwave on high for 2 minutes or until bubbly. Flake and fold in the salmon gently. Garnish with fresh parsley. Serve with toasted pita bread or crackers.
---
If you have any additional tips that you'd like to add, please post them on the
Cook'n Club Forum
(if you're a
Cook'n Club Member
)...or e-mail them to
Dan@dvo.com
.
---
Join the Cook'n Club!An unbeatable value with exclusive benefits for members only.
Enjoy articles like this and many other benefits when you join the Cook'n Club.
---