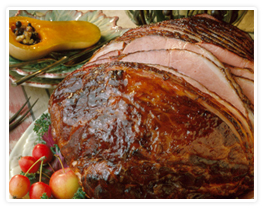 With the Easter season just around the corner you may already be thinking about a traditional ham or maybe a pork loin roast. A new twist on an old tradition could be an apricot glaze, a honey mustard sauce or a plum sauce. Even in keeping with Easter traditions, its fun to make the ordinary a little extraordinary.
Tip:
When I make pork tenderloin, I brown it in a cast iron skillet with my choice of seasonings in a little olive oil until both sides are brown. This is called searing and it holds in the juices. Then I add a lid or tin foil and place the meat in a 350 degree oven and finish cooking. The meatís temperature should reach about 165 degrees. This is one of the best and easiest meats you will ever prepare.
Another way to cook pork loin is to place the meat on a wire rack in a pan and lay bacon over the top of it and bake it until the internal temperature of the meat reaches 165 degrees. The bacon adds flavor and juice but the dripping are brought to the bottom of the pan because of the wire rack.
Apricot Glaze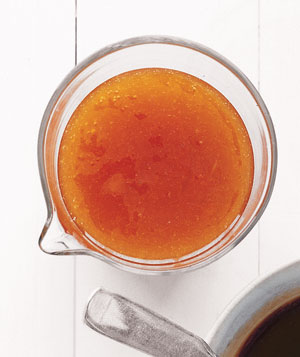 This is impressive on a ham or pork tenderloin.
Ĺ cup apricot preserves
Ĺ cup honey
1 Tablespoon cornstarch
4 Tablespoons lemon juice
1 Tablespoons zest of lemon
ľ teaspoon ground cloves
Combine ingredients in a saucepan over medium heat, stir until thick and bubbly. Spoon glaze over ham or pork tenderloin and baste during last 30 minutes of baking.
Honey Mustard Sauce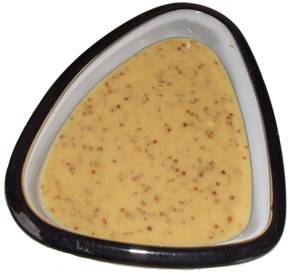 This sauce is delicious drizzled over roasted asparagus. People will also take notice if you serve this over a pork roast. Thicken this sauce up with a little sour cream or low fat mayonaise and serve it on your sandwich. Definitely low fat!
2/3 cup plain nonfat yogurt
1 cup fresh lemon juice
2 Tablespoons Dijon mustard
1/2 teaspoon apple cider vinegar
1 Tablespoon honey
1 Tablespoon minced garlic
1 teaspoon curry powder
Whisk together all the ingredients in a bowl.
Plum Crazy Sauce
This plum sauce is for those of you who are plum crazy! This is great on ribs, pork, beef or chicken.
1 12-ounce jar plum preserves (you can use plum jam)
2 Tablespoons vinegar
2 Tablespoon brown sugar
1 Tablespoon finely grated onion
1 teaspoon crushed red pepper
1 clove garlic, minced
ľ teaspoon ground ginger
In a small saucepan, combine all the ingredients and bring to a boil, stirring constantly. Remove from heat; cover and cool. Let refrigerate for a couple of hours.
Strawberry Sauce
This sauce on shortcake is sure a sweet Easter treat. Also, serve cold on ice cream and warm on French toast.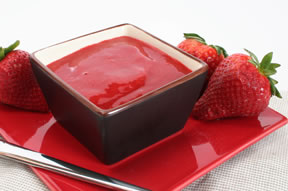 3 cups fresh strawberries
1/2 cup sugar
1/4 cup water
1 Tablespoon cornstarch
1/8 teaspoon salt
1 teaspoon butter
Wash and hull strawberries; crush 1 cup strawberries in a blender or by hand. Slice remainder and set aside. Combine crushed berries, sugar, water, cornstarch, and salt. Cook over medium heat, stirring constantly until mixture thickens and boils. Boil and stir for 2 minutes. Take off heat and add butter and sliced strawberries.
If you donít feel like strawberry shortcake, serve warm on French toast or cooled on icecream. Refrigerates well.
---
* DVO welcomes your kitchen hints and cooking or nutrition questions! Email us and we'll post your hints and Q/A's in upcoming newsletters! *