We love to grill at the Rhoadesí house, but often when my husband grills he makes it an event. He loves to serve several dishes and really get the most of his new grill. The best thing we have learned since he started cultivating this love for all things grilled is that the grill isnít just for burgers, hot dogs, and steaks. You can make fantastic vegetables right there on the grill! Who knew? Okay, so most of you probably knew, but I was excited to share none the less.
For many vegetables the trick is cutting them into an appropriate size that they will cook in just a few minutes. You donít want things slipping through the grates, but you also donít want it taking an hour to cook through so following some simple guidelines can help you achieve perfect veggies with fantastic flavor all from your grill. Here are some specific ideas for making your grilling your vegetables:
Asparagus:
Cut off ends. Soak in water for 30 minutes to an hour (to keep from drying out whole on the grill). Pat dry and brush with olive oil. Place on grill, turning every minute. Remove when tips start to turn brown. You can add some extra flavor to asparagus by mixing a little sesame oil in the olive oil before you brush them.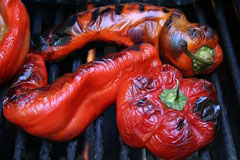 Bell Peppers:
Cut through the middle of the pepper top to bottom. Remove stems, seeds and whitish ribs. Brush lightly with oil and grill for 2-3 minutes on each side.
Chili Peppers:
Brush with oil. Grill whole on each side, 2-3 minutes. To reduce the heat, cut off the stems and pull out the seeds.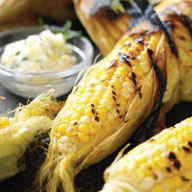 Corn on the cob:
Gently pull back the husks but don't remove. Remove the silk and cut off the very end. Soak in cold water for about 30 minutes. Dry and brush with butter. Fold the husks back down and tie or twist the ends. Place on grill for about 5 to 7 minutes. Turn to avoid burning.
Eggplant:
Cut lengthwise for smaller eggplants or in disks top to bottom for larger eggplants. Soak in water for 30 minutes. Pat dry, brush with oil and grill 2-3 minutes.
Garlic:
Take whole bulbs and cut off the root end. Brush with olive oil and place cut side down over a hit fire. Grill garlic bulbs for about 10 minutes or until the skin is brown.
Mushrooms:
Rinse off dirt and pat dry. Brush with oil and grill. 4-5 minutes for small mushrooms, 6-8 minutes. Use a grill basket or topper for small mushrooms.
Onions:
Remove skin and cut horizontally about 1/2 inch thick. Brush with oil and grill 3-4 minutes.
Potatoes:
There are many ways to grill potatoes. You can do them whole for a baked potato or cut into wedges, brush with olive oil, and grill until browned. A favorite method in our house is to cube them, brush them in olive oil, sprinkle some seasonings on and wrap it all in foil. It only takes a few minutes (will be done by the time the meat is!) and it tastes amazing. Red potatoes are our favorites.
Tomatoes:
(I know, I know, technically a fruit but we are including it!) Cut in half, top to bottom. Brush with a light coating of oil and grill cut side down 2-3 minutes.
Baked Potatoes:
Wash thoroughly and dry. Rub with oil. Wrap in aluminum foil and grill 35-40 minutes, turning occasionally.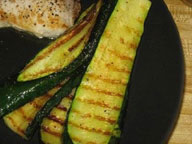 Zucchini and Small Squash:
Slice 1/2 inch thickness. Brush with oil and grill 2-3 minutes per side. Small squash can be cut down the middle and grilling in halves.
Those are some delicious basics, but for some recipes with a little flare try one or two of these:
Grilled Summer Vegetable Medley
3 tbsp. olive oil
2 garlic cloves, crushed
1 1/2 tsp. chopped fresh thyme or 1 tsp. dried, crumbled
1 1/2 tsp. chopped fresh sage or 1 tsp. dried rubbed sage
1 1/2 tsp. chopped fresh rosemary or 1 tsp. dried, crumbled
2 sm. Japanese eggplants, halved lengthwise
2 sm. zucchini, halved lengthwise
2 sm. yellow crookneck squash, halved lengthwise
4 (1/2 inch thick) slices red onion
1 red bell pepper, quartered, seeded
Try this recipe once and you'll be hooked on the sweet and smoky flavors forever.
Combine first 5 ingredients in small bowl. Place vegetables in baking pan and brush with oil mixture. Let marinate 2 hours, refrigerated - overnight is better.
Prepare barbecue (medium high heat). Season vegetables with salt and pepper. Grill until just tender when pierced with tip of sharp knife, turning occasionally, about 8 minutes. Transfer vegetables to platter and serve warm or at room temperature. Serves 4.
Grilled Vegetable Kabobs
2 zucchini, cut into 2" chunks
2 yellow squash, cut into 2" chunks
8 ounces fresh mushrooms, cleaned
2 red and green bell peppers, cut into 2" chunks
2 medium red onions, cut into wedges
2 ears sweet corn, cut into 2" chunks
16 whole cherry tomatoes
8 ounces teriyaki sauce
Wash vegetables except mushrooms. Brush mushrooms clean. Prepare vegetables according to recipe. Cook corn in boiling water for about 10 minutes. Toss vegetables in teriyaki sauce. Thread vegetables onto skewers. Place on grill over medium-hot heat. Baste occasionally with teriyaki sauce. Grill 20 minutes or until tender. Serves 8.
Grilled Herb Vegetables
The convenience of frozen vegetables takes the worry out of cooking dinner. Best of all, you still get that fresh flavor of summer. Simply take a bagged veggie blend, add some quick pantry staples, and cook for a satisfying complement to just about any main dish.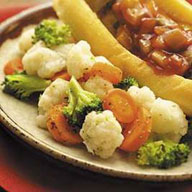 3-1/2 cups frozen California-blend vegetables, thawed
1 tablespoon olive oil
1 teaspoon Italian seasoning
1 teaspoon minced garlic
1/4 teaspoon salt
In a large bowl, combine all ingredients. Transfer to a double thickness of heavy-duty foil (about 14 in. x 12 in.). Fold foil over vegetables and seal tightly.
Grill, covered, over medium heat for 6-7 minutes on each side or until vegetables are tender. Open foil carefully to allow steam to escape. Yield: 4 servings.
Greek-Style Squash
What a great way to use up all that summer squash! You can almost taste the sunshine in this colorful and quick vegetable dish from Reno, Nevadaís Betty Washburn. And the foil packets make for carefree cleanup.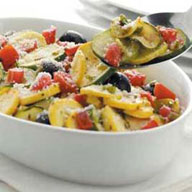 2 small yellow summer squash, thinly sliced
2 small zucchini, thinly sliced
1 medium tomato, seeded and chopped
1/4 cup pitted ripe olives
2 tablespoons chopped green onion
2 teaspoons olive oil
1 teaspoon lemon juice
3/4 teaspoon garlic salt
1/4 teaspoon dried oregano
1/8 teaspoon pepper
2 tablespoons grated Parmesan cheese
Place the yellow squash, zucchini, tomato, olives and onion on a double thickness of heavy-duty foil (about 17 in. x 18 in.). Combine the oil, lemon juice, garlic salt, oregano and pepper; pour over vegetables. Fold foil around mixture and seal tightly.
Grill, covered, over medium heat for 30-35 minutes or until vegetables are tender. Open foil carefully to allow steam to escape.
Transfer vegetables to a serving bowl. Sprinkle with cheese. Yield: 4 servings.
---
* DVO welcomes your kitchen hints and cooking or nutrition questions! Email us and we'll post your hints and Q/A's in upcoming newsletters! *