The weather is warm, the sun is shining and the aroma in neighborhoods firing up their grills for the traditional backyard cooking is a longed for and remembered experience. We all get the hankering for grilling once we have had that first whiff of a summer barbecue. There isn't anything much better than dinner from the grill. A few recipes for some savvy side dishes can make for an awesomely delicious dinner.
Baked Cornflake Onion Rings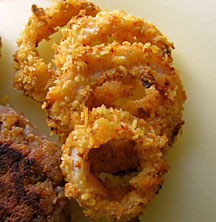 2 cups finely crushed cornflakes
1 Tablespoon sugar
¼ Teaspoon seasoning salt
¼ Teaspoon garlic salt
2 eggs
2 sweet Vidalia onions
A pinch of Cayenne pepper
Preheat oven to 375 degrees. In a large bowl, combine the crushed corn flakes, seasoning salt, garlic salt and a pinch of cayenne pepper. Cut the onions into ½ inch slices. Separate the rings. Reserve the very small ring for a different recipe. In a shallow dish, beat the eggs until they are frothy. Dip the onion rings into the egg mixture and coat them with the cornflake mixture. Place on a cooking sheet that has been sprayed with nonstick cooking spray. Bake at 375 degrees until the rings are tender and coating is crisp.
Seasoned Tomato Slices
1 cup canola oil
? cup red wine vinegar
¼ cup minced fresh parsley
2 Tablespoons fresh minced basil
2 Teaspoons sugar
1 Teaspoon salt
½ Teaspoon pepper
½ Teaspoon dry mustard
2 cloves of garlic (minced)
1 sweet Vidalia onion (thinly sliced)
6 tomatoes (thinly sliced)
In a shallow dish, layer the tomatoes and onions. In a small mixing bowl, add all the remaining ingredients and whisk until well blended. Pour the marinade over the tomatoes and onions and refrigerate for several hours.
Crispy Potato Wedges
6 medium potatoes cut into wedges
2 Tablespoons oil
1 Tablespoon melted butter
1 ½ Teaspoons salt
½ Teaspoon garlic salt
½ Teaspoon dried basil
½ Teaspoon dried oregano
1 Teaspoon dried parsley
In a large bowl, combine oil, melted butter, garlic salt, oregano, basil, salt, pepper and parsley. Add potato wedges and toss to coat. Arrange in a single layer on a cookie sheet and bake at 450 degrees for 20 – 25 minutes.
Lime Butter for Corn on the Cob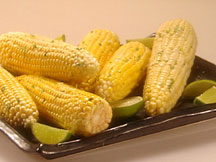 1 ½ Tablespoons butter (melted)
¼ Teaspoon grated lime zest
1 ½ Tablespoons fresh lime juice
¼ Teaspoon of salt
¼ Teaspoon crushed red pepper
Mix all the ingredients together and brush onto cooked corn. Don't try to roll this butter into a log. The lime juice and butter have a tendency to separate a bit. This is enough butter to use on 8 ears of corn.
---
* DVO welcomes your kitchen hints and cooking or nutrition questions! Email us and we'll post your hints and Q/A's in upcoming newsletters! *