Grill Cleaning Tips
By Camille Rhoades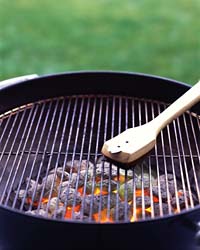 Grilling season is in full swing, with summer holidays and outdoor family gatherings happening just about all the time. Fourth of July is the pinnacle of all things grill and with it coming this weekend you will want to know how to get the best out of your grill. To keep your grill working its best—and to keep your food tasting as good as it possibly can — it's important to keep your grill in good, clean working order.

One important way to keep your grill in tip-top shape is to store it properly when not in use. Grill covers are great investments for protecting all types of grills from inclement weather. Make sure you measure your grill before heading out to pick one up. They come in all different sizes so you will want to make sure it is the right size for the job. If you don't have a grill cover, consider moving your grill indoors to a shed or garage when not in use. Your grill was an investment and you don't want the weather beating up on it.

Keeping your grill nice and clean will serve multiple purposes. First and foremost being food safety! Nobody wants a steak with bits of last week's chicken in it. Yuck!

Beyond just being safe you will want to keep it clean to keep your food tasting it's very best. And lets not forget that a clean grill will last longer, which means saving money in the long run. Whether you have a full-blown outdoor kitchen with a built-in grill, or a simple tabletop hibachi, following a simple plan of cleaning and maintenance will help you get the most out of your grill.

Let's start with basic cleaning. We've included details for both gas and charcoal grills, so just follow the cleaning tips that apply to your grill.

CLEANING A CHARCOAL GRILL

Follow these simple steps to clean your charcoal grill:


Be sure the grill is completely cool before beginning to clean it.


Remove grates from inside the grill.


Remove all the old ashes. Some charcoal grills have ash catchers underneath the bowl. (Be sure to clean out the ash catcher as well, if you have one.) If you don't have an ash catcher, use a garden trowel to scoop out the ashes, then carefully place them into a waiting plastic bag. Don't just dump the ashes into the bag—you can end up looking like a chimney sweep if the ashes spray back at you!


Clean grill grates with a spray-on-type oven cleaner. You can use vinegar instead which usually works as well and doesn't have all the chemicals. Spray all surfaces heavily with the oven cleaner or vinegar and leave it on long enough to soften accumulated grease. While you're at it, spray the inside of the grill as well and let it sit.


While the oven cleaner is doing its job, make a warm soap and water solution to wash the outside of a kettle-type grill. Use a nonabrasive cloth to clean the outside of the grill, being sure to get into all the crevices to remove all built-up grease and grime.


Rinse all outside surfaces well with clear water.


If grease has loosened on the grill grates and inside of the grill, wipe cleaner off with paper towels.


Follow by washing with a mild detergent and water.


Rinse well and wipe dry.

CLEANING A GAS GRILL

Follow these simple steps to clean your gas grill:


After every use, turn your grill on high for 10 to 15 minutes with the lid closed.


Turn off the grill and let it cool slightly.


Loosen the residue from the grill rack with a brass bristle brush. This not only prevents sticking, but also helps to avoid flare-ups.


When the grill is completely cool, wipe the inside and outside surfaces of the grill with a soft cloth and warm, soapy water.


If you find yourself needing a deeper clean use a vinegar and water mixture to soak the caked on areas clean.


Rinse with clean water and wipe dry.

Keeping up with simple maintenance and making sure you are cleaning your grill after each use will keep you safe, keep your food tasting fantastic, and your grill working and looking great for many a bbq to come!

Source: HomemadeSimple.com



---
Join the Cook'n Club!An unbeatable value with exclusive benefits for members only.
Enjoy articles like this and many other benefits when you join the Cook'n Club.