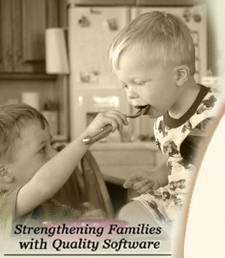 ---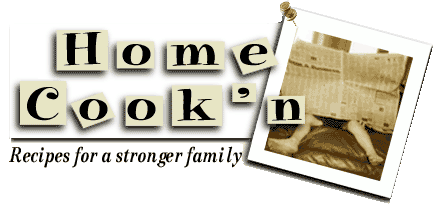 Side Salad, Please
By Camille Rhoades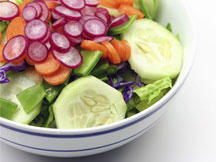 When I think of side dishes in the summer I immediately think of salads. Not just green salads, but green, pasta, fruit, and other more unique salads. There are so many different kinds with so many different ingredients and they are simply the perfect side for summer dining.
What makes them so perfect for summer? Well, first they require little or no cooking. Even if they do require cooking it can generally be done ahead of time so you can do it when it is cooler out (and cooler in your kitchen!). Fruits and vegetables are so widely available in the summer giving you a larger variety, better prices, and usually better quality too.
Here are a few salad tips to help you get the most out of your side salads!
When making a salad, check what is on sale and what looks best when you are out shopping. Almost all salad recipes can be modified to incorporate different ingredients so don't be afraid to mix and match ingredients.


Consider blanching raw vegetables for 30 seconds to a minute before adding to the salad. Everything from carrots to broccoli really benefits from this. The vegetables are still crisp, but have more color and moisture and seem to absorb the flavors of the dressing better when they have been blanched. Peas, snow peas, beans, cauliflower, and squash also are better when blanched slightly before adding to the salad. Make sure to place the blanched vegetables immediately in ice water to stop the cooking process once their color has brightened.


For nicer presentation, always mix your salad in one bowl and then transfer it to a serving bowl. This allows you to have plenty of room to mix your salad, and to be a bit messy if needs be, but still have a nice, neat compact bowl for serving.


Party Tip! Consider placing your salad in a bowl that can easily be nested in another bowl or decorative container, especially for potlucks or outdoor dinners. Fill the larger bowl partway with ice and the salad will stay cool and safe for longer.


Even a simple garnish helps make a salad special. Consider sprinkling on some paprika, chopped parsley, chervil, chives or other fresh herbs, diced red onions, diced olives, diced meats, diced peppers, toasted chopped nuts, sliced mushrooms, or other ingredients. Don't forget the stand-bys of sliced pepper rings, hardboiled egg slices, or sliced pickles.


If you are making a pasta or potato salad ahead of time and it seems like the amount of dressing is perfect, thin it with a little milk, water, oil or other liquid ingredient used in the dressing or add another 1/4 recipe of the dressing to the salad. Potato salads especially are notorious for soaking up dressing and drying out when stored for any length of time.


Add some crunch to your salad with sesame seeds, sunflower seeds, cooked bacon, toasted nuts, ramen noodles, chow mein noodles, crumbled tortilla or potato chips, crushed croutons, or French fried onions. To make sure these ingredients stay crunchy, add them right before serving.


Don't be afraid to substitute low fat ingredients in most salad recipes. Low fat sour cream and mayonnaise can be substituted for the full fat versions, and fat free plain yogurt can also be used for either in most recipes with excellent results. Consider using half regular and half low fat ingredients for the perfect balance of taste and health. For oil based dressings, consider using mild rice vinegar in place of all or part of the vinegar in the dressing and half of the oil. Chicken or vegetable broth also makes a great substitute for part or all of the oil in many dressings. Also don't be afraid to use your favorite fat free or low fat bottled dressing in place of a homemade dressing on a salad if you think it will taste good.


Donít be afraid to try something new and a little different. There are some interesting and downright silly salad recipes out there (as you will see below), but man are they yummy! Look around for some fun, different recipes and give them a shot!

Salads come in so many varieties and there are even more possibilities out there. Fruits, vegetables, pasta, potatoes, jello, and the list goes on and on. There are even salads you can serve for dessert! Here are a few recipes of different salads to try out this summer:

Frog Eye Salad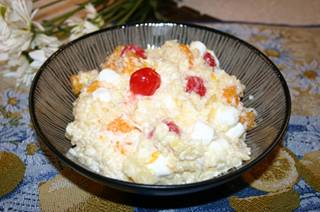 1 (16 oz.) box acini-de-pepe
2 (11 oz.) cans mandarin oranges
1/2 c. chopped maraschino cherries
2 c. fresh or frozen blueberries
1 (10 oz.) bag miniature marshmallows
2 (15 1/4 oz.) cans pineapple tidbits
1 c. sugar
3 eggs, beaten
1/2 tsp. salt
1 container Cool Whip

Boil acini-de-pepe in salted water until tender. Rinse in cold water and drain. Drain pineapple. Reserve 1 3/4 cups juice. Put juice in saucepan, add sugar, eggs, dash of salt. Cook and stir until thick. Remove and stir in pasta. Mix well. Cover and refrigerate overnight. Next day add pineapple, whipped topping, oranges, cherries, and blueberries and marshmallows. Serves 15 to 20.

Snickers Salad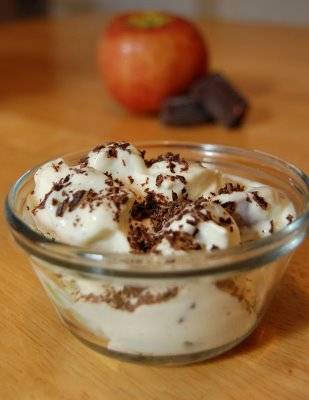 1 large tub of Cool Whip, thawed
1 large package of vanilla instant pudding
1 cup of milk
6 snickers bars, cut in bite size pieces (those popables work well too) or 3 super size snickers bars
3 medium size Granny Smith apples or other tart apple, cut up into small chunks

In a large bowl, combine milk and pudding, then mix in the cool whip. Add the Snickers and then the apples.

Note: Cut the apples after you have mixed the other ingredients so that they aren't brown when you add them. I have also tossed them with a little bit of lemon juice or Sprite and it keeps them from going brown. Serves 6.

Blueberry Jello Salad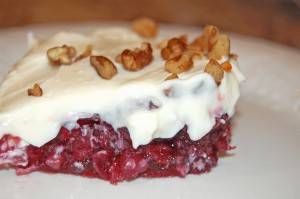 1 can (8 ounces) crushed pineapple in juice
2 packages (3 ounces each) blackberry or black raspberry Jello
3 cups boiling water
1 can (15 ounces) blueberries, drained
8 ounces sour cream (1 cup)
1 package (8 ounces) cream cheese, softened
1/2 cup sugar
chopped nuts

Drain pineapple; reserve juice. Dissolve Jello in boiling water; stir in reserved pineapple juice. Chill until slightly set, about the consistency of unbeaten egg white. Stir in pineapple and blueberries. Pour into a 9 1/2 x 6 x 2-inch pan; chill until firm. Combine sour cream, cream cheese, and sugar; mix well until smooth and well blended. Spread over blueberry Jello salad and top with chopped pecans or walnuts. gelatin salad serves 6 to 8.

Southern Potato Salad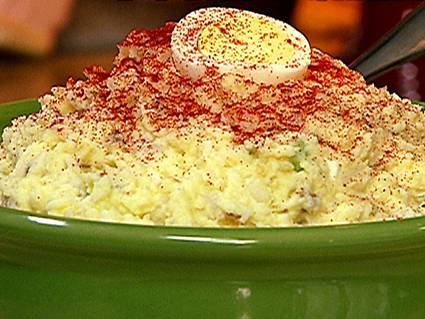 4 potatoes
4 eggs
1/2 stalk celery, chopped
1/4 cup sweet relish
1 clove garlic, minced
2 tablespoons prepared mustard
1/2 cup mayonnaise
salt and pepper to taste

Bring a large pot of salted water to a boil. Add potatoes and cook until tender but still firm, about 15 minutes; drain and chop.
Place eggs in a saucepan and cover with cold water. Bring water to a boil; cover, remove from heat, and let eggs stand in hot water for 10 to 12 minutes. Remove from hot water; peel and chop.
In a large bowl, combine the potatoes, eggs, celery, sweet relish, garlic, mustard, mayonnaise and salt and pepper. Gently mix together and serve warm. Serves 4.

Strawberry and Feta Salad

"This unusual combination of strawberries, feta cheese, toasted almonds and romaine lettuce in a sweet and tangy dressing is sure to please your guests. A guaranteed pleaser for any potluck or BBQ meal!!!"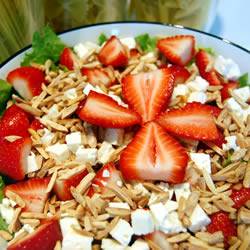 1 cup slivered almonds
2 cloves garlic, minced
1 teaspoon honey
1 teaspoon Dijon mustard
1/4 cup raspberry vinegar
2 tablespoons balsamic vinegar
2 tablespoons brown sugar
1 cup vegetable oil
1 head romaine lettuce, torn
1 pint fresh strawberries, sliced
1 cup crumbled feta cheese

In a skillet over medium-high heat, cook the almonds, stirring frequently, until lightly toasted. Remove from heat, and set aside.
In a bowl, prepare the dressing by whisking together the garlic, honey, Dijon mustard, raspberry vinegar, balsamic vinegar, brown sugar, and vegetable oil.
In a large bowl, toss together the toasted almonds, romaine lettuce, strawberries, and feta cheese. Cover with the dressing mixture, and toss to serve. Serves 10.

Pudding Topped Fruit Salad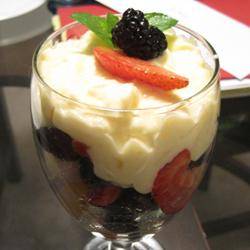 1 (20 ounce) can pineapple chunks
1 (8 ounce) can crushed pineapple, undrained
1 cup sour cream
1 (3.4 ounce) package instant vanilla pudding mix
2 medium ripe bananas, sliced
2 cups fresh blueberries or frozen blueberries, thawed
2 ripe peaches, peeled and sliced
2 cups sliced fresh strawberries
1 cup seedless green grapes
1 cup seedless red grapes
fresh mint

Drain pineapple chunks, reserving juice; refrigerate pineapple. add water to juice if necessary to measure 3/4 cup. In a bowl, combine the juice, crushed pineapple, sour cream and pudding mix until blended. Cover and refrigerate for at least 3 hours.
In a large bowl, combine the bananas, blueberries, peaches, strawberries, grapes and pineapple chunks. Spread pudding mixture over the top. Garnish with mint if desired.
Serves 12.







---
Join the Cook'n Club!An unbeatable value with exclusive benefits for members only.
Enjoy articles like this and many other benefits when you join the Cook'n Club.
---