Lemons, lip-smacking lemons! They are a beautiful, flavorful and the sensational aroma of lemon is the smell of pure cleanliness. When used in cooking, lemons are interchangeable with not only sweet but savory dishes. Lemons enhance the flavor of a variety of foods and, in my opinion, are truly an amazing fruit.
When used in a marinade, a lemon will help break down the protein in the meat and help to tenderize it as well as adding a subtle, yet amazing flavor. Lemons give a nice zip to a vegetable dish. They make some incredible desserts not to mention that they are also an attractive garnish.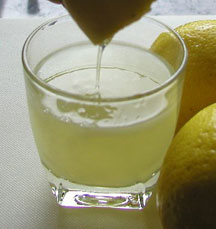 Lemons never need to go to waste. If they are not going to be used in the first few days, squeeze them and freeze the juice in ice cube trays to be used at a later time. If a lemon is starting to spoil, cut it in half and run it through the garbage disposal, giving your disposal a clean, fresh smell.
Lemons provide more juice at room temperature. Giving the lemons a quick roll on the kitchen counter will also help obtain more juice from the lemon. Lemon zest is also used in a variety of recipes. Zest the yellow outer part of the lemon with a fine grater. The zest can be used in any recipe that calls for lemon.
Lemons are as important in many recipes as salt is to the potato chip. Here are a variety of recipes that use the lip-smacking lemon!
Lemon Honey Marinade
4 Tablespoons lemon juice
4 Tablespoons olive oil
3 – 4 garlic cloves (minced)
2 Tablespoons soy sauce
2 Tablespoons honey
½ Teaspoon pepper
Mix all of the ingredients in a bowl with a whisk. Add meat and marinade for 2 – 3 hours. Use this marinade on chicken, pork or beef. This is also great for kabobs.
Vegetable Vinaigrette Sauce
1 Tablespoon balsamic vinegar
1 Tablespoon fresh lemon juice
¼ Teaspoon Dijon mustard
3 Tablespoons olive oil
1 shallot (finely minced)
Salt and Pepper to taste
Whisk all the ingredients and drizzle over green beans, cooked greens, asparagus or steamed carrots.
Lemon Bars
1 cup flour
½ cup of butter (softened)
¼ cup powdered sugar
2 eggs
1 cup sugar
½ Teaspoon baking powder
¼ Teaspoon salt
2 Tablespoons fresh lemon juice
Preheat oven to 350 degrees. Mix the flour, softened butter and powdered sugar thoroughly. Press in an ungreased square 8 x 8 inch pan. Bake for 20 minutes.
In a small mixing bowl, mix together the eggs, sugar, baking powder, salt and lemon juice until light and fluffy. Pour over hot crust and bake for another 25 minutes or just until no imprint remains when touched lightly in the center.
Lemon Curd
This recipe is from the Food Network with Elton Brown. Lemon curd is great for making little lemon tarts, delicious on pound cake or as a center for a layered cake. This recipe will really satisfy your craving for the taste of lemon. It is a real treat when served on gingerbread or fresh berries.
5 egg yolks
1 cup sugar
4 lemons, zested and juiced
1 stick butter, cut into pats and chilled
Add enough water to a medium saucepan to come about 1-inch up the side. Bring to a simmer over medium-high heat. Meanwhile, combine egg yolks and sugar in a medium size metal bowl and whisk until smooth, about 1 minute. Measure citrus juice and if needed, add enough cold water to reach ? cup. Add juice and zest to egg mixture and whisk smooth. Once water reaches a simmer, reduce heat to low and place bowl on top of saucepan. (Bowl should be large enough to fit on top of saucepan without touching the water.)
Whisk until thickened, approximately 8 minutes, or until mixture is light yellow and coats the back of a spoon. Remove promptly from heat and stir in butter a piece at a time, allowing each addition to melt before adding the next. Remove to a clean container and cover by laying a layer of plastic wrap directly on the surface of the curd. Refrigerate for up to 2 weeks.
---
If you have any additional tips that you'd like to add, please post them on the
Cook'n Club Forum
(if you're a
Cook'n Club Member
)...or e-mail them to
Dan@dvo.com
.
---
Join the Cook'n Club!An unbeatable value with exclusive benefits for members only.
Enjoy articles like this and many other benefits when you join the Cook'n Club.