A fruit bouquet makes a deliciously attractive centerpiece for any occasion. Some delectable fruit and a few simple tools is all you need to get started.
Get the kids in the kitchen for this edible craft. The whole family will love washing, arranging and eating the fruit of this all American appetizer.
Red White and Blueberry Bouquet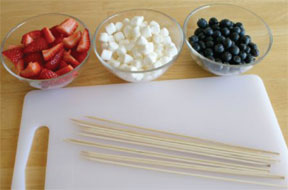 Supplies:
One 6-inch foam ball
One vase or flowerpot
Mellon Baller
Star cookie cutters (large and small)
Wooden toothpicks
Bamboo skewers (usually found in the barbeque isle)
Fruit:
Seedless watermelon
Strawberries
Raspberries
Blueberries
Bananas (peeled, sliced, and tossed in lemon juice to prevent browning)
Marshmallows
Head of green leaf lettuce
Use a serrated bread knife to cut foam ball until it fits into the vase or pot desired. The round ball of foam will give the bouquet a nice shape. Fasten the lettuce leaves into the ball with toothpicks to hide all the foam.
Poke skewers firmly into the foam ball through the lettuce. Space the skewers evenly, putting tall ones towards the back. Use scissors to cut some skewers in half and fill in with half-size skewers. It's easier to push the skewers in first and then thread on the fruit, to keep things from falling apart. Once skewers are arranged as desired, place lettuce covered ball in the fridge to prevent wilting.
Use cookie cutters on 1-inch slices of watermelon to make stars or other desired shapes. Use mellon baller to scoop out red melon balls.
Wash all berries, core and quarter strawberries.
Peel and slice bananas and toss in lemon juice to prevent browning.
Thread the cut fruit onto the skewers. Use berries, banana slices, melon balls, stars, and marshmallows to create red, white, and blue patters. Remember that fruit is heavy, and some of the spindly skewers might snap off. Choose extra-stiff skewers for taller fruit flowers.
Let your artistic inclinations rule as you move skewers and fruit shapes around. Once bouquet is arranged to your liking store in the fridge until ready to serve.
Use this same idea to create all kinds of fruit bouquets. Heart shaped cookie cutters can be used to arrange a summertime watermelon sweetheart bouquet. Honeydew and cantaloupe melons with flower shaped cookie cutters can form a beautiful bunch of edible flowers. There are no rules so just have fun with it!
---
Join the Cook'n Club!An unbeatable value with exclusive benefits for members only.
Enjoy articles like this and many other benefits when you join the Cook'n Club.
---