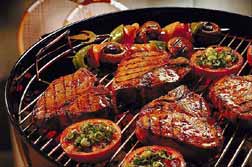 The battle over the best way to barbecue meats is arduous and never ending. You can find at least 100 ways to barbecue the same cut of meat. Techniques for cooking vary and the age old conflict of which is better – rubs, sauces or both, can keep the debate going without ever reaching a firm conclusion.
The conflict of the barbecue has gone on for years and I don't see any end to it, since we all think our recipe and way of grilling is the best. It ends up being just a matter of preference. We can at least all agree on one thing, we are all working toward a tender, flavorful piece of meat. Something we can have bragging rights about.
Barbecue Beef Brisket on the Grill
Hickory chips and slow cooking make this grilled brisket melt in your mouth. It does take some time to cook but it is definitely worth it.
1 (5 – 6) pound boneless beef brisket
1 Teaspoon smokey paprika
1 ½ teaspoons coarse ground pepper
¼ Teaspoon garlic powder
1 cup water
Hickory chips
11" x 9" aluminum roasting pan
In a small bowl, mix pepper, paprika and garlic powder together. Rub over the surface of the brisket, place in the disposable pan along with 1 cup of water and cover with aluminum foil. Let marinade for one hour.
Soak the hickory chips in water just enough to cover for one hour. Drain and wrap the chips in aluminum foil. Poke several holes in the foil. Light the grill on one side; place the aluminum foiled wrapped chips directly on the hot coals. After 20 minutes of pre-heating, place the covered disposable aluminum dish on the opposite side of the hot coals. Turn the temperature down to a low heat and cook for 4 hours; turning brisket every hour, adding a little water as needed.
FYI – 4 hours might use up your grill's propane tank quickly. If you are at home and it's not too hot outside you might want to do part of the cooking in the oven. Try two hours at 220 – 250 degrees and finish the last two hours on the grill so you get that get flavor from the hickory chips.
Remove brisket from pan and reserve 1 cup of drippings for sauce.
Sauce:
1 Tablespoon Butter
1 cup reserved pan drippings
1 onion finely chopped
2 cups ketchup
2 Tablespoon lemon juice
1 Tablespoon Worchester sauce
Add hot sauce to taste.
Barbecued Spare Ribs
There are a lot of differing opinions when it comes to how to best grill spareribs. What it really boils down to is preference and how much time you have. Many recipes will tell you not to boil the ribs first that the water will remove flavor from the meat.
I happen to be among the fans that like to boil the ribs first. Only I do not boil them in water but in apple juice. The reason I like to boil them first is because most of the fat is removed, the apple flavor is infused in the meat and it shortens the time on the grill considerably.
4 pounds of spareribs
1 cup maple syrup
1 Tablespoon salt
5 cups apple juice
1 Tablespoon garlic powder
4 Tablespoon white rice vinegar
? cup soy sauce
2 Tablespoons brown sugar
Bring apple juice to a boil in a large pan; reduce heat, add spareribs and simmer for 30 minutes. Drain. Place the ribs in a lightly greased 13" x 9" pan.
In a mixing bowl, add the maple syrup, soy sauce, garlic powder, salt, rice vinegar and brown sugar; pour half of the sauce over the meat and save the rest for basting.
Preheat the grill on one side making it hot. If you are using coals use extra coals. Coat the cooking rack with cooking spray, and place the ribs on the unlit side of the grill. Cover with tin foil and cook for 1 to 1 ½ hours. Make sure you baste about every 15-20 minutes.
Buttermilk Grilled Chicken
Buttermilk makes the chicken tender and the lemon pepper harmonizes well with the grilled chicken. This is a tender and light tasting chicken.
4 chicken breasts
2 Teaspoons lemon pepper
2 Tablespoons of sugar
1 ½ cups buttermilk
Add salt as desired
2 garlic cloves (minced)
Use boneless, skinless chicken breasts. Lay the chicken breast between the two layers of plastic wrap and using a meat mallet; lightly pound the chicken so that the chicken breast is uniform in thickness. This will help it cook evenly. Lay the chicken breast in a shallow pan along with the buttermilk, sugar and lemon pepper. Let chicken marinade for 2 – 6 hours before grilling.
Remove the chicken from the buttermilk marinade and grill chicken over medium heat until juices run clear.
Lime Garlic Chicken
4 chicken breasts
½ cup of sprite or ginger-ale
? cup fresh lime juice
2 Tablespoons olive oil
4 cloves of minced garlic
2 ¼ Teaspoons crushed red pepper flakes
2 Tablespoons brown sugar
Mix all the ingredients and marinade for 2 – 6 hours in the refrigerator before grilling.
Now some of you are going to be concerned about whether I am talking about barbecuing or grilling. As I mentioned above, there is a lot of controversy over much of what happens on the grill/barbeque. I looked for answers and found many different interpretations and thoughts. To me, barbecuing and grilling are often interchangeable – you may have a different perspective. Regardless of how you feel about the logics of cooking outdoors just remember to enjoy the BBQ!
---
* DVO welcomes your kitchen hints and cooking or nutrition questions! Email us and we'll post your hints and Q/A's in upcoming newsletters! *