Delicious Dutch Oven Dining
By Camille Rhoades
When I think of camping and cooking I cannot help but think of dutch oven cooking. The memories conjured up of my dad making a huge oven full of Dutch Oven Potatoes while we camped at Payson Lakes one year, or my mom making Blueberry Binge for a backyard full of neighbors the year we did "Dutch Oven Socials" for the summer are priceless and go far beyond the dinner table.

We would get the ovens ready, get the coals on, and then it was time to visit and enjoy one anothers' company. As a child I never could have known how I would later cherish those days, but now the very sight of a dutch oven makes me think of my dad and smile.

Those camping trips and backyard get-togethers resulted in far more than full tummies and satisfied taste buds. Was it all the dutch oven? No. It was the time, the stories, the laughing…the dutch ovens just happened to be a piece that tied it all together in my family.

Now that I have reminisced and tortured you with more Clayton family stories, I want to share a few guidelines to help you get started (or restarted if you are already a dutch oven fan) on creating the same flavors, fun, and good times I have been blessed to have around the firepit.

Why Dutch Oven?

Why not? That answer is enough for me, but for those who want a more substantial answer let's look a little closer. The heavy ovens cook and bake deliciously using a method that cannot be duplicated. It is the most dependable way to prepare a complete meal for just a few or for a crowd in an outdoor situation. In fact, I don't think there is anything wrong with feeding people dutch oven in an indoor setting either…but coals are certainly best left outdoors so lets keep the cooking outside!

Individual foil wrapped meals are very delicious, but require more attention. The foil wrapped meal needs to be watched carefully to prevent burning, and assure equal cooking. The meal put in the Dutch oven needs proper fire preparation - it can be left for 30-60 minutes longer without further attention because the heavy cast iron distributes the heat more evenly. The food is cooked together which enhances and mixes flavors and creates wonderful blends. It is also fairly simple to serve from a dutch oven and to clean them up while camping. So again, I say, why not?

Seasoning The Oven

Properly seasoning the oven may seem like a little work, but it really does make the dutch oven ready to give you the very best for your efforts and any time you invest in this step will be very well enjoyed with good food and more simple cleanup down the road.

REGULAR OVEN METHOD: With soapy water, wash your oven and rinse thoroughly and dry. Oil all surfaces and pour about 1 tablespoon of oil in the Dutch oven. With a cotton cloth, rub all the surfaces. Add enough oil to cover the bottom of the Dutch oven. Place in 350 degrees F. oven for 30 minutes. Remove from oven and carefully circulate the oil to cover all of the sides and bottom. Add more oil and heat in 200 degrees F. oven for one hour. Turn the oven off and leave overnight. In the morning, rub all surfaces with remaining oil and remove excess oil. Now it's ready to use.

ON THE FIRE METHOD: Wash with soapy water and rinse & dry thoroughly. Add 1/2" of oil and place on fire and heat until oil is slightly simmering. Swirl to cover all surfaces; discard oil. Add new oil and you are ready to cook!

Temperature Control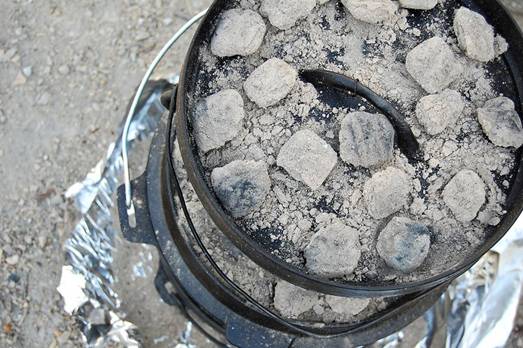 Regulating cooking temperature seems to be the most intimidating thing to master when learning to cook in a Dutch oven. Hopefully, these few tips will help you feel a little more comfortable and ready to fire up the charcoal.

First and foremost, always use high quality briquettes. Most of the real pros I have read advice from recommend using Kingsford charcoal. Kingsford is packed tighter than most other brands so it won't pop and spit, and it tends to burn longer than other brands.

The general rule of thumb to produce about a 350° heat is to take the size of the Dutch oven in inches, double the number, and use that many total briquettes. So, for a 12" oven you would use 24 briquettes, for a 14" oven you would use 28 briquettes, etc.. Remember this is just a rule of thumb and does not work for all makes of ovens so read any information that came with your dutch ovens and if all else fails, check the internet for guidelines specific to your brand of oven.

Some brands have released charts that can be downloaded and printed. I recommend keeping them with the ovens so you don't get to the campsite and remember that your handy chart is at home in the kitchen cabinet.

If you need your oven to reach a temperature higher or lower than 350° then use the "rule of thumb" above for reaching 350 and then add or subtract based on 10° - 15° F per briquette. This should give you a good starting point.

Other factors such as ambient air temperature, humidity, altitude, and wind all influence how much heat is generated by burning briquettes. Cool air temperatures, high altitudes, shade, and high humidity will decrease the amount of heat generated by briquettes. Hot air temperatures, low altitude, direct sunlight, and wind will increase the amount of heat generated by briquettes.

Also note that in windy conditions briquettes will burn faster due to the increased air flow around them, so they will not last as long. You will get the feel for it and you will soon know exactly how many and where you want them!

Heat placement around the Dutch oven is crucial to yield the best cooking results. Briquettes placed under the oven should be arranged in a circular pattern no less than 1/2" from the outside edge of the oven. Briquettes placed on the lid should be spread out in a checkerboard pattern. Try to avoid bunching the briquettes as this causes hot spots.

The most frequently asked question for dutch oven cooking is "How many briquettes should I put on the lid and how many should go underneath the oven?". The answer is "It depends on what you are cooking".

For food you wish to simmer such as soups, stews, and chili's; place 1/3 of the total briquettes on the lid and 2/3 under the oven.

For food you wish to bake such as breads and rolls, biscuits, cakes, pies and cobblers (rising); place 2/3 of the total briquettes on the lid and 1/3 underneath the oven.

For food you wish to roast such as meats, poultry, casseroles, quiche, vegetables, and cobblers (non-rising); use an even distribution of briquettes on the lid and underneath the oven.

The golden rule of Dutch oven cooking is "go easy with the heat". If the oven isn't hot enough you can always add more briquettes, but once food is burned, it's burned.

Cleaning

I think cleaning is another topics that scares people away from using dutch ovens, but it really is quite simple. If anything sticky remains in oven, clean as well as possible with cooking oil and paper towels. Then add warm soapy water and wash with dishcloth or sponge with abrasive back. After all food particles are loosened, rinse thoroughly and dry completely with a paper towel.

Go over the outside of the oven and lid with paper towels removing all dirt, black and moisture. Cover oven thoroughly with cooking oil starting with inside first. Remove any excess oil and store with lid in position on upright oven. The oven will then be ready for the next use. If the oil inside the oven gets rancid, remove oil with warm soapy water and follow preparation directions above.



Now you have all the basics you need! No reason to put it off now. Get out those dutch ovens and make your family some memories whether you are camping or just having some backyard fun. I want to hear your adventures. Send me an email at calli@dvo.com to share your stories (good, bad, and ugly) of dutch oven cooking. Whether they are new stories or old, I would love to read them and share them with our readers in a future issue.

Try these recipes or any from Cook'n with Dutch Ovens!

MEATLOAF

1 1/2 pounds lean ground beef
1/2 pound lean ground pork
2 onions, chopped
3 eggs
1 cup bread crumbs
1/4 cup milk
1/2 cup celery, chopped
1/4 cup ketchup

Mix all ingredients together. Form into a loaf shape; place in center of Dutch oven. If desired, pour 1 cup cream of tomato soup over top. Bake for one hour or until done (be careful that fire is not too hot on the bottom). Serves 8-10.



POT ROAST

2 tablespoons shortening
4-4 1/2 pounds beef rump roast
Flour
2 tablespoons water
2 tablespoons salt
1/4 teaspoon pepper
1 onion, sliced
Carrots
Potatoes

Preheat Dutch oven. Melt shortening in oven. Dust meat with flour; brown on all sides. Add water; sprinkle meat with salt and pepper; place onion on top; cover. Cook until meat is fork tender. Potatoes and carrots may be added during last part of cooking. Serves 8.

TASTY BEANS

2 2 1/2 size cans pork and beans
1 pound hamburger
1/2 pound sausage
1 large onion, diced
1 2 1/2 size can whole tomatoes
1 green pepper, diced
4 tablespoons brown sugar
1 teaspoon chili powder
1/2 teaspoon garlic salt

Brown hamburger and sausage in 14" Dutch oven set on bed of coals. Add onion and green pepper and sauté them with the meat. Add the rest of the ingredients (salt & pepper to taste). Cover; bring to boil and serve. Serves 10-12.

BARBECUED RIBS

1/4 cup shortening
4 pounds spareribs (3 rib pieces)
1/2 cup onion, chopped
1/2 cup celery, chopped
1/2 cup green pepper, chopped
1 clove garlic, minced
1 cup ketchup
1 cup water
1/4 cup vinegar
2 tablespoons lemon juice
2 tablespoons Worcestershire sauce
2 tablespoons brown sugar
1 teaspoon salt
1/4 teaspoon pepper

Melt shortening in Dutch oven; brown ribs; remove. Add onion, celery, green pepper & garlic; saute 5 minutes. Add remaining ingredients. Return ribs to oven; spoon sauce over ribs; cover. Cook until meat is tender (apx. 2 hrs.), occasionally basting meat. Serves 4-6.

DUTCH OVEN APPLES

Wash and core six or eight large apples. Fill holes with sugar, raisins and pat of butter, plus cinnamon if desired. Put apples on a greased pie tin with a small amount of water. Place tin in oven on legs made of pebbles or bottle caps to prevent scorching. Cover and bake for about 30 minutes. Serves 6-8.

DUTCH OVEN COBBLER

2 tablespoons butter or margarine
1 can fruit pie filling
1 yellow cake mix
1 egg
Milk

Melt butter in 10" Dutch oven and add pie filling. Add egg and milk to cake mix until consistency of pancake batter. Spoon on top of pie filling. Place in fire with coals on top and bottom. Cook 10 minutes; remove from fire and continue cooking for another 10 minutes or until done. Serves 8-10.

BLUEBERRY BUCKLE

½ cup shortening ½ cup milk
½ cup sugar 2 cups blueberries
1 egg, well beaten ½ cup sugar
2 cups flour ½ cup flour
2 ½ tsp. baking powder ½ tsp. cinnamon
¼ teaspoon salt ¼ cup butter

Cream shortening and sugar; add egg and mix well. Combine 2 cups flour, baking powder and salt; add to creamed mixture alternately with milk. Pour into well greased Dutch oven; pour blueberries over batter. Combine remaining sugar, flour, cinnamon and butter; mix until crumbly. Sprinkle over top; bake at 350 degrees F. 45-50 minutes (8 coals on bottom, 14-16 on top). Serves approx. 8.





---
Join the Cook'n Club!An unbeatable value with exclusive benefits for members only.
Enjoy articles like this and many other benefits when you join the Cook'n Club.