These recipes are not only tasty, but really fun! Especially if you will have kids on your camping trip, these make a fun activity that ends with a treat. What is better than that? You won't need lots of dishes for these tasty treats, but you will need a Ziploc bag and some hands ready to squeeze!
Ziploc® Bag Fudge
What you need:
1 lb box of powdered sugar
2 packets of a cocoa mix or you can use ˝ cup of cocoa
2 tbsp of butter
3 oz package of cream cheese
2 1 gallon Ziploc® storage bags
What to do:
Combine all ingredients into one of the bags and seal it up. Place the filled Ziploc® bag into the other bag. Pass it around to all of your campers so that they can squish the contents until it is all mixed thoroughly then enjoy. Camping Tip: Measure all the dry ingredients into a Ziploc® bag at home. At camp, just add cream cheese and butter.
Easy Mix Pancakes
What you need:
Water
Premeasured pancake mix either from scratch or from a box mix
1 gallon Ziploc® bag
What to do:
At home: Pre-measure the amount of pancake mix you will need to make the desired amount of pancakes and put that in the bag. Next mark the bag with how much water you will need to add.
At Camp: add the desired amount of water and shake the bag (leave some of the lumps in there). Cook pancakes on a hot griddle until bubbles break without filling back in, then flip and cook on other side for a minute. Remove from heat and add your favorite topping.
Ziploc® Omelets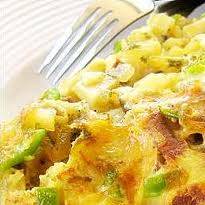 What you need:
a Ziploc bag for each person
enough eggs so that each person can have 2 or 3 eggs.
What to do:
When ready to make the omelets, crack the eggs into the bag and squeeze the air out of and seal it. Squish the eggs till well blended then add your favorite omelet fillings into the bag. You can add such things as cheese, mushrooms, green peppers, seasoning, bacon, ham or whatever you like. Once everything is mixed, pour onto a hot griddle and cook. This is something that allows each person to make their own breakfast without you washing 6 mixing bowls.
Ziploc® Ice Cream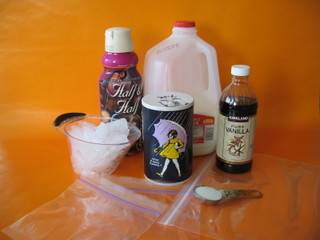 What you need:
1/2 Cup of milk
1/4 Cup of half and half
1/4 teaspoon of vanilla extract
1 Tablespoon of sugar
1 Tablespoon of coarse salt
2 Cups of ice
2 sandwich size Ziploc® bags
1 gallon size Ziploc® bag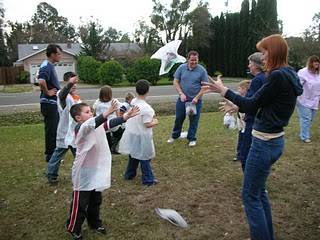 What to do:
You will need to put one of the small bags inside the other one and then add the sugar, milk, half and half and the vanilla extract into the inside bag then seal both bags after removing as much air as possible. Put the small bags into the large one and add the salt and the ice then seal tightly. Let your little ones have a blast shaking and tossing the bag around for 5 to 10 minutes. The ice cream will be soft and ready to serve. This yields 1 to 2 servings.
Breakfast Burritos
At Home:
cook the sausages and peppers, add a little taco seasoning and freeze them in a Ziploc bag.
At Camp:
dump the container into hot pan, fill a soft tortilla shell with the filling, add sour cream, salsa, and enjoy. This is our favorite breakfast meal.
Tips for cooking with Ziploc bags:
1.
Pre-mix at home as much as you can to save time measuring at camp. And save packing space as you don't have to pack more than you need.
2.
Be gentle when squishing or mixing bag contents. You don't want to break it. If you've got some really rough kids, double the bags, to prevent a mess, yes, but more importantly, so they don't lose their breakfast or meals, or dinner.
3.
Ziploc® company does not recommend that their bags be boiled or used with high heat for cooking as they will start to melt which can cause many hazards. Their bags are made from polyethylene plastic which has a softening point of 195 degrees and water has a boiling point of 212 degrees. Fat (such as the fat found in eggs and cheese) will heat quicker and get hotter then water) will melt the bags very quickly.
---
Join the Cook'n Club!An unbeatable value with exclusive benefits for members only.
Enjoy articles like this and many other benefits when you join the Cook'n Club.