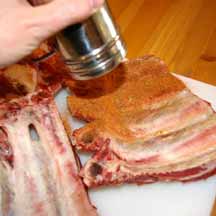 The best way to increase the flavor of lean meat is to rub a thick layer of spices or herbs into your meat before grilling. Although you can slather these spices and herbs directly on the meat they stay on so much better if you rub a thin layer of olive oil onto the meat before pressing on your rub of choice.
Not only does a good rub add quality flavor to your meat, it also helps in forming a wonderful, tasty crust while keeping the meat juicy and tender on the inside.
When making your own spice rubs think about the flavors that you enjoy and how you think they will taste on the meat you are choosing to use them on. One of the best meat rubs that I have ever made was by going through my cupboard with my brother, Dave, and adding ingredients that we thought would enhance the flavor of the steaks we were preparing for the BBQ. When we were finished we thought our creation was the world's best rub. Unfortunately we don't have a recipe for it.
Spices and herbs are a lot of fun to experiment with. There are really no hard and fast rules. If you feel hesitation to venture out on your own, start looking on the back of the packaging of the spice rubs at the store. It won't take you long to see what ingredients go well together. There are also many, many recipes that can be found on the Internet or in cook books.
When cooking with dry herbs, it is important to remember that they are more potent than fresh ones. You can use twice as many fresh herbs as dried.
You may be asking yourself why you would want to make your own rub when you can just buy them at the store. I will give you two good reasons:
1.
You already have many of the spices in your cupboard which means making your own will be more cost effective.
2.
There is satisfaction in making your own.
I also found that some of these rubs are wonderful to marinate in olive oil to make your own dipping sauce for artisan breads. My formula is usually 2 Tablespoons of rubbing spice to 1 cup of olive oil. Mix in a jar and let the flavor of the spices mix with the oil. Shake well and pour into a shallow dish. If you like the taste of Balsamic vinegar adds a few drops into the shallow dish just before you are ready to dip your bread.
I think that cooking should be fun and I, for one, am not fearful when it comes to experimenting. If you are trying to make your own rubs for the first time or aren't sure where to start but would still like to save some money by making your own or even to give as gifts, I have included a few tried and true recipes. Just mix and rub on the meat. Store in an air tight container if you have any leftovers.
Mexican Spice Rub
2 Tablespoons fresh chopped Cilantro
3 cloves of garlic, minced
1 Teaspoon ground cumin
1/8 Teaspoon sugar
¼- ½ Teaspoon crushed red pepper
2 Tablespoons dark chili powder
2 Teaspoons grated lime zest
Thai Spice Rub
4 Tablespoons finely grated fresh ginger
4 Cloves of garlic, minced
2 Tablespoons lemongrass
¼ Teaspoon crushed red pepper
Italian Herb
3 Tablespoons chopped parsley
3 Tablespoons basil
3 cloves garlic, minced
1 Tablespoon oregano
2 Teaspoons grated lemon rind
Cajun Spice Rub
2 Tablespoons smoked Paprika
2 Teaspoons garlic salt
2 Teaspoons Onion powder
½ Teaspoon ground black pepper
1 Teaspoon thyme
1 Teaspoon oregano
¼ Teaspoon crushed red pepper
2 Teaspoons garlic powder
Conventional Herb Crust
4 Tablespoons parsley
11/2 Tablespoons rosemary
2 Teaspoons onion salt
2 Tablespoons garlic salt
2 Tablespoons course ground pepper
French Herb Crust
2 Tablespoon chives
4 Tablespoons parsley
3 Teaspoons Thyme
3 Teaspoons grated orange rind
½ Teaspoon garlic powder
Moroccan Spice Rub
1 Tablespoon granulated garlic
1 Tablespoon course ground pepper
1 Tablespoon salt
1 ½ Teaspoons cumin
1 Teaspoon dry mustard
1 Teaspoon cayenne pepper
½ Teaspoon rubbed sage
1 Tablespoon ground fennel
½ Teaspoon ground nutmeg
½ Teaspoon brown sugar
---
If you have any additional tips that you'd like to add, please post them on the
Cook'n Club Forum
(if you're a
Cook'n Club Member
)...or e-mail them to
Dan@dvo.com
.
---
Join the Cook'n Club!An unbeatable value with exclusive benefits for members only.
Enjoy articles like this and many other benefits when you join the Cook'n Club.