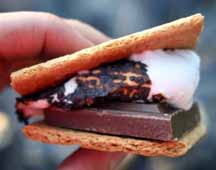 Nothing says family fun like a tasty treat around the campfire but if your family is
bored with the same old símores
then be sure to take a look at these interestingly appetizing campfire desserts.
All you need is a campfire and a few simple ingredients to enjoy some very unconventional family campout sweets.
Peach Cobbler in a Can
1 Large can of sliced peaches in heavy syrup
4 Tablespoons yellow cake mix (approximately)
Cinnamon sugar, to taste
Remove any paper labels from the can of peaches. Drain off syrup, reserving ľ cup. Sprinkle cake mix over sliced peaches inside the can. Then pour reserved syrup over peaches and cake mix. Place lid back on can and set can in hot coals to cook for 10-15 minutes or until crust is crumbly and peaches are bubbly. Eat right out of the can or pour onto plates to share. Top with cinnamon sugar and whipped cream.
Fire-Roasted Chocolate …clairs
1 can of crescent roll dough
Vanilla pudding
Chocolate frosting
Aluminum foil
Wrap one crescent roll around the end of a roasting stick being sure to close up the very end. Loosely wrap with foil. Cook over fire until dough becomes a golden brown tube open at one end.
Fill with vanilla pudding and spread with chocolate frosting.
Baked Apple
1 apple
1 Tablespoon cream cheese
1 Tablespoon brown sugar
1 teaspoon cinnamon
Heavy duty aluminum foil
Cut core from apple leaving the bottom of apple intact. Fill with brown sugar, cream cheese and cinnamon; wrap in foil and place in hot coals. Let apple bake 20-30 minutes.
Cocoa Taffy
4 Single Serving Packages of Hot Cocoa Mix
2 Tbsp. Oil
Roughly 2 Tbsp. of Water
Heat the oil in a pan. Slowly and carefully add the water to the cocoa mix in bowl or plastic bag. The mixture will be very thick. Fry the mixture in the oil. It's ready to eat when it starts to look like taffy. Also try using different flavors of cocoa mix. Raspberry flavored cocoa taffy is delicious! Servings: Roughly 2
Orange Peel Campfire Muffins
6 oranges
2 (7 oz.) packages of muffin mix, any flavor
Cut oranges in half. Scoop out the orange segments to eat alone or to use in a fruit salad. Reserve the hollow peel shells. Prepare the muffin mix according to the package directions. Fill the orange peel cups half full of batter. Wrap each one loosely with heavy duty aluminum foil. Place in hot coals, making sure that the batter side stays up.
Cook 5-10 minutes until muffins are done. Adding a few cranberries to the batter adds excellent flavor and goes well with the orange. Makes 12 (use 3 oranges per package of muffin mix).
I hope that your family will enjoy these fun campfire recipes as much as mine. You can be the first to send out the summer call for no more símores and enjoy some new and different campfire confections. Happy trails campers!
---
Join the Cook'n Club!An unbeatable value with exclusive benefits for members only.
Enjoy articles like this and many other benefits when you join the Cook'n Club.
---