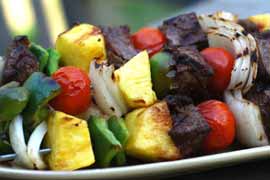 In the great out doors or in your own backyard, a kabob buffet is guaranteed to please any crowd.
The idea is to stretch out out an array of meats, seafood, fruit, and veggies so that each camper can build his/her own style of kabob. Meat-lovers and vegetarians alike can enjoy the variety this tasty meal offers.
Kabob Buffet
Possible Ingredients:
Meats
Beef, sirloin, chicken breast, leg of lamb, lobster, pork loin, scallops, shrimp, turkey breast, cheddarwurst or other pre-cooked sausage, hot dogs (a favorite with the kids)
Fruits and Veggies
Bell peppers, cherry tomatoes, chilies, eggplant, mushrooms, precooked potatoes, pearl onions, pineapple, plantain, zucchini, squash, mango.
Other ingredients needed:
Marinade
Olive or vegetable oil
Salt and pepper, to taste
Wooden Skewers (soaked in water for at least 20 minutes to prevent burning)
The real beauty of the campout kabob is that everything can be prepared ahead of time and stored in the refrigerator or freezer until ready to move to the cooler. Cube meats into 1 inch pieces and keep in freezer bags with marinade.
Veggies can also be cut to match the size of the meat and stored in a freezer bag with a couple tablespoons of olive oil and garlic salt or any seasonings desired. Shrimp or scallops need no other preparation other than cleaning and storage.
At the campground, while the grill is getting hot, lay out the ingredients for the kabobs and instruct everyone to "
come and get it
"! As kabobs are assembled, brush with a little olive oil before placing on the grill for 10-20 minutes depending on size and type of meat (meat will need longer to cook than vegetables or seafood). Be sure to cook all meat thoroughly.
Happy Camping!
---
If you have any additional tips that you'd like to add, please post them on the
Cook'n Club Forum
(if you're a
Cook'n Club Member
)...or e-mail them to
Dan@dvo.com
.
---
Join the Cook'n Club!An unbeatable value with exclusive benefits for members only.
Enjoy articles like this and many other benefits when you join the Cook'n Club.
---