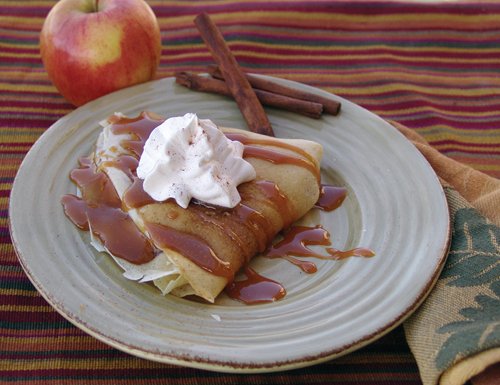 A couple of years ago, my husband and I along with my brother and his wife were visiting our son, Kevin, in beautiful British Columbia. We had a wonderful time exploring the sights, shopping and, of course, visiting some of the local eateries. I was intrigued when we past a crepe café. I have made basic crepes at home and have had them as dessert at a fancy restaurant but I had never been in a Creperie. I was fascinated and hungry. It didn't take much coaxing to get the others to agree to stop and indulge in a tasty treat. I was surprised at the variety of sweet and savory delights that were available.
Crepes are wafer-thin pancakes and have the most basic of ingredients – flour, eggs, milk, butter and a pinch of salt. I call them the romantic pancake because they can be used in a romantic atmosphere when filled with more sophisticated fillings. Filling a crepe can be as simple as a little butter and spice or fancy with creams, chocolate and fruits.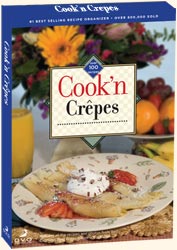 Crepes are versatile and can be served for appetizers, a quick breakfast, a fancy brunch, elegant lunch or dinner and my favorite – dessert! Crepes may also be folded into a variety of shapes for eye catching presentations. Roll them as you would an enchilada or fold them into an envelope or for a more dramatic flare try stacking them with layers of filling. There are so many ways to prepare crepes, Cook'n even has a title named "
Cook'n with Crepes
".
Ideally the crepe batter should be made an hour or so before cooking and let to rest in the refrigerator. Some
crepe recipes
even suggest refrigerating overnight. This process allows the flour to soak up all the liquid and reduce any foaming that may have occurred in blending. I usually don't incorporate this step into my preparation. I find that they turn out wonderfully when the batter is used immediately.
You may want to experiment with this and see what you think. Because the recipe is very basic, the only thing that you have to learn is technique. Once you have mastered the technique, the ideas for fillings will start to permeate your mind. It may take a little practice for you to figure out just how much batter to use in your pan and how long to cook it but usually after one or two tries you know just what to do. My first crepe is often a practice run.
The simplest way to make the batter is to use a blender but you can use a wire whisk. You should have a flat cooking pan such as an 8 or 9" sauté pan or crepe pan and a spatula for turning and removing the crepe.
Basic Crepe Recipe
4 eggs
½ cup milk
½ cup of water
½ tsp salt
1 tsp sugar (optional)
2 tbsp melted butter
1 cup flour
Using a wire whisk (or in the blender), mix the eggs, water, milk and melted butter together. Slowly mix in the flour, sugar and salt. You want to avoid lumps.
If you are using a blender use the same process, blending for 30 seconds and scraping down the sides and then blending again for 30 seconds.
Heat the crepe pan on medium heat. Lightly grease with butter. Measure about a ¼ of a cup of mixture (you'll know how much for sure after the first one) and pour into the pan. Tilt the pan to spread mixture. The crepe will form little bubbles. Flip crepe over and when the pancake is the desired color slide off onto a plate.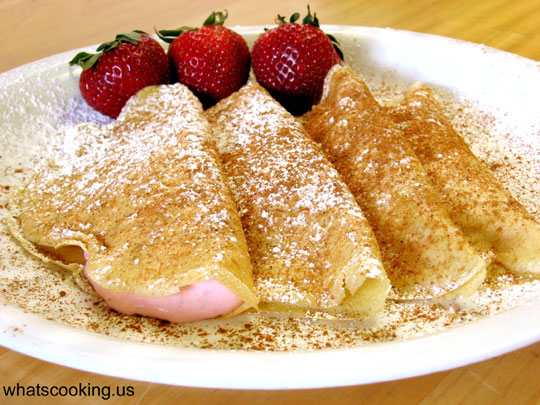 These can be filled with Nutella (a chocolate hazelnut spread), with bananas, berries, puddings or jams (and you can add whipped cream or berries on top). One of my favorite is an apricot pillow which consists of whipped cream cheese with apricot preserves.
If you want an even quicker crepe, simply sprinkle with a little cinnamon sugar or lemon juice and powdered sugar, roll it up and enjoy! For a savory crepe you might include: scrambled eggs, asparagus, mushrooms, ham, spinach, etc…
Have fun with this and Bon Appetite!
---
* DVO welcomes your kitchen hints and cooking or nutrition questions! Email us and we'll post your hints and Q/A's in upcoming newsletters! *