Today, in an effort to shop with only two kids instead of the usual three, I decided to "run" to the grocery store and do the shopping in the morning while my oldest was at preschool. Half way through the trip I realized I was committing the ultimate budget sin. I was totally disorganized. I had a rough meal plan, but hadn't taken the time to make a thorough list. Between some family stress and a weekend out of town I had not taken time to get coupons ready. I hadn't even really looked through any grocery ads to see what was on sale this week.
Looking at my cart you could absolutely see the error of my ways adding up to extra spending, not to mention less healthy choices. I found myself much more likely to indulge myself and my kids when I was shopping without a thorough list.
The solution to my problem can be summed up in one word – ORGANIZATION! That one word can save you a lot of money. Cook'n offers some great tools to help you get organized without devoting a ton of extra time. If you already have all of your recipes in Cook'n you are ready to go. Create your weekly meal plan there and it will create a shopping list for you!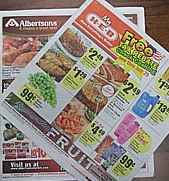 A well organized kitchen and a good system for sorting coupons and comparing store sales will take your money saving strategy to the next level. Be aware of store policies at your local grocers and know how they can save you money. For instance, WalMart will match other stores' ad prices so if you take a few minutes to look through the ads and list the items you are interesting you can save a lot of money using stores that offer price matching. Just be sure to take the ads with you in case the store requires proof of price. Watch for stores that offer coupon doubling and find out when they will be doing this.
I also love to stock up on common items when I can buy them at a great price. Quite often you can find sales and coupons that coincide and you can get items for next to nothing. When this happens I buy several and rotate them into my food storage. Again, organization is critical. Well laid out shelf systems make it easy to know what you have and a good rotation system keeps food from expiring and wasting your money.
The internet is a great wealth of resources if you need ideas for how to get started. There are as many ways to organize as there are grocery shoppers, so finding what works for you is critical. There are several sites out there like
PinchingYourPennies
that help consumers develop a system for saving on groceries.
As I shopped today I noticed a couple of other pitfalls. First, I was shopping hungry. Shopping on a full stomach really cuts back on the temptation of grabbing this and that on each aisle. I also notice that I spend considerably less when I am able to shop while my kids are at home. This is rarely possible for me, so I have learned a couple of other tips for getting through the store without buying extras for the kids. Go when they are full as well. Also, don't go when the kids are tired. They are more likely to whine for "treats" and you are more likely to appease them when you are all tired. Also, shopping when you have time and don't feel rushed can help.
Next time I do the shopping , you can bet that I will be more prepared. Disorganization is a costly mistake that I hope we can all avoid. With a some time and the great resources you already have in Cook'n you are well on your way.
---
Join the Cook'n Club!An unbeatable value with exclusive benefits for members only.
Enjoy articles like this and many other benefits when you join the Cook'n Club.