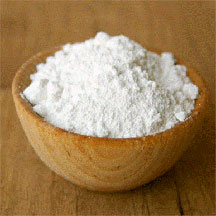 Most of us have a box of cornstarch in the cabinet for making creamy sauces and thick gravies., but there are a lot of other uses for this kitchen basic.
Stain Remover –
This works particularly well on blood stains. My oldest gets nose bleeds quite often and finding this has saved his sheets! Just mix cornstarch and water to create a paste. The more runny it is, the more it will absorb, but you also want a good amount of corn starch to get into the fibers. So, create a little paste, poor it on the stain, let dry, and wash with your regular laundry. You can even use this on spots on the carpet.
Baby Powder Substitute -
If you have a baby then you probably know the dangers of talcum powder. Talcum powder tends to cloud up in a fine dust that your baby can breathe into his lungs causing breathing problems. A safer alternative to talcum powder is plain cornstarch right out of the box. Just sprinkle a bit on baby's bottom and it will absorb better than any baby powder.
Itch/Bite Remedy -
Make a medium to thin paste of cornstarch and water and apply it to the affected area. Let the paste dry and leave it on until the itch begins to bother you again.
Detangler -
Whether it is tangled hair, shoelaces, string, or yarn just sprinkle on a bit of cornstarch and the knot will come undone more easily.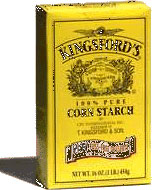 Pet Cleaner –
For pets that are difficult to bathe or for upkeep between bath just sprinkle cornstarch onto his fur and rub it in vigorously. Once you have thoroughly dusted your dog with cornstarch just give him a good brushing. The cornstarch will absorb dirt and oils from your dog's fur. This works on human hair as well but hopefully no one in your family refuses to get into the tub.
Carpet Freshener -
Cornstarch is also a great substitute for products like Carpet Fresh. Just sprinkle cornstarch on the carpet as you would any powdered carpet deodorizer and vacuum it up. Your rugs will smell clean and fresh.
Finger Paint -
Bring out your good old cornstarch and mix a quarter cup of it with two cups of water and boil it on the stove until it is the consistency of paint. Separate the goo into a few dishes and add food coloring to each one. Your cornstarch paint is not only non-toxic but it's edible too – and sadly, that is comforting to some of us mothers!
Face Paint -
just mix two parts of cornstarch with one part of white vegetable shortening to make a non-toxic grease paint. Use food coloring to get the desired color.
Roach Killer -
You can use cornstarch to kill those pesky roaches that invade your home. To create a cornstarch mixture that will kill roaches simply mix equal parts of cornstarch and plaster of Paris together. Sprinkle the mixture into cracks and crevices. The cockroaches will then eat the cornstarch and plaster of Paris mixture and will then die.
Cure Athlete's Foot -
Sprinkle cornstarch on your feet and in your shoes to absorb moisture and reduce friction.
Relieve Sunburn Pain -
Add enough water to cornstarch to make a paste, and apply directly to the burn.
---
If you have any additional tips that you'd like to add, please post them on the
Cook'n Club Forum
(if you're a
Cook'n Club Member
)...or e-mail them to
Dan@dvo.com
.
---
Join the Cook'n Club!An unbeatable value with exclusive benefits for members only.
Enjoy articles like this and many other benefits when you join the Cook'n Club.