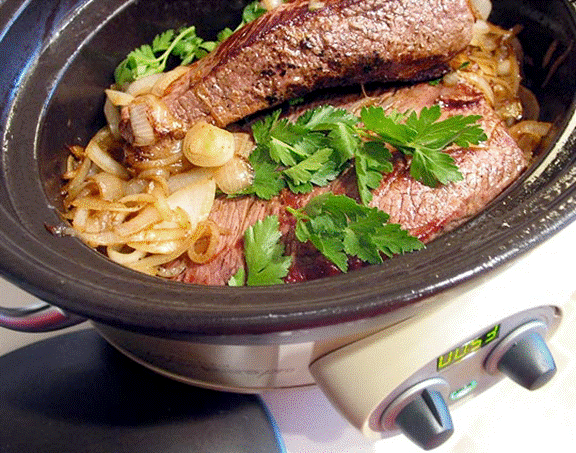 Saving money on your grocery bill can really add up when you consider that most of us are at the store every week. If you save just $25 a week that will add up to $1200 a year. However, less expensive does not necessarily mean less appetizing, especially when you have a slow cooker in the kitchen.
In the grocery meat counter, some of the best cuts of meat are not necessarily the most expensive. A slow cooker can really deliver wonderfully tender meals with a variety of meat cuts. For instance, a whole chicken costs less per pound than a chicken cut-up by the butcher. A pot roast, rump roast or pound of hamburger are far less expensive than that succulent slab of steak, but tastes just as wonderful if it is prepared right. A pork shoulder will cost less per pound than will pork tenderloin, offering a substantial savings. Fish is healthy and delicious and will can save you some money with less expensive fillets available at your grocery store.
You can also save money and create healthier meals by purchasing fresh vegetables rather than frozen or canned. A good rule to remember when you are shopping is this: the less processing a food receives prior to arrival at the grocery store, the more economical it is for the consumer, not to mention the more healthy.
All these foods, and more, are wonderful when cooked in a slow cooker. It creates more tender meats and wonderful blends of flavor that are sure to please. And did I mention the fantastic aromas that fill your how when you slowly create your dinner masterpiece all day? With some creative thinking and shedding of some old ideas, nearly anything you can do in the oven or on the stove can be done in a slow cooker – and often done better.
One final way a slow cooker can help with your food budget is to make more than you might need, freezing leftovers for lunches or later dinners. Whether you're a family of two or ten, there is a crock-pot size to suit your needs. By selecting the next size up, you are assured of having a full freezer no matter how far away that next payday is. If you are making a meal that is a particular favorite you can make an especially large batch in order to have leftovers around without starting over on a new batch. Most foods from your slow cooker are easily frozen and reheated.
Beyond the financial savings the slow cooker has benefits for any lifestyle. Whether you are home during the day or at work you can set your meal to cook and be ready when you are. No stress, no take-out, no last-minute panic, dinner is just preparing while you go about your business. What is not to love?
Utilizing a crock-pot will save you money not just on your grocery bill but also on your electric or gas bill as well. As a smaller appliance slow cookers use less energy than an electric stove and you won't have to stand next to the hot stove as your food cooks. Slow cooking has never been easier on both your time and your food budget.
---
If you have any additional tips that you'd like to add, please post them on the
Cook'n Club Forum
(if you're a
Cook'n Club Member
)...or e-mail them to
Dan@dvo.com
.
---
Join the Cook'n Club!An unbeatable value with exclusive benefits for members only.
Enjoy articles like this and many other benefits when you join the Cook'n Club.
---