Go Meatless... and Save Money!
By Bethany Booth
Add it up! It is easy to see that meat, poultry, and fish account for the largest portion of the grocery bill. One key to feeding the family on a budget is learning the trick that most foreign cooks already use: cooking with lots of veggies and grains keeps food costs low. Learn to use expensive meats and seafood as flavorful condiments rather than the main course.

Utilize the Cook'n Recipe Organizer to create an adventurous and nearly meatless meal plan that will broaden your family's cultural horizons while saving you money. Here are a few ideas that will help you pinch those pennies as you try to dine vegetarian style (just a little bit).

Beans and Rice! Rice and Beans!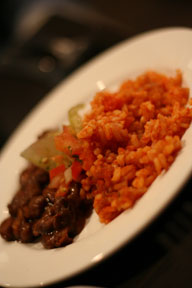 So versatile, so tasty, so full of protein and fiber, and so... Cheap!

At least once a week I throw a bag of beans into the crock-pot with a clove or two of minced garlic and let them slow cook all day long. My family always looks forward to good ol' bean burrito night.

At dinnertime I prepare tortillas, rice, lettuce, cheese, onions, salsa, sour cream and all the other fixings. Once in a while I cook up some ground turkey or beef seasoned with garlic, onion, and taco seasoning but by starting with the filling beans and rice the burritos end up holding very little meat and are extremely tasty with or without it.

Here is another way to turn beans and rice into flavorful veggie burgers:

Black Bean Burgers

1 (15 ounce) can black beans, rinsed and drained
1 cup cooked brown rice
1 small onion, finely chopped
1 egg, lightly beaten
6 tablespoons salsa, divided
¼ cup reduced-fat sour cream
4 lettuce leaves
4 slices cheddar cheese
4 hamburger buns

In a large bowl, mash beans with a fork. Add the rice onion, garlic, egg and 2 tablespoons salsa; mix well. Drop by the ½ cupful onto a large non-stick skillet coated with nonstick cooking spray.
Flatten to ½ inch think. Cook over medium heat for 4-5 minutes on each side or until firm and browned.
In a small bowl, combine sour cream and remaining salsa. Place a lettuce leaf, burger, sour cream mixture and slice of cheese on each bun.

Veggies and Whole grains!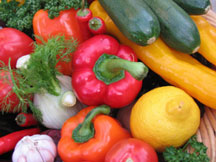 Focus on vegetables and whole grains. If you truly can't go against your meat and potatoes upbringing then aim to fill only 1/3 of the plate with meat and the other 2/3 with a variety of vegetable and whole grain side dishes. Or cheaper yet, turn your favorite meat recipe into a casserole or soup combined with lots of veggies and whole grain noodles.

Spinach Artichoke Lasagna

Olive oil
9 cooked lasagna noodles
1 onion, chopped
4 cloves garlic, chopped
1 (14.5 ounce) can vegetable broth
½ tablespoon rosemary
1 (14 ounce) can marinated artichoke hearts, drained and chopped
1 (10 ounce) package frozen chopped spinach, thawed, drained and squeezed dry
1 (28 ounce) jar tomato pasta sauce
3 cups shredded mozzarella cheese, divided
1 (4 ounce) package herb and garlic feta, crumbled

Preheat oven to 350 degrees
Spray a 9x10 inc baking dish with olive oil or cooking spray.
Coat a large skillet with olive oil and heat on medium-high. Sauté onion and garlic for 3 minutes or until onion is tender-crisp. Stir in broth and rosemary; bring to a boil. Stir in artichoke hearts and spinach/reduce heat, cover and simmer 5 minutes. Stir in pasta sauce.
Spread ¼ of the artichoke mixture on in the bottom of the prepared baking dish; top with 3 cooked noodles. Sprinkle ¾ cup mozzarella cheese over noodles. Repeat layers two more times, ending with artichoke mixture and mozzarella cheese. Sprinkle crumbled feta on top.
Bake covered, for 40 minutes. Uncover, and bake 15 minutes more until hot and bubbly. Let stand 10 minutes before cutting.

Breakfast for Dinner!
Whenever you are at a loss remember that most breakfast foods are economical and delicious any time of day.

Whole Grain Waffles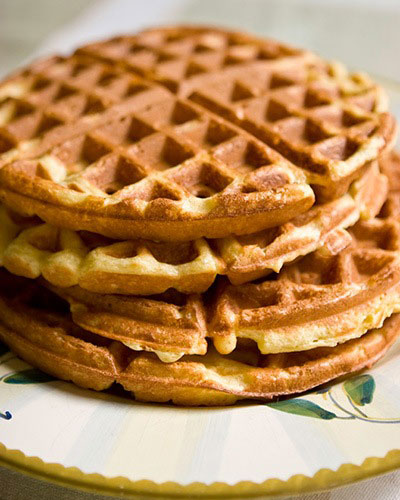 2 eggs, beaten
1 3/4 cups skim milk
1/4 cup canola oil
1/4 cup unsweetened applesauce
1 teaspoon vanilla extract
1 cup whole wheat pastry flour
1/2 cup flax seed meal
1/4 cup wheat germ
1/4 cup all-purpose flour
4 teaspoons baking powder
1 tablespoon sugar
1/4 teaspoon salt

In a large bowl, whisk together the eggs, milk, oil, applesauce, and vanilla. Beat in whole wheat pastry flour, flax seed meal, wheat germ, all-purpose flour, baking powder, sugar, and salt until batter is smooth.
Preheat a waffle iron, and coat with cooking spray. Pour batter into waffle iron in batches, and cook until crisp and golden brown. Serve with fruit and yogurt or maple syrup.

Have fun experimenting and turning your own favorite recipes into meatless money-savers!





---
* DVO welcomes your kitchen hints and cooking or nutrition questions! Email us and we'll post your hints and Q/A's in upcoming newsletters! *