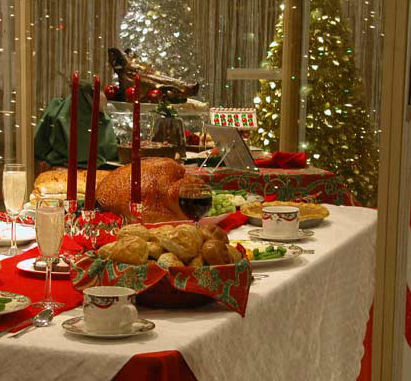 I recently attended a wonderful little Christmas party. When I arrived, the hostess greeted me and invited me into her adorable home. Everything was just perfectly placed and put together. She had a favor bag for each guest which included a cute "cake in a jar", a craft item, some recipes, and a gift. Her home smelled divine and an adorable menu sign read "Today's Menu: Tortellini Soup and Chicken Posole". She also had a delicious spinach and artichoke heart dip prepared as well as a table full of cookies.
I stood there in awe wondering how any person could pull off such a perfect party with fantastic foods without major manpower. I apparently wasn't alone in my quandary. One of the other guests asked the hostess if she made all the tortellini by herself and the hostess laughed and replied, "You must not know me too well! I am the queen of almost homemade." She went on to tell us how she made this divine menu from a few ingredients combined with premade products she gets at the local grocery store.
It turned out to be a very fun party and every little detail was just wonderful. I am still in awe at this beautiful lady, but so glad she shared some secrets with me to help make picture perfect parties a little more feasible in my chaotic and busy life.
There are a lot of great ways to add your signature to store bought items and make them impressive and uniquely yours! Your guests will be totally in awe of your next party and they don't even need to know how much time you saved by going "almost homemade". Your shortcuts and savory secrets will make you a superhero host.
These recipes may be helpful in sparking all your creativity!
Made-in-a-Minute Meatballs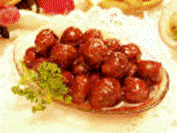 1 bag of meatballs (about 2 lbs)
1 jar of grape jelly
1 jar of chili sauce
1 Can of pineapple chunks in syrup
Combine ingredients in a slow cooker. Let it sit on high for 4 hours and you are ready! If you are in a hurry you can heat all of the ingredients except the meatballs in a pot on the stove. Then pour in the meatballs and stir them to coat. Only cook this Christmas party finger food on medium though because the meatballs are pre cooked!
Chicken Tortellini Soup
9 oz. package frozen cut broccoli, thawed
6 cups water
3 cans condensed chicken broth
1 (10 3/4 oz) can cream of chicken soup
2 cups (about 4 breasts) boneless, skinless, split chicken breasts cubed and soaked in 1/2 cup dry vermouth (may substitute cooking sherry, white cooking wine or water if preferred)
1 cup chopped onion
1 cup grated carrots
2 cloves garlic, minced
1/2 teaspoon basil leaves
1/2 teaspoon oregano leaves
12 oz. package cheese tortellini (fresh or frozen)
grated parmesan cheese (optional)
In a large saucepan or soup pot, combine water, chicken broth, cream of chicken soup, soaked chicken, onions, carrots, basil and oregano.
Bring to a boil; add tortellini. Simmer uncovered for 30 minutes.
Add broccoli. Simmer an additional 15 minutes or until broccoli is tender.
Serve garnished with grated parmesan cheese if desired.
Enjoy this easy one dish dinner any day of the week!
Makes 10 1-1/2 cup servings.
Apple Raspberry Upside-Down Cake
Serves 8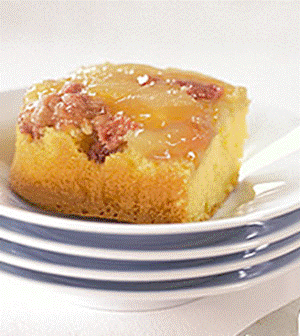 1 cup fresh raspberries or frozen, thawed
1 container (21 ounces) apple pie filling, Comstock®
1 box (18.25 ounces) classic yellow cake mix, Duncan Hines®
1 1/3 cup water
1/3 cup vegetable oil, Wesson®
3 large eggs
1 1/2 teaspoons pure vanilla extract, Schilling®
1/2 teaspoon ground ginger, Schilling®
Prep time: 8 minutes
Baking time: 50 minutes
Cooling time: 15 minutes
Preheat oven to 325 degrees F.

Butter 9-inch square baking dish or pan.

Toss raspberries with apple pie filling in medium bowl to coat.

Set aside.

Combine cake mix, water, oil, eggs, vanilla and ginger in large bowl.

Beat on medium speed until well blended, about 2 minutes.

Pour half of batter into prepared baking dish.

Scatter fruit mixture over batter in dish.

Pour remaining batter atop fruit.

Bake 50 minutes or until golden brown.

Cool 15 minutes.

Run knife around edges of dish to loosen cake.

Invert cake onto serving platter.

Scrape off any fruit from dish and spread atop cake.

HAPPY ENTERTAINING!!!




---
* DVO welcomes your kitchen hints and cooking or nutrition questions! Email us and we'll post your hints and Q/A's in upcoming newsletters! *