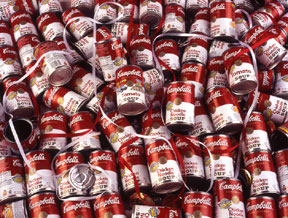 There is a reason that canned foods are so popular. They can help facilitate tasty dishes with reduced time in the kitchen. When you need to fix a comforting meal quickly, it's good to have a few cans of creamed soups, canned meats and beans along with a recipe or two that can help you get in and out of the kitchen and on to more pressing matters.
Canned goods are precooked and usually pre-seasoned and when added with other ingredients can make an appetizing and consoling meal. Many of the comfort foods, such as soups and casseroles, can be made with a little help from a can. Take a look in your cupboards and see just how dependent we have become on canned goods. We keep them on hand because they add variety and convenience to our meals.
We sometimes think of canned foods as a modern convenience but, actually, canning has been a way to preserve food for centuries. Canned foods may not be as desirable to eat as fresh foods, but keeping foods fresh has always been a problem. Canning doesn't affect the nutritional value of the food very much. Not only are vitamins still preserved after the canning process, canning does little to affect the proteins, carbohydrates or, in the case of canned meats, fat.
Although you don't have to worry about the canning process affecting your food's value, the actual ingredients being canned may be something you will want to check the back of the can for. There may be additives that you might consider to be unhealthy for you. We now have a variety of choices, such as low sodium and sugar free canned goods. That being said, canned foods are generally nutritional and a handy item to have in your pantry.
Remember, you can create a fast, nutritious, comforting meal with canned foods. You really can do all that with a can!
I find some of these recipes that use canned goods simply irresistible.
Black Bean and Salsa Soup
2 15 oz cans of black beans
1 ½ cups vegetable or chicken broth
1 cup chunky salsa
1 teaspoon ground cumin
4 tablespoons ground cumin
4 tablespoons sour cream
2 tablespoons thinly sliced onions
½ cilantro (optional)
In a blender, combine beans, broth, salsa and cumin and cilantro until fairly smooth. Heat the bean mixture over medium heat until thoroughly heated . Serve with 1 tablespoon of sour cream and ½ teaspoon of green onion with each serving.
Chicken Enchilada Casserole
2 12.5 oz cans of chicken breast
2 cans of cream of chicken soup
1 can tomato soup
1 small can sliced green chilies
1 small can (15 oz) hot enchilada sauce
1 lb grated cheddar cheese
1 dozen corn tortillas
Drain the liquid off of the canned chicken breast. Then add the cans of soup, chilies and enchilada sauce. Heat mixture to a boil and allow to simmer for about 5 minutes. Take mixture off of heat. Spray a 9" x 13" pan lightly with cooking spray. Place 4 corn tortillas on the bottom of the pan and add one third of the meat mixture and one third of the grated cheese. Continue this process until all the ingredients are used. Bake at 350 degrees for 25 minutes or until the dish is hot and bubbly.
Chicken and Artichoke Cacciatore
2 15 oz cans chicken breast (drained)
1 6oz can artichoke hearts (drained)
1 16 oz can diced tomatoes (drained)
1 4oz can of mushrooms (drained)
¼ cup red wine vinegar
¼ teaspoon oregano
½ teaspoon basil
1 teaspoon garlic powder
½ teaspoon pepper
Mix all the above ingredients in a large bowl. Add the oregano, basil, pepper and garlic powder and serve over rice.
---
If you have any additional tips that you'd like to add, please post them on the
Cook'n Club Forum
(if you're a
Cook'n Club Member
)...or e-mail them to
Dan@dvo.com
.
---
Join the Cook'n Club!An unbeatable value with exclusive benefits for members only.
Enjoy articles like this and many other benefits when you join the Cook'n Club.
---