In this day and age we find ourselves needing fast, delicious dinners more than ever before but quick doesn't mean we have to sacrifice flavor! For quick, simple, "almost homemade" meals many of my family's favorites include soup based recipes. By using canned soup you can create a very wide range of flavors and foods in just a tiny fraction of the time.
In our house we make Stroganoff, Hawaiian Haystacks, Creamy Ranch Chicken, and Chicken Rice Casserole all from a base of Cream of Chicken Soup. My kids love all of these recipes and they are all different despite having the same soup as a main component. Now imagine what you can do with all the soup flavors on the shelf at your grocer. The possibilities are endless. You can create new combinations, alter old recipes, or just add a few new things to your favorite soup to spruce it up a little.
Here are some ideas for simple soup-based recipes that can be delivered to your table in a hurry.
Speedy Stroganoff
½ onion, chopped
1 tablespoon butter
1 pound ground beef
1 can Cream of Chicken Soup
1 pint sour cream
Milk (as needed for thinning)
Egg Noodles
Melt butter in pan to sauté onions. Add beef and brown. Then add soup and sour cream. If it is too think you may slowly stir in a little milk to thin it. Serve over Egg Noodles.
Serves 4.
Hawaiian Haystacks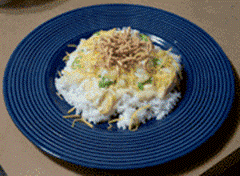 1 can chicken
1 can Cream of Chicken Soup
Chow Mein Noodles
3 cups rice
1 can Pineapple
Combine chicken and soup in frying pan and mix until warm. Serve over rice and top with chow mein noodles and pineapple.
Serves 6.
15 Minute Chicken Parmesan Risotto
tablespoon oil
1 pound boneless, skinless chicken breasts, cut into small pieces
1 large tomato, optional
1 can cream of chicken soup (or any cream soup)
1 2/3 cup milk
1/2 cup grated parmesan cheese
1/2 teaspoon Italian seasoning
2 cups minute rice
Heat oil in skillet. Add chicken; cook until lightly browned.
Meanwhile, chop tomato and set aside. In a medium saucepan, mix soup, milk, parmesan cheese and seasoning; stir. Heat to a slow boil. Stir in rice and tomato; cover and cook on low heat 5 minutes or until cooked through. Stir and serve.
Serves 4.
All Day Stew
1 pound sirloin steak -- trimmed
4 medium potatoes
4 medium carrots
2 stalks celery
10 3/4 ounces cream of mushroom soup
10 3/4 ounces cream of celery soup
10 3/4 ounces tomato soup
1 package onion soup mix
10 3/4 ounces water
1 bay leaf
Cube beef into bite-size pieces. Place in casserole or baking pan with lid. Peel and cube potatoes, carrots and celery; place on top of meat. Add soups and water; place bay leaf on top. Cover and cook in oven for 8 hours at 225 degrees. When done, discard bay leaf, stir stew and serve. Can cook in crockpot all day.
Pork Chop Casserole
Pork chops and scalloped potatoes, all in one dish - easy!
6 pork chops (1 inch thick)
5 cups thinly sliced potatoes
1 cup chopped onion
1 can (10 oz.) cream of mushroom soup
1 cup milk
1 teaspoon sage
Salt and pepper
Brown pork chops on both sides.
In a greased 9 x 13 inch pan, layer half of the potatoes. Top with half of the onions, then the remaining potatoes and onions.
Arrange the pork chops on top.
Mix mushroom soup, milk, sage, salt and pepper. Pour over the pork chops.
Cover and bake at 350 degrees F. for 1 hour. Makes 6 servings.
Beef Taco Skillet
1 lb. ground beef
1 can (10 3/4 ounces) Campbell's® Condensed Tomato Soup (Regular, Healthy Request® or 25% Less Sodium)
1/2 cup salsa
1/2 cup water
6 flour tortilla (6-inch), cut into 1-inch pieces
1/2 cup shredded Cheddar cheese
Cook the beef in a 10-inch skillet over medium-high heat until it's well browned, stirring often to separate meat. Pour off any fat.
Stir the soup, salsa, water, and tortillas in the skillet and heat to a boil. Reduce the heat to low. Cook for 5 minutes. Stir the beef mixture. Top with the cheese.
---
Join the Cook'n Club!An unbeatable value with exclusive benefits for members only.
Enjoy articles like this and many other benefits when you join the Cook'n Club.