I'm Very Fondue of You!
By Jeanne Wolfley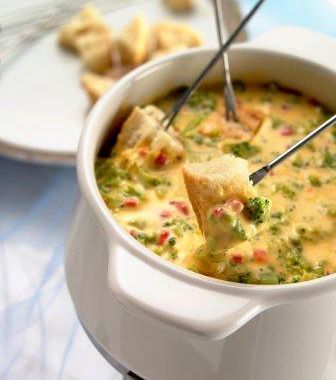 An entertaining and enjoyable way to say "I Love You" for Valentines Day is to have a Fondue Party. A Fondue Party is easy to put together and clean up is minimal. My son, Tim, was in Switzerland for two years. He brought back fondue pots for each of the family members. Tim learned to love fondue in Switzerland; he, in turn, taught us not only to love fondue but to make it a party! With Valentines Day just around the corner, you might want to think about a fondue party with family or friends.
One of the many remarkable things about a fondue party is that it is a low stress event. Preparation is done ahead, before your company arrives. Clean up can be minimal – it's a good time to small paper plates that coordinate with the occasion. You may want to borrow extra fondue pots and it might be fun to include others by having them bring a few of the food items. Fondue is a social sharing of food; it is conducive to mingling, because it's mostly self serve.
Most of our fondue parties include fondue with cheese, meat and then dessert, i.e., chocolate! It's best to arrange your table or tables in stations. One area for the cheese and one for the meat, etc…
Swiss Cheese Fondue
1 large clove of garlic
1 cup of dry white wine or chicken broth
2/3 lb Swiss Emmenthal (cubed)
2/3 lb Swiss Gruyere (cubed)
Juice from a half a lemon
1 tbsp corn starch
Pepper and nutmeg to taste
Rub the garlic on the inside of the pan. Add wine or broth. Heat on the stove and bring to a boil. Turn down to medium and add the cheese and the lemon. Heat until the cheese is melted, stirring slowly and continuously to prevent lumps from forming. Dissolve the corn starch in a ¼ cup of broth or wine and add the mixture to the cheese. Season with pepper and a small amount of nutmeg; continue to stir until fondue is smooth. Remove the saucepan from the stove and transfer to your fondue pot.
Try to hold the temperature to keep the mixture soft and warm but not so hot as to burn the cheese. When all the cheese fondue has been used, there will be a thin layer of crispy cheese that will lift right out and is delicious.
Serve with chunks of crusty bread and vegetables.
---
Meat Fondue consists of small pieces of meat such as chicken, beef and/or seafood. When using meat for fondue a little goes a long way. For your meat fondue area, you should have two or three dipping sauces that your company will enjoy. The sauces you choose will make this fondue very appealing. Meats can be cooked in oil or chicken broth.
Broth for Meat Fondue
3 cups chicken broth
2 green onions – chopped
½ tsp course black pepper
1 tsp fresh ginger
Boil in sauce pan, then transfer to fondue pot
---
Dessert fondue usually gets everyone's attention. Chocolate fondue a great dessert for any meal or can be used as a fun treat. Use sliced fruits, angel food or pound cake, pretzels, or anything that sounds good dipped in chocolate (which is just about anything for me). When you have the table arranged correctly, people will know what to do. Dessert fondue can also include coconut, Sprinkles and nuts as toppings.
Chocolate Mallow Fondue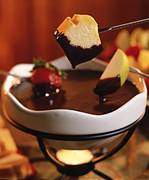 2 cups semi sweet chocolate
1 can sweetened Condensed milk
1 – 7 oz jar of marshmallow crème
½ cup milk
1 tbsp vanilla
Microwave on low heat until melted, Whisk and add to fondue pot. broth-meat-fondue.dvo
---
Chocolate Carmel Dunk
50 caramels
1 can evaporated milk
½ cup semi sweet chocolates chips
½ tsp vanilla
Microwave approximately 3 – 4 minutes until caramel is melted. Transfer to fondue pot.
---
Believe it or not, not everyone knows what to do at a fondue party. This is a good time to explain fondue etiquette. For me, I appreciate no double dipping. It is also proper to have dinner forks available so that hot meat doesn't have to be eaten off the fondue fork. You will always have someone who just can't resist. Just keep smiling!
FYI... Fondue is not a good idea if you have several small, hungry little children. Make some sandwiches or a Supreme Pizza Fondue that will help fill them up quickly. A fondue party is not a fast way to fill up and crying children do not make for a fun party. This tip will make for contented children and a happy hostess.
Supreme Pizza Fondue
30 oz spaghetti sauce
1 tsp dried basil
1 tsp oregano
1 small onion finely chopped
1 garlic clove
Optional Ingredients
Mushrooms
chopped pepperoni
4 oz Italian sausage
Serve bread sticks or cheese sticks with this exciting sauce. Kids love this!
---
Although, fondue is fun anytime, it's easy to create an "I'm very fondue of you" ambiance for Valentines Day with a low stress and very fun Fondue Party!
---
An unbeatable value with exclusive benefits for members only.
Get a newsletter like this each week when you join the Cook'n Club.