A Bushel or a Peck
By Jeanne Wolfley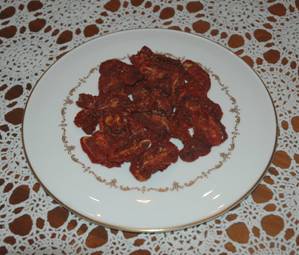 It's that time of year when you may become the recipient of a bag of fresh tomatoes or peppers from your gardener friend. I actually love having fresh vegetables from the garden and have found an impressive solution to having a large amount at once. Not only is it easy, it can add a gourmet touch to your cooking.

Whether you have a bushel or a peck, this is a great option – sun drying. Sun drying outside, however, can take up to two weeks. But, you can shorten this process by drying them in the oven or dehydrator. This process will still take approximately 12-18 hours but that is certainly shorter than two weeks!

Any kind of tomatoes will do, but Roma's are an excellent choice because they have more flesh and less seeds. Cut the tomatoes approximately ½" – ¾" thick and placed on a wire rack or cookie sheet. Cherry tomatoes should be cut in half. Uniformity in thickness helps them dry at the same rate. Sprinkle with sea salt and bake at 150? – 180? for approximately 12 – 18 hours. The process is complete when they are dry through the center but not crispy. Taking out the moisture preserves them and also keeps bacteria from growing. In order to produce one ounce of sundried tomatoes you will need 10 average size tomatoes. It may not seem like much but these little guys are packed with flavor.

There are a couple of ways to store sundried tomatoes. You can store them in airtight bags or container in your pantry or they can also be stored in the freezer. To rehydrate the sundried tomatoes, soak them in warm water for 10 – 30 minutes.

Another way to use them is to dip them in vinegar and place them in a jar with olive oil and herbs such as oregano and garlic. Store these in the refrigerator. They will last months this way. You will want to pat them dry with a paper towel before use.

I found this pasta salad recipe a nice side dish with any meat.

Sundried Tomato Orzo Pasta

1 1/2 c Orzo pasta
1 1/2 c julienne sliced spinach
2/3 c radicchio
1/4 c sundried tomatoes (no oil)

Mix the ingredients and add the following dressing:

3 tbsp shallots, minced
3 tbsp olive oil
2 tbsp lemon juice
2 tsp garlic, minced Add salt and pepper to taste.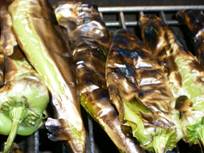 Roasted peppers create a great flavor that can be used on sandwiches, soups and are extraordinary in an omelet or scrambled eggs.

You can grill almost any pepper but we prefer Anaheim. They are full of flavor but are not overly spicy.

Peppers can be roasted directly on the barbeque grill or broiled in the oven. The grill should be hot and the peppers are put directly on the grill. Allow the peppers to roast until they are dark and blistering. Remove from the grill and let them cool in a paper bag for 15 – 20 minutes. As they cool, they will sweat which will allow the skin to be peeled right off. Peel the peppers when they are completely cool. Scrape the seeds out with a spoon and wrap each one individually in a piece of plastic wrap. Store them in a large airtight bag and put in the freezer. This way you can take one or more out at a time as needed.

Zupork Soup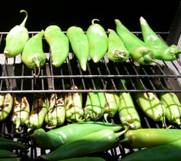 1 c cubed pork
1 (14.5 ounce) can diced tomatoes
1/2 c flour
1 chopped roasted Anaheim roasted pepper
2 tbsp olive oil
8 oz pkg. fresh mushrooms, sliced
1 onion, finely chopped
1 (14.5 ounce) can chicken broth
2 cloves of chopped garlic
2 1/2 tsp dried basil
1 c red pepper chopped
1 tsp oregano
2 small zucchinis, chopped
Salt and Pepper to taste
1/8 c chopped sundried tomatoes

Cut pork in cubes and place in airtight bag with flour, shake. Heat 1tbsp oil in skillet and add pork. Cook for 8 – 10 minutes then take the pork out of the skillet and set aside. Add the onions, bell pepper and garlic to same skillet and sauté for 3 minutes.

Add the cooked pork, zucchini, sundried tomatoes, Anaheim pepper, mushrooms, diced tomatoes, chicken broth, basil and oregano. Bring to a boil, reduce heat and simmer for about 12 minutes.

Add salt and pepper to taste. This is also delicious with fresh parmesan cheese grated on top just before serving!








---
* DVO welcomes your kitchen hints and cooking or nutrition questions! Email us and we'll post your hints and Q/A's in upcoming newsletters! *