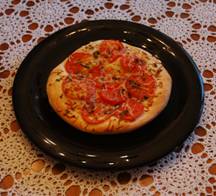 I can think of several reasons for staying at home to eat versus going out. My number one reason is that you can wear anything you want and that adds to the relaxation factor. Let's face it; nothing feels better than a pair of sweats after a long day.
Staying in also allows you the opportunity to control the ingredients. When you eat at a restaurant you have no idea how much fat, salt, etc. is being used. On the other hand, when you are cooking at home, you determine what ingredients you use and how much.
Hopefully, if you are staying in, you have someone to cook with – people whose company you enjoy. Cooking together can be a real bonding time. Good conversation and delicious food – I can't think of anything better except for the "Thank You" at the end of the meal.
Last but not least, if you stay home you don't have to wait in line to get into your favorite restaurants. Some people don't seem to mind the wait, but personally I'm not a fan. On the other hand, one of the best reasons for going out to eat is that you won't have to do dishes. Since you will want to make this easy, I say, "Break out the paper plates!"
When I think of "Take-Out" my first thought is Pizza. Have you ever had your heart set on a hot, cheesy pizza but by the time you picked it up or had it delivered you have a barely-warm, shriveled-up pizza with only half of the toppings you really wanted? The only good part of the ordering out is you can still be in your sweats, but what's that worth if the food is less than desirable.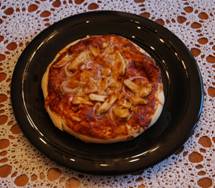 Usually, by the time your pizza arrives you have had more than enough time to make your own. Hot from the oven, made just the way you like it. In fact, it can be made just the way everyone likes it. The topping possibilities are endless!
Making pizza is not difficult and the tools you need are minimal. Although, a pizza stone is helpful, it is not necessary. In fact you don't have to use a round pan. You can use a cookie sheet. Lightly spray your pan with a non-stick cooking spray. Another way to cook your pizza is to buy a 12 inch square ceramic tile from your hardware store. This is similar to a pizza stone and it only cost a dollar or two.
Here are three helpful tips in making a good crust. The first tip is to make sure the oven is HOT! Pizza is cooked at high temperatures (?400?) for a short period of time. If you are using a pizza stone, follow the manufacturer's instructions. Watch the cheese to make sure it is bubbly but not burned.
The second tip is having a really good pizza crust recipe. Pizza dough can be made in just a few minutes. Let the dough sit for 10 – 60 minutes before you roll it out. The dough can be made fresh or even the day before and stored in an air tight container. You can even partially cook the crust for 7 minutes and put it in the freezer. Frozen crust pizzas still take the same amount of time to cook, i.e., 15 – 18 minutes. How easy is that!
The third tip is not using too much sauce so the crust stays crisp.
Pizza Dough
1 ¾ c warm water (105°–115?°F)
1 envelope dry active yeast
2 tbsp olive oil
4 c bread flour or all purpose
1 ½ tsp salt
1. Prepare a large bowl by brushing it with some olive oil (Set Aside)
2. Pour water into a bowl; stir in yeast. Let stand for about 3 minutes.
3. Mix flour, and salt in processor (if you have one). Add yeast mixture and oil; process until dough is a little sticky (about one minute). You can knead by hand if you want.
4. Transfer to prepared bowl; turn dough in bowl to lightly coat with oil. Cover with plastic wrap and let rise for 10 minutes. If you like thick crust, you can let it rise up to an hour. Also, thickness is also determined by how thin you spread it out. Remember that it rises as it bakes. If you are making the dough for the next day, store in an air tight container in the refrigerator.
5. Rolling out the dough; Start in the center of the dough, working outward toward the edges, using your fingers to spread it out. (I do this on the pan.)
This recipe makes 4 small to medium pizzas (depending on the thickness of the crust.)
Pizza Sauce
6 ounce can of tomato paste
6 ounces of water
2 tbsp Italian spices
Just mix together!
BBQ Chicken Pizza
Pizza Dough
BBQ sauce
Italian blend cheese
Red onions
Shredded grilled chicken
Lightly coat the crust with BBQ Sauce (dark is better); add Italian blend cheese, thinly sliced red onion and the grilled chicken.
Tomato Basil Pizza
Pizza Dough
Minced Garlic
Olive Oil
Fresh Basil
Fresh Tomato
Brush crust with a little olive oil and rub two or more minced garlic with the back of a spoon on the crust. Add thinly sliced fresh tomato and fresh basil.
You don't need cheese with this pizza. It is delicious!
Traditional Pizza
Use pizza sauce (Remember – not to use too much!)
Add as much cheese as you like
Add all other toppings – Pepperoni, ham, bacon, olives, mushrooms, peppers, etc. The list is endless. Get creative!
A Hint of Italy
A Great Salad to Serve with Pizza
Dressing
1 c Olive Oil
3 tbsp Lemon Juice
3 Cloves of Garlic (minced)
2 tsp Salt
3 tsp Pepper
Salad
6 c Romaine Lettuce
1 c small Tomatoes (cherry or grape)
3 c sliced, toasted Almonds
2 c Mozzarella Cheese
Tear the Romaine Lettuce in a large bowl. Add small tomatoes, almonds and mozzarella cheese. Toss dressing on salad just before serving.
Easy Cheesy Bread Sticks
1. 1 can of store bought, refrigerator bread sticks
2. Separate strips and twist, dip in butter, sprinkle with Italian cheese mixture (3 c Parmesan Cheese and 2 tbsp Italian spices)
3. Cook as directed on package.
Pizza can be a very satisfying meal. I don't know too many people who don't love pizza, especially, if it's done the way they like it. The truth is, the more often you make pizza at home the easier it gets and the less you will want to order out.
---
If you have any additional tips that you'd like to add, please post them on the
Cook'n Club Forum
(if you're a
Cook'n Club Member
)...or e-mail them to
Dan@dvo.com
.
---
Join the Cook'n Club!An unbeatable value with exclusive benefits for members only.
Enjoy articles like this and many other benefits when you join the Cook'n Club.
---