Simply Saucey!
By Camille Rhoades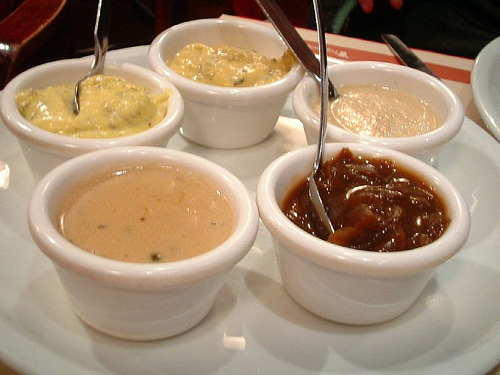 Bulk cooking isnít all about casseroles and lasagnas. Soups, salads, and side dishes may get overlooked in the freezer meal world, but that doesnít mean they canít be done! There are plenty of things that can be prepared ahead and frozen for easy dinners later.

Today we are going to tackle sauces! Bottled sauces just donít compete with a good, homemade sauce on your pasta or meat and with these recipes and others found on Cookín Freezer Meals you will find a lot of great options for adding variety to your freezer!

Cheese Sauce
Serves: 24
Yield: 8 cups

Use to top steamed vegetables, for homemade macaroni and cheese, fondue, or as a hot dip for raw vegetables.

3/4 cup all-purpose flour
1 1/2 teaspoons salt
1/4 teaspoon nutmeg
3/4 cup butter or margarine
4 cups milk
2 cups condensed chicken broth
1 cup half and half
4 eggs yolks, beaten
3 cups shredded cheddar cheese

In a small bowl, combine flour, salt, and nutmeg; set aside. In a large saucepan, melt butter. Gradually stir in flour mixture, milk, and chicken broth until smooth. Cook and stir until slightly thickened, about 2 minutes. Remove from heat.

In a medium bowl, stir half-and-half into egg yolks. Blend in about half of the hot sauce to warm up the egg mixture. Stir egg mixture into remaining sauce. Cook and stir over medium heat about 2 minutes; do not boil. Remove from heat. Stir in cheese until melted. Cool to room temperature.

Chill sauce until completely cool. Pour into freezer containers or bags, leaving 1-inch head space at top. Label and freeze for up to 6 months.

When ready to use, thaw and heat, stirring, over medium heat until heated through.

To use for fondue, add 1/4 teaspoon dry mustard and a pinch of garlic powder to 3 cups cheese sauce.



Freezer Alfredo Sauce

1 package cream cheese -- 8 oz
3/4 cup parmesan cheese
1/2 cup butter
1 cup milk

Mix cream cheese, parmesan cheese, and margarine, heating slowly, stirring frequently until smooth. Add milk to thin until desired consistency for your pasta..

For a dinner meal I take cooked chicken breast or leftover ham cubes and add it to the sauce. I then serve this over whole wheat spaghetti noodles. I serve this meal with garlic toast and a tossed green salad.

This sauce freezes very well. I make double or triple batches and freeze it for later use

Freezer Spaghetti Sauce
Serves: 32

4 onions, chopped
4 cloves garlic, minced
1 green bell pepper, chopped
1/2 cup vegetable oil
16 cups chopped tomatoes
2 tablespoons dried oregano
2 tablespoons dried basil
1/4 cup chopped parsley
1/4 cup white sugar
2 tablespoons salt
3/4 teaspoon ground black pepper
1 (6 ounce) can tomato paste

1. In a slow cooker saute together the onion, garlic, green pepper, and vegetable oil. Cook until onion is transparent.

2. Add the chopped tomatoes, oregano, basil, parsley, sugar, salt, and ground black pepper. Cook for 2 to 3 hours on low heat. Stir frequently.

3. Let sauce cool. Pour sauce into quart size freezer containers. Store in freezer.

4. When ready to use sauce, stir in can of tomato paste.

Freezer Frosting
Serves: 24
Yield: 3 cups

1/3 cup vegetable shortening
4 1/2 cups powdered sugar, divided
1 1/2 teaspoons vanilla extract
1/4 teaspoon salt
3/4 to 1 cup whipped cream

Cream shortening and 1 cup powdered sugar in a mixing bowl. Add vanilla and salt and mix. Add the remaining sugar alternately with the whipping cream. Beat until the frosting reaches the desired consistency. Scoop into freezer containers. Cover, label, and freeze for up to 2 months. Thaw before using. Makes enough to frost 24 cupcakes, a 13 x 9-inch cake, a tube cake, a layer cake, or a 15 x 9-inch cake.







---
* DVO welcomes your kitchen hints and cooking or nutrition questions! Email us and we'll post your hints and Q/A's in upcoming newsletters! *