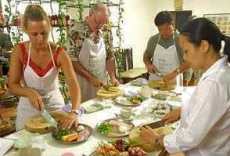 There is no doubt about it, bulk cooking is a huge new trend in meal preparation. You may call it
bulk cooking
,
freezer meals
, or
once a month cooking
(OAMC), but whatever the name this method is gaining momentum at break-neck speeds. And why not? Are there any of us that couldnít stand to save a little time and money?
Those who do this will tell you time and time again that is a real lifesaver. I have a cousin who believes that it is nothing short of a miraculous new way of life for her and her family. While that may be a little dramatic, I am sure we can all agree that it would help us save. By purchasing in bulk (especially with meats) you save money, but this also gives you the opportunity to shop around and really get the best deals on those ingredients you will be using a lot of. You will also save time since one big shopping trip is much faster then running to and from the store several times and the cleanup is much easier once!
Just as there are many names for this cooking style, there are many theories for ďthe bestĒ way to do it. For some cooks a day alone in the kitchen sounds like nothing short of wonderful, but for others a little company is a welcome addition. Another thing to consider is recipe selection. Do you want to fill the freezer with all the recipes you know and love or try some variety and open up to swaping with friends? I have several friends in OAMC clubs that are loving it. One friend actually gets together one day a month with 3 other friends and they all talk, laugh, and cook together all afternoon and leave with their arms full of wonderful dishes ready for the freezer. Another friend is in a swap club where 12 friends have signed up and they each spend the day preparing 12 pans of a favorite recipe and then get together and swap so everyone in the club leaves with one of each dish.
However you choose to try bulk cooking the most important part is the organization. Whether it is just you and your favorite CD setting out for a relaxing day, or a kitchen full of chatty friends you will need to be organized! From shopping, to scheduling, to cooking itself our level of organization will make or break this great idea. These simple guidelines will help make this the best experience it can be.
1) Pick a day.
This is a day that you can completely devote to cooking. Donít try to pack it in between this and that or you will just end up stressed and that is no fun for anyone. For most of us a Saturday works best because we are home and can have some help with the kids, but you choose a day that works best for you. You may also choose to do a smaller session in an evening if you donít have a whole day to set aside. Donít forget to clean out the freezer before your big day. You will need the space!
2) Plan your menu.
Choose the recipes you would like to have and plan when you will eat each. I would recommend writing them out on a calendar so they are easy to access later. You may want to look at your local grocery advertisements or sites like
Pinching Your Pennies
to see what items are on sale and plan your meals around those items you can get for a good price at the time.
Donít forget to check out
Cookín Freezer Meals
for some great new recipes. If you donít already have it you can get it from the link above.
3) Make your grocery list.
If your recipes are all in your Cookín software then this should be a simple task since the software will create it for you. If not, it will take a little more time but make sure you take the time to do this and be thorough.
Check the grocery ads again so you can take advantage of sale items and bulk buys. Many grocery stores now keep ads online so you can reference them there if you donít have he print version. If you have a membership to places like Samís or Costco this may be another way to save money on the bulk meat they offer. You can generally get it for considerably less per pound and when you are using large amounts in bulk cooking that isnít a problem. Just a hint, even if you arenít planning on bulk cooking you can split the large portion into smaller zipper bags that are a better size for your family. Then you get the benefit of the lower prices, but the sizes you prefer.
Donít forget to put items like aluminum foil, zipper bags, etc. on your list.
4) Go shopping.
This is best done, if possible, before your actual cooking day. The reason is that shopping for an entire month can take time (especially if you are visiting different stores to get the best prices.) You want to be able to focus on just cooking when it is cooking day. This is especially true if you are buying meat in bulk and need to cut it up.
5) Cooking!!!
If you don't feel Anybody Home? with combining steps then just do one recipe at a time. Especially if you've opted to make double or triple batches this can be a good way to go.
6) Freezing And Label Food.
There are different methods and materials for this and ultimately it comes down to personal preference. If you use freezer bags make sure they are specifically for the freezer, not all zipper bags are and that can make a huge difference. Also, be sure to get as much air as possible out.
If you choose to use plastic wrap or foil be sure to let the food cool first. This method of freezing is best when you are freezing things such as meatloaf or lasagna. It is for items that use a particular pan and need to keep a particular shape. To use this freezer method you must begin by lining a pan first with foil . Then put a layer of plastic wrap on top of the foil. Make sure that you use enough wrap to cover the entire dish. Put the food item into the dish and seal all the foil and wrap securely. You don't want to allow any air to get to the food. Place the food, in the dish, into the freezer. Leave it in there for a couple of hours or until the food is frozen enough to hold the shape of the dish. Remove the dish from your freezer and leave the food in the freezer. Now when you are ready to cook you can thaw the food slightly, remove the foil and plastic wrap and place in the baking dish to finish thawing. This is a great method because you don't tie up all your baking dishes in the freezer and your food fits perfectly into the baking dish when it is time to cook!
There is also the
vacuum sealer
which I highly recommend. You can check out the
Tilia Foodsaver
at this link and get any
food saver accessories
you need there too.
Label all the food that you put in the freezer. Use a Sharpie pen or something else that will hold up to moisture and time! Put the meal, the date, and any cooking instructions.
Bulk cooking can really be a wonderful blessing on those busy nights that you just want something homemade but donít have a lot of time. Whether you choose to have friends over for a cooking frenzy or to lock yourself away in the kitchen for a day of delicious solitude, I hope you will enjoy the fruits of your labors for days on end!
---
* DVO welcomes your kitchen hints and cooking or nutrition questions! Email us and we'll post your hints and Q/A's in upcoming newsletters! *