Abracadabra! The magic all starts with frozen meatballs! Prepared ahead of time, a meatball can give you a great meal without a lot of work or money. Here are a half a dozen delicious ideas for creating magical meatball dinners – Stroganoff with sour cream gravy served with noodles or mashed potatoes; Sweet and Sour Meatballs, mixed with pineapple and peppers served on rice; Swedish Meatballs; Meatball Subs; BBQ Glazed Meatballs; and, of course, Spaghetti and Meatballs.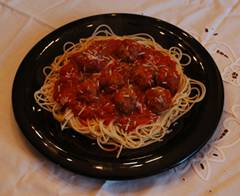 When it comes to my wallet or my time I say "Easy does it." To stretch your dollar, try buying ground beef or ground round in bulk. Some stores specialize in bulk savings, but sometimes your neighborhood store will run a special that is equivalent. Either way, it's worth your time if you're planning on making several meals using the same cut of meat. Making a generous batch of meatballs every couple of months and freezing them allows you to have a few of these hocus pocus meals during the month.
Homemade meatballs are so much tastier than store bought. I welcome being able to flavor them with the spices I enjoy. Some people prefer to add some sausage to the meatball mixture as it changes the flavor and adds moisture to the meatballs, making them especially good with spaghetti.
There was a time when I thought making meatballs was a difficult task. My mother used to make the meat mixture, coat them in flour and fry them in a skillet with oil. It was a little messy and you had to constantly move the meatballs around in the pan to ensure even cooking. It gave the meat a nice crispy coating which I loved, but they didn't taste as good after being frozen. I have since learned that there are easier and tidier ways to making the perfect meatball.
Baking them in a pre-heated 375 degree oven for 30 minutes works really well, especially if you're serving them that night. But my first preference is to get add two cans of beef stock and two cans of water in a large pot, then bring the liquid to a boil. Drop the meatballs in twelve – sixteen at a time and cook for five to eight minutes, depending on the size of the ball. You might think using this procedure that flavor would be lost. Instead, however, it seals in the juices. What makes me fond of this process is that it keeps the meatballs moist, even if you're freezing them for use later. When the meatballs have cooled, freeze them in a gallon size freezer bag and use them as needed.
Meatballs
(Makes approximately 30 meatballs)
1 pound of ground beef
1 cup dry bread crumbs
1 egg
¼ cup very finely chopped onion
½ tsp red pepper flakes
1 clove of garlic
1 small package of dry ranch style dressing
¼ cup evaporated milk
In a large bowl, mix the dry ingredients together first. Add the meat, eggs, evaporated milk, onion and garlic and mix together. The best way to mix meatballs is use your hands to mix and shape meatballs.
For a larger batch of meatballs, simply double or quadruple the ingredients.
Meatball Stroganoff
16 – 20 frozen meatballs
1 cup sour cream
1/8 tsp ground nutmeg
2 cups sautéed mushrooms
1 ¼ cups half and half
1 pkg. dry onion soup mix
2 Tbsp chopped fresh parsley
2 minced garlic cloves
1 can condensed Cream of Mushroom soup (10 ¾ oz)
Arrange the meatballs in a 9 x 13 inch pan. In a medium bowl, combine the soup, half and half, dry onion soup mix, parsley, garlic and nutmeg. Fold in the sour cream and mushrooms. Pour over meatballs and bake for 40 minutes at 350 degrees.
Swedish Meatballs
12 – 16 meatballs
½ cup brown sugar
1 cup water
3 bay leaves
6 Tbsp vinegar
½ tsp dry mustard
1 tsp ginger
1 ½ cups ketchup
4 tsp Worcestershire sauce
Arrange meatballs in a 9 x 13 inch pan. Mix the other ingredients in a medium bowl and pour over the meatballs. Cook for 30 minutes at 350 degrees.
Sweet and Sour Meatballs
16 – 20 meatballs
¾ cup of ketchup
1 cup lemon juice
1 green or red bell pepper
¼ cup brown sugar
2 Tbsp soy sauce
1 tsp ginger
2 Tbsp cornstarch
1 can pineapple chunks (20 oz)
Drained reserve juice
Arrange meatballs in a 9 x 13 inch pan. In a small medium bowl, combine the reserved pineapple juice, lemon juice and corn starch. Then add the brown sugar, soy sauce, ketchup and ginger. Cover and simmer in pan over low heat for 30 minutes.
Spaghetti and Meatballs
12 – 16 meatballs
1 small onion, chopped
2 Tbsp dried basil
2 Tbsp olive oil
1 Tbsp dried oregano
3 cloves of garlic
1 can whole peeled tomatoes (28 oz)
1 Tbsp sugar
2 cans tomato paste (6 oz)
¼ cup water
½ tsp crushed red pepper
In a large pan, sauté onions and garlic in olive oil for 2 – 3 minutes or until tender. Add remaining ingredients and simmer over low heat for 3 – 4 hours. This works great in a crock pot.
Meatball Subs
Drop your frozen meatballs (as many or as few as you need) into your favorite spaghetti sauce and simmer in a pot for 20 – 30 minutes. Toast the buns in the oven or on a grill (this keeps the buns from becoming soggy). Arrange the meatballs and sauce on the toasted bun and cover with a slice mozzarella or provolone cheese.
---
If you have any additional tips that you'd like to add, please post them on the
Cook'n Club Forum
(if you're a
Cook'n Club Member
)...or e-mail them to
Dan@dvo.com
.
---
Join the Cook'n Club!An unbeatable value with exclusive benefits for members only.
Enjoy articles like this and many other benefits when you join the Cook'n Club.
---