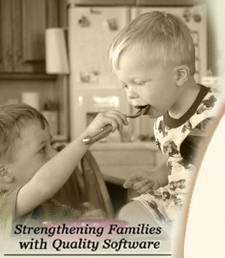 | | |
| --- | --- |
| Volume II | September 8, 2007 |
---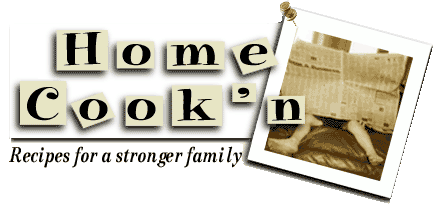 An Apple a Day...
by Bethany Booth

You can't go back to school without an apple for the teacher but don't forget to keep one for yourself. Apples help lower bad cholesterol while raising good cholesterol levels.

Apples are also full of Antioxidants that really can help you "keep the doctor away". Apples are so nutritious and, with the help of these fun recipes, so delicious! You will crave an apple for every meal!

Quick and Wholesome Apple Breakfast:

Cinnamon Apple Toast

1 Tablespoon butter
4 Slices whole wheat bread
1 Tablespoon cinnamon
1 Large, tart apple, cored and thinly sliced

Set oven to broil. Spread butter on one side of each slice of bread. Place apple slices on buttered side of bread. Sprinkle cinnamon on top. Place bread on a baking sheet in preheated oven for about 2 minutes (until toasted).

Amusing After School Apple Snack: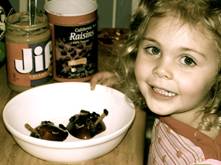 Apple Lady Bugs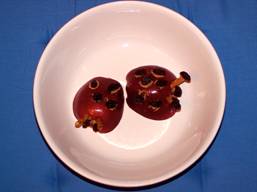 1 red apple
1/3 Cup raisins
1 Tablespoon natural peanut butter
4 Small pretzel sticks

Core and slice apple in half. Spread a little peanut butter on the flat surface of the apples to prevent browning. Dab little bits of peanut butter on the red surface of the apple and use to hold the raisins (spots) on. Use 2 raisins for eyes on each ladybug and then put a raisin on one end of each pretzel stick and press 2 sticks into each apple half to make ladybug antennae. Serve on a graham cracker or lettuce leaf.

No Ordinary Apple For Lunch:

Shredded Apple Sandwich

2 slices whole wheat bread
1 Tablespoon peanut butter
1 apple – peeled, cored, and shredded
2 teaspoons lemon juice

In a small bowl, mix shredded apple and lemon juice (to prevent browning). Spread a thin layer of peanut butter onto one side of each slice of bread. Place shredded apple onto the peanut butter and place the other peanut buttered slice of bread on top.

Pretty Purple Apple Side dish:

Purple AppleSlaw

½ medium head red cabbage, finely shredded
¼ cup finely minced white onion
2 Fuji apples, peeled, cored, and finely diced
1 cup mayonnaise
½ teaspoon salt
¼ teaspoon pepper
2 teaspoons sugar
2 Tablespoons lemon juice
2 Tablespoons milk

In a large bowl, toss together cabbage, onion, and apples. In a small bowl, whisk together mayonnaise, salt, pepper, sugar, lemon juice, and milk. Pour dressing over the cabbage mixture, and toss to coat. Chill until ready to serve.

Easy Apple Dessert:

Frozen Applesauce

Applesauce
Pinch of cinnamon or brown sugar (if desired)
Serving dishes

Pour applesauce into serving dishes, add desired amount of cinnamon or brown sugar. Chill in the freezer for 30 min. – 1 hour. Serve frozen or just partially frozen, it is delicious both ways. You can try this with flavored applesauce.

It also works well packed in a lunchbox; it thaws just in time for lunch and keeps other foods chilled.



---
* DVO welcomes your kitchen hints and cooking or nutrition questions! Email us and we'll post your hints and Q/A's in upcoming newsletters! *
---
Join the Cook'n Club!An unbeatable value with exclusive benefits for members only.
Enjoy articles like this and many other benefits when you join the Cook'n Club.
---