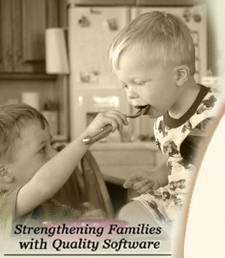 | | |
| --- | --- |
| Volume II | September 8, 2007 |
---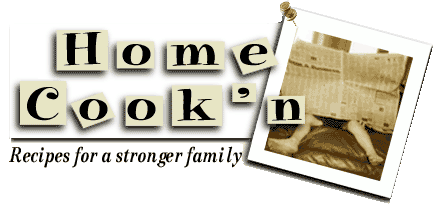 Octopus Dog

By Bethany Booth

Struggling to get your little ones to eat all of their lunch? A little creativity goes a long way when it comes to mealtime. I get my 3 year-old to eat green lettuce leaves simply by changing the name from salad to "Dinosaur Food". We pretend to be long-necked Apatosaurus' munching on leaves; she loves it.

Look around your kitchen; do you have a green apple to slice up into "Monster Fingers" and a bowl of "Slime" (vanilla yogurt with a little green food color) for dipping.

Maybe you have a fairy princess who would enjoy some "Purple Princess Pearls" (purple grapes) dipped in pretty pink strawberry yogurt. You will be surprised by what your own imagination comes up with and even more surprised by how well it works.

For this months Family Fun Time we are going "Under The Sea" to discover the rare and tasty Octopus Dog.



Octopus Dog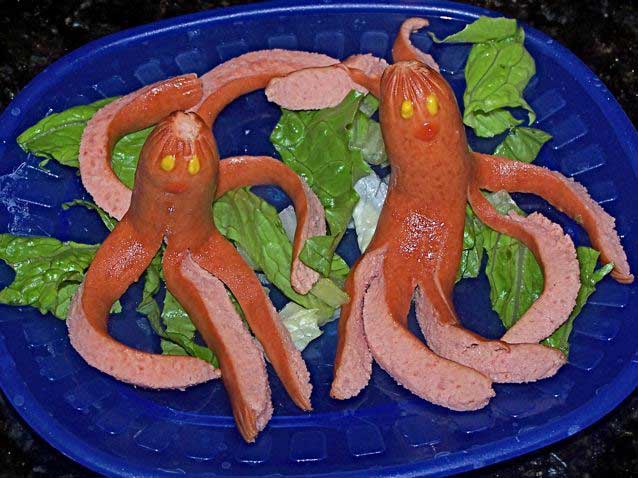 You will need:

Hot dogs

Toothpicks

A knife

Boiling Water

To Make: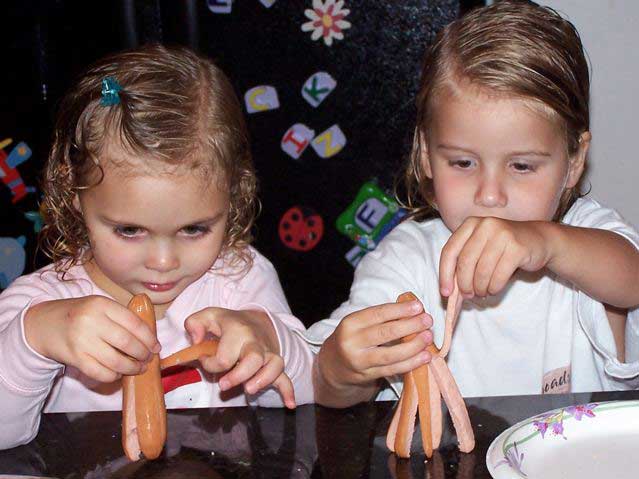 Slice the hot dogs lengthwise, stop about an inch from the top (to make a head for the octopus), and then slice again into quarters and again into eighths still stopping about an inch from the top. You should have 8 legs dangling from a one inch "octopus head". Use the toothpick to poke 2 eyes.

Carefully place the sliced and poked hot dogs into a pot of boiling water. Let the kids watch this next part closely. The eyes will pop out and the legs will curl up – an Octopus Dog!

Serve with "Seaweed and Jellyfish" (shredded lettuce and cucumber slices), tossed in Italian or ranch dressing.



And for dessert…

Cute Fish Cookies

You will need:
1 roll of cookie dough
A few raisins, chocolate chips, or M&Ms
A knife
Cookie sheet
Oven

To Make:
Cut dough into 1/4" round slices and place on cookie sheet. Use knife to cut a wedge out of the circle of dough for a mouth. Attach the wedge to the circle of dough to make the fish's tail. Add a raisin, chocolate chip, or M&M for the fish's eye. Bake according to directions on cookie dough package.






---
Join the Cook'n Club!An unbeatable value with exclusive benefits for members only.
Enjoy articles like this and many other benefits when you join the Cook'n Club.
---