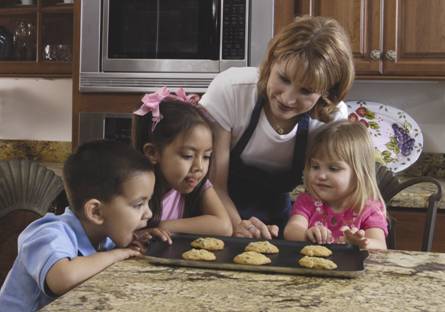 Any time is a great time to
cook with your children
or grandchildren, but the holidays give us even more reason to gather in the kitchen and
bake up some cookies
and memories.
There are so many reasons why it is wonderful to bring your little ones into the kitchen, but the most important is the quality time it gives you together. I know of few things my kids and I can agree on more than cookies and that common bond is enough to spark some real fun. Our world is so busy and taking the time to just be together and talk and teach one another is really something that can bless a family.
When we bake together, we work together as well. When families spend quality time working together toward a specific result, say cookies for example, the outcome is so much sweeter than the cookie's taste. Why? Because they were created together, by working together during some special quality time. Working and creating together will lead to benefits that will linger long after the last cookie is gone.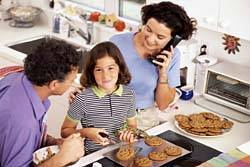 Another great reason to bake with your kids is the wealth of knowledge you can pass along. Somehow sitting over a math book my son wants nothing to do with fractions, but when it comes to how much sugar to put in his favorite cookies he is suddenly very attracted to math! First graders, second graders, and third graders are learning and trying to memorize the parts of a whole.
Measuring cups offer a great opportunity for you to help them to understand just a little bit better! Kids need to know what a whole, half, third and fourth are. If your recipe calls for one whole cup of milk, one half cup of water, and one fourth cup of oil you have a perfect teaching opportunity right before you! Baking also requires other basic skills like reading a clock, preparation skills, and clean up skills. Whether it is fractions, or measurements, or just the difference between different ingredients, you have so much information the kids are willing eager to learn as you work together.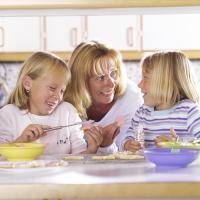 Letís certainly not forget the financial savings of baking together. Not only are pre-packaged treats expensive, but so are so many forms of entertainment for a family. Spend a couple of hours baking cookies rather than seeing a movie and you could easily save $30. And you might even get some conversation with your kids while you are at it! If you made family baking time a regular habit you could really save a lot of money on treats for lunches and snacking.
The cakes and cookies themselves, no matter how perfect the recipe, are not the most important outcome when you bake together. They are, however, the tastiest! Staying functional and happy as a family requires work, effort and time. It requires us to know one another and be in sync with each other. We all deserve a special and a tasty treat every now and then!
Is there a better way to treat your family than by spending time with them, and sharing with them? Treats just seem to taste so much better when they are baked together. Maybe that's because there are a few extra ingredients . . .
love, patience and time
!
calli@dvo.com
---
* DVO welcomes your kitchen hints and cooking or nutrition questions! Email us and we'll post your hints and Q/A's in upcoming newsletters! *