Christmas Cookies in a Jar
By Bethany Booth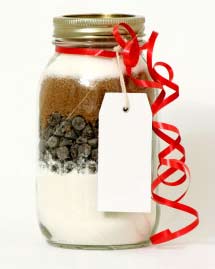 Making, giving, receiving and eating Christmas cookies is inevitable during the holidays. Though you won't hear me complain about the receiving or eating, the making and giving Christmas cookies can be very time consuming.

A cookie mix-in-a-jar makes a very attractive and delicious (not to mention convenient and inexpensive) gift. Use any of these scrumptious cookie mix recipes to fill up jars for your friends and neighbors and give them the gift of warm homemade cookies any time they choose.

Cranberry Biscotti in a Jar

¾ cup dried cranberries
¾ cup pecans
2 cups flour
1 teaspoon cinnamon
2 teaspoon baking powder
2/3 cup sugar

Layer ingredients in order inside a clean 1 quart jar. After each layer is added tap gently on the counter to settle. Add additional cranberries and pecans to top off the jar.

Attach these directions to the jar:

Cranberry Biscotti
Beat 1/3 cup butter on medium speed for 30 seconds. Add 2 eggs and beat on medium until well combined. Using a wooden spoon, stir in contents of jar just until combined. Divide into 2 loaves on cookie sheet, chilling if necessary to make dough easier to handle. Each loaf should be about 9 inches long and 2 inches wide. Bake at 375°F for 25-30 min or until a toothpick inserted in the center comes out clean. Cool on sheet for 1 hour. Cut each loaf diagonally into 1/2 inch thick slices using a serrated (bread) knife. Place slices on an ungreased cookie sheet. Bake at 325°F for 8 minutes, then turn over and bake for 8-10 minutes more or until dry and crisp. Transfer to wire rack to cool. Makes 32 cookies.



Sand Art Brownies

5/8 cup of all purpose flour (5/8 cup is equal to ½ cup and 2 tablespoons)
3/4 tsp salt
1/3 cup cocoa
1/2 cup flour
2/3 cup brown sugar
2/3 cup white sugar
1/2 cup chocolate chips
1/2 cup vanilla chips
1/2 cup walnuts

Mix the first flour and salt together and put into the bottom of a quart jar. Layer the rest of the ingredients in the order they are given.

Attach a tag with the following directions to the jar:

Sand Art Brownies
1) Preheat oven to 350 F. Grease a 9x9 pan.
2) Pour contents of jar in a large bowl and mix well.
3) Stir in 1 tsp vanilla, 1/3 cup of oil, and 3 eggs. Beat until just combined.
4) Pour batter into pan and bake for 25-30 minutes.

Spiced Oatmeal Chocolate Chip

1 cup all-purpose flour
½ teaspoon baking powder
½ teaspoon baking soda
¼ teaspoon salt
1 teaspoon ground cinnamon
½ teaspoon ground cloves
1 1/4 cups rolled oats
1 (2.6 ounce) chocolate bar
½ cup white sugar
½ cup brown sugar
½ cup chopped nuts
½ cup semisweet chocolate chips

With wire whisk, mix flour, baking powder, baking soda, salt, cinnamon and cloves. Pour into a 1-quart (1-litre) mason jar, pack down level with heavy object. Mix oatmeal in a blender. Grate chocolate bar and mix into the oatmeal. Pack on top of flour in jar. Add white sugar and pack down. Add brown sugar and pack down. Layer chopped nuts on top of brown sugar. Finish layering jar with ½ cup (or less) mini or regular chocolate chips until even with the top .

Attach a tag with the following directions to the jar:

Spiced Oatmeal Chocolate Chip Preheat oven to 375 degrees F (190 degrees C).
Spoon chocolate chips and nuts into small bowl, set aside. Spoon brown and white sugar into mixing bowl, add 1/2 cup margarine or butter, cream well. Add 1 egg and 1/2 teaspoon vanilla, mix well. Pour oatmeal and flour mixture from jar into bowl, mix thoroughly. Stir in chocolate chips and nuts. Roll into 1-inch balls, place on greased cookie sheet 2 inches apart. Bake for 8 to 10 min. Makes 3 dozen

Don't forget to add a festive tag with the baking directions. You can also top the jar lid off with a square of cute holiday fabric; just place it over the lid and screw on the rim to hold it in place!

Get the kids involved by having them help you paint the outside of the jars with the shiny glaze paint recipe listed in this months Family Fun Times article, Porcelain Cookie Ornaments.



---
* DVO welcomes your kitchen hints and cooking or nutrition questions! Email us and we'll post your hints and Q/A's in upcoming newsletters! *