Get Poppin'
How to Stove Top Pop

I love the taste of stove top popped popcorn. The only problem is that when ever I try to do it, I seem to screw it up in one way or another. Here are some tips to reach popping perfection when it comes to the stove top.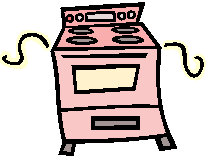 Use a heavy pan with a loose enough lid so steam can escape. Warm the pan on burner prior to adding oil.

Add 1/4 cup of cooking oil to the pan. Vegetable oils are low in saturated fat and are best to use for cooking popcorn. Do not use butter. Allow the oil to heat. The best popping temperature is between 400-460°. Note: Oil burns at 500°, so if your oil starts to smoke, it's too hot. Try a heat setting between medium and medium high.

Test the heat of the oil by dropping in one or two kernels. When the kernel pops or spins in the oil, you're ready to add the remaining popcorn. Only add enough kernels to cover the bottom of the pan.

Cover and shake the pan to be certain the oil coats each kernel. Continue shaking the pan over the burner as the popcorn pops. When the popping slows and becomes sparse, remove the pan from the heat, and empty the popped popcorn into a large bowl.


Stovetop Popcorn Fixes



Burnt popcorn: Most likely your heat is too high. Each stove is different so don't give up, just try adjusting your temperature. Also, the kernels could have heated unevenly. Be certain to keep the pan moving when popping popcorn on top of the stove.

Soggy popcorn: If the lid fits too tightly and the steam can't escape, it will settle back on the popped kernels. Use a loose-fitting or vented lid. Always take the lid off as soon as the popping stops.

Small, under-popped kernels: You may not have used enough oil in your pan. The oil conducts the heat and helps the kernels to pop, but too much oil can make kernels greasy.

Un-popped kernels: If kernels are too dry, they won't pop and thus the old maids. To rejuvenate old maids, fill a one- quart jar three quarters full of popcorn kernels and add one tablespoon of water. Cover the jar with an airtight lid and give it a few good shakes every few minutes until the popcorn has absorbed the water. Store the jar in a cool place. In two or three days, you can test pop a batch of kernels. If it's still too dry, add a few more drops of water to the jar, shake it, and let it sit a few more days.

Create the Perfect Topping

* DVO welcomes your kitchen hints and cooking or nutrition questions! Email us and we'll post your hints and Q/A's in upcoming newsletters! *