Looking for the Perfect Scone

"I am interested in finding a scone recipe that is more cake-like than biscuit like. While traveling in Canada we purchased some scones from a local bakery in International Falls (now closed). They were about 4 inches across and slightly sweet with raisins and a hint of lemon. Is there a way using a different leavening agent than baking powder or a different flour that would make other scone recipes more cake-like?"
Thanks,
Joyce Allison
---
Dear Joyce,
"We had a summer home in Canada for many years. My mother made bread while she spent the summer in a remote cabin. She always remarked on the flour, how light and much better ground than here in the US . This may be the difference in the scones you bought in International Falls . Some things are better in Canada , like the beer, and flour but the bacon and most of the food is not."
-Judi
---
Apple Scone Cake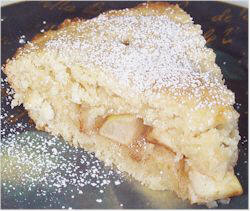 2 cups all purpose flour
1/2 cup granulated white sugar
1 teaspoon baking powder
1/4 teaspoon salt
1/2 cup unsalted butter, cold and cut into pieces
2 large eggs, divided
1/2 cup milk, divided
1 teaspoon pure vanilla extract

Filling:
3/4 pound Granny Smith Apples, peeled, cored, and cut into 1 inch chunks
2-3 tablespoons granulated white sugar
1/4 teaspoon ground cinnamon
Granulated white sugar

Preheat oven to 350 degrees F (177 degrees C) and place rack in center of oven. Butter (or spray with Pam) a 9 inch (22 cm) glass pie plate.

In a small bowl whisk together one egg and 1 tablespoon from the 1/2 cup milk. Set this aside as it will be used as a glaze for the top of the cake.

In a large bowl, whisk together the flour, sugar, baking powder, and salt. Cut the butter into small pieces and blend into the flour mixture with a pastry blender or two knives. The mixture should look like coarse crumbs. In a separate small bowl whisk together the remaining egg, remaining milk, and vanilla extract and add to the flour mixture, stirring just until the dough comes together. Do not overmix the dough.

Transfer to a lightly floured surface and knead dough gently four or five times and then divide the dough in half. Pat one half of the dough onto the bottom and up the sides of the pie plate.

In a separate bowl toss together the cut apples, sugar and cinnamon. Spread the apples evenly over the bottom of the dough in the pie plate.

Roll the remaining dough into a 9 inch (22 cm) circle, on a lightly floured surface, and gently place the dough over the apples. With your fingers seal the edges of the top and bottom crusts. Brush the top of the dough with the egg and milk glaze, and sprinkle with white sugar. Cut a slit in the center of the dough to allow the steam to escape.

Bake in the preheated oven for about 40 - 45 minutes or until the pastry is nicely browned and a toothpick inserted into the center of the cake comes out clean.

Cool on a wire rack. Serve warm with a dollop of whipped cream or ice cream.

Serves 6 to 8.

"As with all scone recipes try to handle the dough as little as possible. If the dough tears while placing in the pie plate simply patch it together with your fingers. This is a rustic looking cake so don't worry too much about it looking a little messy. Try to use apples, like Granny Smith or Golden Delicious, that will keep their shape when baked as you want chunks of apples, not mush in the center of the baked cake." -- JP
---

Rich Raisin Scones
2 cups sifted pastry flour
1/3 cup sugar
2 1/2 teaspoons baking powder
1/4 teaspoon baking soda
1/2 teaspoon salt
1/3 cup shortening
1/3 cup raisins or hand full
1 egg
2/3 cup commercial sour cream, approximately

Measure the once sifted flour and sift with sugar, baking powder, soda and salt. Cut in shortening finely 'using pastry blender. Add raisins. Beat egg and add 1/2 cup sour cream. Add to dry mixture combining lightly with a fork. Mix in enough additional sour cream to make a dough which is soft but not sticky. Knead about 15 seconds on lightly floured surface to shape the dough. Pat into 3-4 inch round and place on greased cookie sheet. Or in round greased spring pan. Brush little egg on top. (Sprinkle with a little nutmeg) Bake at 400 F for about 20 to 25 minutes.

-Good Luck, Isolde Rigby
---
Irish Scone
Serves: 8
From Aunt Gladys

3 cups flour
1/2 cup sugar
3/4 teaspoon salt
3/4 teaspoon baking soda
1 teaspoon baking powder
1 stick butter
1/2 cup raisins
3 eggs
1 cup buttermilk (slightly more)

Measure the flour, add sugar, salt, baking powder, and baking soda. Beat eggs in another bowl. Cut up butter with the flour mixture until crumbly. Make a well in the center and add the eggs. Mix well, add the milk, mix again. If dough is too sticky you can add more flour. Add raisins. Grease and flour a loaf pan. Pour in dough - if wanted, make a cross on top of dough and sprinkle with flour. Bake at 350° for 45 minutes to an hour.
"This is an excellent scone recipe and I think it's exactly what you're looking for, it's almost like having a piece of cake, nice and moist, not the least bit dried out. I hope you try it and enjoy it."
-Dan Muff


Sugar Cookie Conundrum!
---
Do you have something to share with other Cook'n readers or a killer idea for a new product?
Email your thoughts to us. Tell us about you and your family, and send us a picture. We'd love to hear from you...and who knows...perhaps you will be the star of the next newsletter!