Our Favorite Kid-Friendly Recipes
By Gooseberry

---

---

NOTE: You must have Cook'n installed to use this download!

---

60+ kid-friendly recipes for chefs of all ages.
Chapters include Breakfast, Desserts, Main Dishes, Salads, Sides, Breads, Sandwiches, Snacks, Beverages, and Soups.
Cook'n Theme included.
Save time and money by using Cook'n
Our Favorite Kid-Friendly Recipes
Want to serve meals that every member of the family will love? Then this book is for you! In Our Favorite Kid-Friendly Recipes, we've gathered more than 60 of our very best dishes that kids are sure to love. Breakfast Banana Splits, Magic Meatloaf and Cheesy Italiano Soup are perfect for busy weekdays. Time for treats? Kids will flip over Dirt Cups, Pizza Roll Snacks and PB&J Milkshakes! This little book also includes 60 handy tips and tricks for making mealtime healthy and fun...a feature Gooseberry Patch is known for!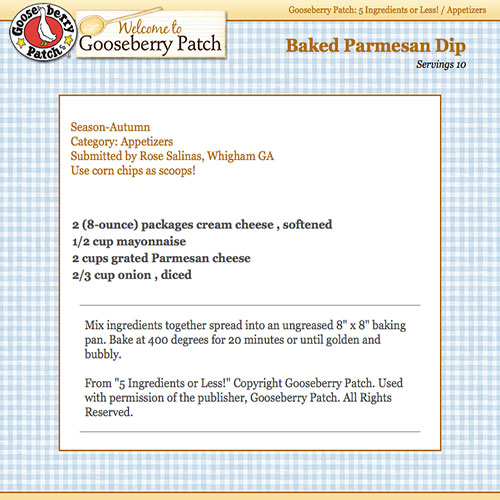 New Fresh theme included. (Recipe pictured not included in this cookbook)
Recipes Included:
A
ABC Salad
Apple Wheels
B
Berry Bog Oatmeal
Breakfast Apple Sandwiches
Breakfast Banana Split
Breakfast Pizza
C
Campfire Veggies
Cheddar Cheesy Bread
Cheeseburger & Fries Casserole
Cheesy Chicken Quesadillas
Cheesy Ham & Vegetable Bake
Cheesy Italiano Soup
Chicken-Tortilla Soup
Chinese Fried Rice
Corn Dog Muffins
Crispy Chicken Bites
D
Dirt Cups
F
Fairy Bread
Family Favorite Corn Souffle
Fantastic Stuffed French Toast
Fiesta Pinwheels
G
Giant Cookie
Go Bananas Pancakes
Good Morning Monkey Bread
H
Hamwiches
Honey-Pumpkin Pie
I
Ice Cream Sandwich Cake
Incredible Mini Burger Bites
J
Jumbo Quiche Muffins
K
Kids Favorite Fruit Salad
L
Lasagna Toss
M
Mac & Cheese Nuggets
Magic Meatloaf
Make-Believe Champagne
Maple Popcorn Balls
Mexican Lasagna
Mom s Minestrone
Mom s Puppy Chow
Monster Cookies
Most Bestest Chicken Soup
Muffin Doughnuts
O
Oh-So-Easy Apple Cider
One-Pot Chicken & Noodles
P
PB&J Milkshakes
Pizza Mac & Cheese
Pizza Roll Snacks
Powerballs
Q
Quick Apple Dumplings
R
Ranch Club Wraps
S
Sloppy Joe Special
Slumber Party Pizza
Snowy White Mashed Potatoes
Strawberry-Watermelon Slush
Sunny Lemonade Salad
Super-Fast Tilapia Parmesan
S mores Pudding Pie
T
Tom Turkey & Stuffing
Triple Fudgy Brownies
Triple-Take Grilled Cheese
Tropical Whip Fruit Dip
W
Wacky Beef Roast
Y
Yummy Carrot-Raisin Muffins
---
Cook'n Is Several Products in One!