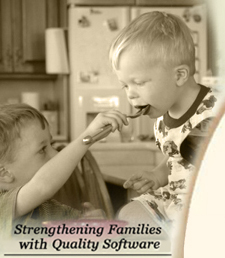 Watch Our Online Demo!
Recipe Software Review
5-Star Rating:

(372)




I only purchased Cook-n yesterday, but already I am in love with it! This is the program I have wanted for years. I read some of the letters to you from your satisfied customers, they spoke of other programs they have tried and were not happy with, and I realized how lucky was I to find your website before I found the others. Now I'm just trying to decide which cookbook to download next...I want them all!

Sheryl Hardy


• Current Issue

• Newsletter Archive
• Contact Info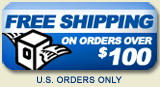 DAILY SPECIAL
Order today and receive a 10% Off All Orders of Cook'n!
Find out how.
Just scroll down this page to see the many features included with Cook'n!
Organize Your Recipes into Categories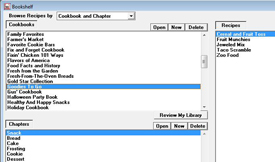 Cook'n is like a bookshelf for your recipes on the computer. Organize your family favorites into different cookbooks and chapters. Entering your recipes is quick and easy! Save the counter space and preserve recipes for generations to come.


---
Search for Recipes by Ingredient



Want to make a good meal using the ingredients you have on hand? Just type them into the search bar in Cook'n and it will bring up the recipes you can use!


---
Browse Recipes by Photo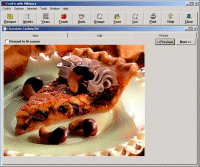 Find the recipe you want to make by scrolling through recipe photos, just like flipping though the pages of a cookbook! You can even add your own photos to your recipes and print them out along with your recipe.


---
Recipe Video Demonstrations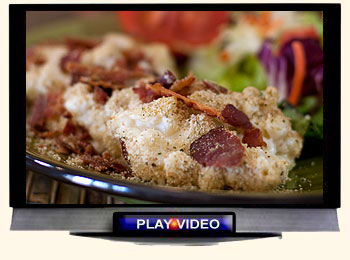 Some of the recipes that you can download from our site will come with video demonstrations for how to make a recipe. You can even add your own videos!


---
Easy Recipe Scaling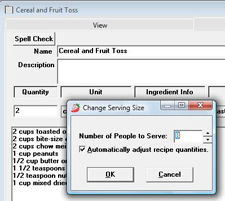 Need to expand a recipe serving size for guests? Just enter in the number of people to feed and Cook'n will automatically adjust all the ingredient amounts in that recipe!


---
Download Recipes from the Internet


Find the best recipes from the World Wide Web and organize them in Cook'n! Download or copy and paste as many recipes as you'd like. No more of the paper printout mess!


---
Email Recipes to Friends



Cook'n easily allows you to share recipes by email through the program. Add your own greeting messages too.


---
Print Family Cookbooks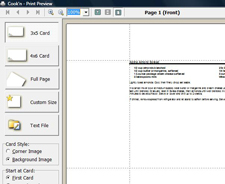 Cook'n allows you to print your cookbooks by automatically generating a title page, a table of contents, the recipes of that book, and an index. Customize it onto different paper sizes and various fonts. (more)


---
Plan Menus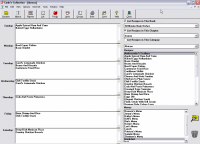 Easily select which recipes you want to add to a daily, weekly, or monthly menu. Stay organized, save money, and eat healthy for each night of the week. (more)


---
Make Shopping Lists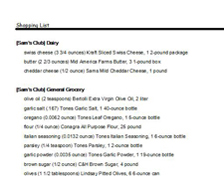 Generate shopping lists automatically from your menus or recipes. Cook'n will categorize your list by aisle, convert ingredients to package sizes, estimate your grocery cost, and allow you to add your own items! (more)


---
Analyze Recipe Nutrition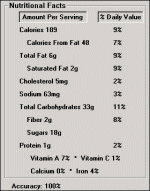 Cook'n calculates the nutrition of every recipe or menu, even the ones you add! With a click of the mouse you can view a nutritional label just like you'd find on the back of a can. With over 10,000 food facts in the Cook'n database, it even helps you choose the healthiest brands. (more)


---
Export Recipes to Blogs!



Cook'n even has a feature where you can export your recipes and cookbooks onto your blog or website to share with friends and family.


---
When you Try Cook'n Today, you will also recieve:


Free software updates to Cook'n

Access to Hundreds of Brand-Name eCookbooks in the Cook'n format

One free eCookbook of Your Choice with Purchase (a $40 value!)

Access to Hundreds of Free Recipes in the Cook'n format directly from our site

Over 500 of our best recipes, most with photos, that come loaded on the program

Free Monthly Newsletters with recipes and video demonstrations
---
...and Don't Forget our 5-Star Customer Service:
---

for Windows 7/Vista/XP/NT/ME/2000/9x

System Requirements

Start organizing your recipes today
Download Cook'n and get organized!




Buy the CD or download the full version of Cook'n right now! Includes over 500 of our best recipes.

---
Have a question? We'd love to help!