Create your own custom menus
With Cook'n you can simply drag recipes into the days of the week to create a menu. Choose from your own cookbooks or from the delicious recipes that come with the program.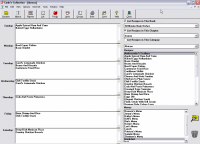 Build your own weekly, monthly and yearly menus
Cook'n will let you plan ahead with your menus according to your time frame! Get organized so you can plan the right meals for the right day or time of year. Use this tool to balance out your family's nutrition and budget!
Automatically generate a shopping list
from your menus
With a planned-out menu, now you better plan your grocery shopping trips. With a click of a mouse, you can
generate a shopping list
for any one of your menus and save time and effort by not having to go to the store mutiple times a week.
Print your menus
and stick them on the fridge!
To make it easier for your family to see the upcoming meals on your menu plan, use
new and improved printing features
from Cook'n. Customize the menu to make it look sharp and print out weekly, monthly, or yearly versions.
By learning and using these features, you will be able to cut down on your food bills and save an estimated $50 to $200 a month!!