Compiles your family's shopping list automatically
Cook'n automatically combines the food on your menus and makes a grocery shopping list. It even combines the totals from similar ingredients on different recipes. No more scrambling to put together a list at the last minute!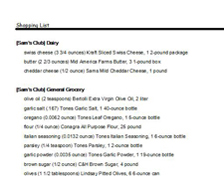 Organizes shopping list items by aisle
When Cook'n generates a shopping list it organizes it by food categories. This feature will save you time at the store! If you want to create a monthly shopping list, Cook'n even gives you the option to exclude perishables after week 1
Converts to package sizes
(ie; tablespoon tomato paste to 8 oz. cans)
A shopping list wouldn't be very helpful if it said you needed to pick up a tablespoon of salt. That's why Cook'n is designed to convert measurements into package sizes. Don't worry, if you already have the ingredient on hand, you can remove it from the list with a click of the mouse.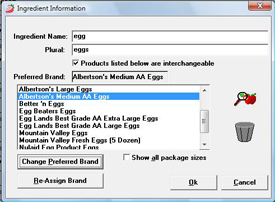 Choose which brands
you want for your foods
Cook'n is so detailed to help your shopping needs that it gives you the option to select which brands you prefer. Several popular brands are included with the program with accurate nutritonal and cost information. If you can't find your brand Cook'n will let you add it!
Calculates your grocery cost
Cook'n also calculates the approximate cost of your shopping list. You can print off these detailed lists for easy access while shopping.