Cast Iron Covered Wagon Cookin'
by David Herzog
---

List Price: $15.00
Your Price:
$11.00
You Save: 20%
---
NOTE: You must have Cook'n 10v installed to use this download!
---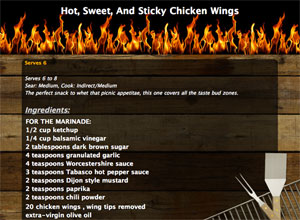 200 pages of Cast Iron hints, care, and other helpful cooking information offered in Dave's first book. This book took over 5 years to test and write all the recipes, over 165 outdoor recipes for your Cast iron Dutch oven!
These recipes are also written so that they can be prepared right in your own kitchen in a flat or "legless" kitchen dutch oven.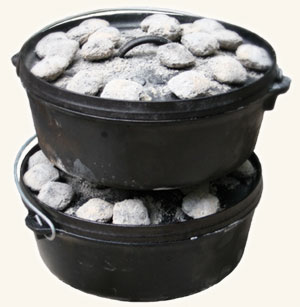 Some recipes include:
Dave's Nappin' Bread Pudding
Cast & Fire's Sourdough Loaves (buns)
2002 Salt Lake City Olympic Dutch oven Potatoes
Jerk Chicken, and...
4 Different Cheesecake Recipes
Introduction from the Author
This little cookbook that I have written for you, the Dutch oven cook, has been a dream of mine for many years. It has also been a work of testing, tasting, changing, and lots of hard work by me and my many friends of whom cook in outdoor Dutch ovens like me. I cannot forget about my family who has given me many old recipes, some more than seventy-five years old.
Most of these recipes can be used in outdoor ovens as well as the gas or electric models inside your home's kitchen. However, if you have never cooked in a outdoor Dutch oven please buy one and try cooking and baking in it. Cooking outdoors in a Dutch oven is a much healthier way to cook and eat also.
Cooking in a Dutch oven, or Covered Wagon as some people call them, is so simple that anyone can do it with cooking utensils that are sitting right in that kitchen drawer now. The key to learning is to start of by using charcoal briquettes for a heat source and have fun with it!

---
Recipe Included with this Cookbook:
On the Fly Beef Gravy
2002 Salt Lake City Olympic Baked Beans
2002 Salt Lake City Olympic Chicken
2002 Salt lake City Olympic Dutch Oven Potatoes
2002 Salt Lake City Olympic Peach Cobbler
Almond Rocca
Almond Toffee
Andean Yak Chocolate Tea
Apple Creamed Pheasant
Apple Fritters
B.B.Q. Turkey
Baking Temperature Chart for Camp Dutch ovens
Beaver Creek Apple Cake
Beef Roast with Vegetables
Bouquet Garni
Braised Cabbage and Turkey Sausage
Braised Rabbit with Mushrooms and Bacon
Buckwheats Wild Turkey Stew
Burgundy Goose (Duck) with Raspberry Sauce
Bearnaise Sauce
Caesar Chicken Pasta Salad
Cajun Bean Soup
Cajun Corn with Crayfish
Camp (Homemade) Pasta
Camp Breakfast
Caroles Potato Cakes
Carols Better Than Sex Cake
Cast & Fires Sourdough Loaves (buns)
Cast and Fires Sourdough Starter
Cast Iron Basics
Cheddar Zucchini Saute
Cherry Glazed Duck
Chicken Cacciatore
Chicken Gumbo
Chicken or Veal Parmigiana
Chili Cheese Soup
Civil War Cornbread
Cooking Jargon
Cooking Measurements
Corn Salsa
Country Pot Roast
Cow Patty Raspberry Fudge Cake
Cream Cheese Apple Petal Tart
Cream Cheese Dipping Sauce for Strawberries
Creme Fralche
Dads Sweet & Sour Sauce
Daves Nappin Bread Pudding
Daves Accident Sausage Breakfast
Daves Buttered Buttermilk Biscuits
Daves Country Sausage Gravy
Daves Dutch Tamale Pie
Daves Garlic and Cheddar Buttermilk Biscuits
Daves Jalapeno, Garlic, and Cheddar Sourdough Bread
Daves Jumbled Jambalaya
Daves Lazy Day Ribs
Daves Meatloaf
Devils Tooth Cheesecake
Dutch Chicken Cordon Bleu
Dutch Oven Enchiladas Supreme
Dutch Oven Pork Chop Casserole
Dutch Oven Steam Buns
Dutch Oven Zucchini and Cheese
Dutch Peach Pie
Dutch Pita Bread
E-Z Beef Stew
Easy Rice Pilaf
Eggs in a Hole
English Toffee
Fish Camp Pot sticker Stew
Flan in a Dutch Oven the Easy Way
French Dressing
Fried Green Tomatoes
Gene Autrey Texas Chili
German Potato Salad
Hawaiian Roast Pork with Fresh Pineapple Salsa
Hollandaise Sauce
Honey Mustard Barbecue Sauce
Hot Cocoa Mix
Hot Water Soup
Hunters Chili
Ians Beans
Injun Fry Bread
Italian Style Popcorn
Jalapeno Beer Bread
Jalapeno Garlic Cheese Bread
Jerk Chicken
Key Lime/Lemon Meringue Pie
Kraut n Beef Stuffed Bread
Lime Chicken Soup
Lime Dressing for Fruit or Green Salads
Log Cabin Grub Sourdough Bread
M.V.P. Cornish Game Hens
Meatloaf Stuffed Bread
Meatloaf Stuffed Pumpkin
Mexican Rice
Minestrone Soup
Moms Giant Peach Pancakes
Moms Vegetable Jell-o Salad
Mountain Man Breakfast
Mustard Grilled Red Snapper
Navy Bean Soup
Nutty Cherry Crisp
Old Settlers Baked Beans
Old Squaw Indian Pudding
One Messed up Omelet for 12
Parmesan Cheese Butter
Paul Walthers Winning Southwest Pot Roast
Pauls Best Beer Bread
Pecan Corn Bread
Penne with Creamy Carrots & Scallions
Peppered Pork Tenderloin
Pepperoni Salad
Phyllis Terrys Pumpkin Bars
Pioneer Honey Candy
Pumpkin Cheesecake
Quail and Morel Mushrooms
Quick Camp Stroganoff
Quick Chicken & Pasta
Rabbit in Apple Cider
Ranch-Style Chicken Soup
Rattle Snake Beans
Rise-n-Shine Cinnamon Roll French Toast
Roadkill Rabbit
Roasted Dove
Rock Fried Fresh Fish
Rosemary French Bread
Sausage and Barley Stew
Sausage, Mushroom, and Cheese Grits
Sheep Herders Pie
Shrimp & Wild Rice
Smoked Pheasant and Wild Rice
Smoking Dutch Oven
Sour Cream Cucumber Salad
Sourdough Scratch Start
Strawberry Cream Cheese Coffee Cake
Stuffed Acorn Squash
Sweet & Sour Pineapple Meatballs
Sweet and Sour Zucchini
Swiss Venison Steak
Tamale Pie
Tandori Chicken
Tempura Batter
Tempura Fry
Teriyaki Chicken Wings
Timber Cove Homefries
Trash Stew
Tropical Marinated Fish, Spicy Avocado Sauce and Black Bean Salsa
Turkey Gumbo
Upside-down Apple Tart
Upside-Down Chocolate Cherry Surprise
Venison Meatloaf Supreme
Whatever and Dumplings
Whiskey Glazed New York Steaks
White Pheasant Chili
Wild Pheasant & Wild Rice
Wintu Fry Bread
You Pick the Meat Pot Pie
Zucchini Apple Pie
---
I recently purchased "Secrets From the White House Kitchens" from DVO Cook'n, and wanted to tell you how much I've enjoyed it so far. I've read some of it, and plan to try a couple of the recipes soon. The historic anecdotes and quotations at the beginning of each chapter are a pleasure to read.
Respectfully,
Sandy
-->
Cook'n Is Several Products in One!