101 Homestyle Favorite Recipes
By Gooseberry

---

List Price: $11.64

Your Price:

$9.31

You Save: 20%

---

NOTE: You must have Cook'n installed to use this download!

---
101 Homestyle Favorite Recipes
Welcome to 101 Homestyle Favorites, the first cookbook in our 101 series. Mouthwatering photos and easy directions for every tried & true recipe make this a cookbook you'll turn to again & again. There are easy weeknight meals like bbq chicken pizza and crunchy apple-pear salad, Sunday dinner favorites like oven beef & noodles and wait 'til you've tried our maple chicken wings...delicious! Desserts, appetizers, mains and sides.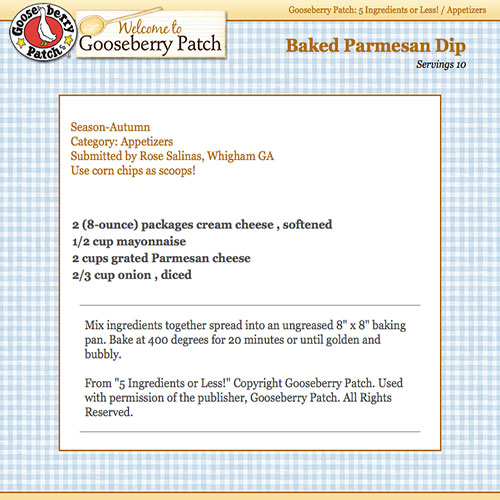 New Fresh theme included. (Recipe pictured not included in this cookbook)
Recipes Included:
A
Always-Requested Spinach Dip
Apple-Cranberry Crisp
Artichoke Party Triangles
Autumn Apple Pie
B
BBQ Chicken Pizza
Bacon & Blue Cheese Stuffed Burgers
Baked Steak with Gravy
Barbecued Pork Chops
Best-Ever Grilled Cheese Sandwiches
Blue Cheese Potato Salad
Brocco-Flower Salad
Broccoli-Cheddar Soup
Buttermilk Fried Chicken
C
Campers Beans
Caramel Rolls
Carrot Cake
Cheddar-Chive Bites
Chewy Chocolate Chip Cookies
Chicken Taco Salad
Chocolate Bread Pudding
Chocolate Tartlets
Cinnamon-Apple Parfaits
Classic Tuna Noodle Casserole
Country Beef Roast
Country Potato Bake
Country-Style Skillet Apples
Creamy BLT Dip
Creamy Chicken Enchiladas
Creamy Cucumber Crunch
Creamy Tomato Soup
Crunchy Apple-Pear Salad
Crunchy Hot Chicken Salad
Crustless Pumpkin Pie
D
Dilly Casserole Bread
Dried Beef Cheese Ball
E
Easy Cherry Cobbler
Easy Pork & Sauerkraut
Eclair Cake
F
Famous Broccoli Casserole
Fresh Tomato Pie
Fried Green Tomatoes
Frosted Sugar Cookies
Fudge Brownie Pie
G
Garlicky Parmesan Asparagus
Goalpost Apple Slaw
Grandma Gracie s Lemon Cake
Granny s Country Cornbread
Great American Submarine
Greek Pasta Salad
H
Harvest Spinach Salad
Heartland Barbecued Beef
Hearty Ham & Rice Bake
Hokey-Pokey Cupcakes
Homemade Guacamole
Hot Bacon-Potato Salad
Hot Caramel Apple Cider
Hot Crab Spread
I
Italian Sausage & Vegetable Soup
J
Jo Ann s Holiday Brie
M
Make-Ahead Brunch Casserole
Mandarin Orange Cake
Maple Chicken Wings
Marvelous Meatloaf
Mexicalli Pie
Mini Sausage Tarts
Mom s Applesauce Muffins
Mom s Monster Cookies
O
Oven Beef & Noodles
P
Party Nibblers
Peanut Butter Bars
Pepperoni Puffs
Pizza Fondue
Praline Pecan Mini Cakes
Q
Quick & Spicy Shrimp Linguine
R
Raspberry Truffle Cheesecake
Robert s Corn Dip
Rocky Road Bars
Rosemary Roast Pork Loin
Rustic Peach Tart
S
Savory Cheese & Bacon Potatoes
Scalloped Potatoes & Ham
Shepherd s Pie
Slow-Cooker Sloppy Joes
Stacie s Spaghetti Pie
Streusel-Topped Raspberry Bars
Summer Sparkle
Summertime Strawberry Shortcake
Sunday Chicken & Dressing
Sweet Ambrosia Salad
T
Taco Soup
Tangy Meatballs
Tex-Mex Meatball Subs
Texas Sheet Cake
Touchdown Pinwheels
V
Veggie Patch Stew
Very Berry Peach Pies
Vickie s Shredded Chicken Sandwiches
W
Warm Blue Cheese & Bacon Dip
Z
Zesty Black Bean Salsa
---
Cook'n Is Several Products in One!