The
Whole Foods

Allergy Cookbook
by Cybele Pascal
---
---
NOTE: You must have Cook'n installed to use this download!
---
The
Whole Foods

Allergy Cookbook
Two Hundred Gourmet & Homestyle Recipes for the Food Allergic Family.
Delicious Whole Foods Recipes Free of Milk, Eggs, Wheat, Soy, Peanuts, Tree Nuts, Fish, and Shellfish!
The Whole Foods Allergy Cookbook is a cookbook that will appeal to everyone; from those that want delicious food but suffer food allergy or intolerance to those who simply want great home cooking that can be served to all their friends and family no matter what they can or can't eat.
The Whole Foods Allergy Cookbook is an important health resource for you and your family. Here, for the first time, is a comprehensive recipe book that eliminates the top eight food allergens as identified by the Food and Drug Administration.
There is no need to miss out on nutrition, variety, or flavor - even if you can't tolerate certain foods. These recipes include all of the foods you can eat, and they will reward you with the added benefits of improved health and great taste.
About the Author
Cybele Pascal is passionate about cooking and food history. She grew up on Cape Cod in a family of outstanding cooks. The family's large organic garden provided the fresh ingredients for many of their delicious and exciting meals. This background, combined with fifteen years of restaurant experience and extensive world travel, have inspired in Cybele a love of a wide range of cuisines.
Cybele learned about hypoallergenic cooking firsthand when her son was diagnosed with severe food allergies, and she rose to the challenge by making each family meal a delicacy. She lives in Los Angeles, California, with her husband, actor Adam Pascal, and their sons, Lennon and Montgomery.
CookBook Reviews
This is an inspired book. A "restricted diet" has been redefined. With 200 thoughtful and accessible recipes there is finally a cookbook that celebrates the pleasures of everyday eating for everyone.
Dan Barber, Executive Chef/Owner of Blue Hill Restaurant in New York City
Cybele Pascal hits the mark with The Whole Foods Allergy Cookbook. The simple, well-crafted recipes offer true hope to the rapidly growing number of families who suffer from serious food allergies and have few options in their family's search for good health and good food.
Michel Nischan, Chef and Bestselling Author of Taste Pure and Simple:
Irresistible Recipes for Good Food and Good Health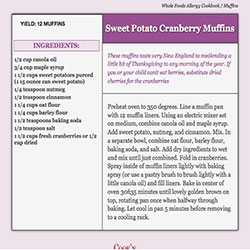 CONTENTS
Acknowledgments
Foreword
Introduction

How to Use This Book
Whole Foods
Basic Supplies

BREAKFAST
Pancakes
Muffins
Scones
Biscuits
Breads
Cereals

LUNCH
Soups
Salad Dressings
Green Salads
Hearty Salads
Spreads
Sandwich Ideas

About Cooking Oils

DINNER
Red Sauces
Pasta
Risotto

The Benefits of Organic, Free-Range and Wild Meats
Meat Entrees 86 About Cooking Beans

Allergies Cookbk:Allergies Cookbk
Vegetable Entrees
Side Dishes

Eliminating Refined

Cane Sugar
SWEET THINGS
Pudding
Cupcakes
Cookies
Fruit Combos
Cakes
Pies

AFTER-SCHOOL SNACKS
Bars, Balls, and Rolls
Trail Mix
Popcorn
Fruit Delights
Pizza
Pretzels

Metric Conversion Charts
Appendix
Resources
Bibliography
General Index
Recipe Index
Author Biography
List of Recipes
acorn squash with cranberries (or cherries)
agave-sweetened chocolate frostin
american picnic potato salad
ancho turkey chili
apple pancakes
apple pie
applesauce oat raisin muffins
artichoke spread
asparagus leek risotto
avocado mayonnaise
avocado raita
baby spinach with roasted portobello
mushrooms and red bell pepper
baked apples
baked ham with pineapple
baking/cooking products
banana bread
banana cupcakes
basic biscuits
basic muffins
beer-battered chicken nuggets
bib lettuce with fennel, apple, and roasted beets
bison chili
black bean and spinach burritos
blueberry duck breast
blueberry peach mint fruit salad
braised beef short ribs with rosemary and fennel
bread/bread products (allergen-free)
breaded chicken cutlets with roasted red peppers
brown rice with celery and mushrooms
buckwheat cherry pancakes
butternut squash with maple syrup
canned/bottled goods
caramelized onion gravy
carrot bundt cake
carrot ginger dressing
cauliflower soup
cereals, ready-to-eat (allergen-free)
cherry dijon pork chops
cherry pie
cherry vanilla bread
chicken cacciatore
chicken marsala
chicken pot pie with biscuit crust
chicken soup with cornmeal dumplings
chocolate chip cookie bars
chocolate fondue
chocolate layer cakes with agave-sweetened chocolate frosting
chocolate-covered raisins
chopped liver
cinnamon fig granola
coconut rice
cole slaw
common ground salad
condiments/flavorings
cooking dried beans
corn chowder
cornbread and wild mushroom stuffing
cream of asparagus soup
creamy avocado chicken salad
creamy avocado dressing
creamy red pepper soup
crispy asian salad
crispy turkey cutlets with chopped arugula and tomato salad
crunchy cereal bars
cuban salad with oranges and red onion
curried lamb with apricots over brown basmati rice
curried popcorn munch
curried pumpkin soup
curried rice with raisins
dessert items
dill potato salad
dora's cranberry sauce
easy coconut rice pudding
easy orange frosting
easy vanilla frosting
eggplant spread
eliminating refined cane sugar
endive, radicchio, and arugula salad
everyday sweet potato bake
falafel
fennel-crusted pork tenderloin
four bean stew
fried bananas
frisee with figs, pear, and crispy bacon
frostings
fruit nuggets
garden salad
gazpacho
grains/grain products
grandmother catherene's cornbread
greek salad
greek salad dressing
greek-style chicken with lemon and oregano
grilled chicken breasts with mango salsa
grilled vegetables
guacamole
herbed jerusalem artichokes
herbs/spices
herbs/spices/condiments
holiday orange sweet potato bake
hummus
jammy surprise muffins
lamb kebabs with eggplant, red onion, and red pepper
lamb loin chops with molasses tarragon glaze
lamb stew
lasagna with eggplant, portobello mushrooms, and fresh tomatoes
lemon chicken soup with rice
lemon quinoa

lemon tahini dressing
lime skirt steak with pineapple salsa
linguine with mock white clam sauce
louisiana sloppy joes
luncheon meats (organic and/or nitrate-free)
maple popcorn
marinated chicken skewers with pineapple and onion
mashed potatoes
meats (organic and/or free-range)
milk substitutes
millet marranca
millet with sage and red bell pepper
minestrone
moroccan vegetable tagine
muesli
mushroom barley soup
my favorite dressing
new potatoes with parsley
oatmeal raisin scones
oils
old-fashioned oatmeal cookies
orange frosting
orange layer cake
orange zucchini bread
other items
oven baked sweet potato fries
pasta
pasta primavera
pasta salad
peach pancakes
pear crumble
penne with cauliflower and olives
pheasant with apples
pineapple banana granola
polenta
polenta pie
polenta radiatore with prosciutto, shiitake mushrooms, and spinach
polenta with mushrooms
pomegranate glazed rock cornish game hens
porcini mushroom risotto
pork chops with tomatoes and sage
pork tenderloin medallions with raisin sauce
portuguese kale soup
potato chips
potato scones
produce
produce (fridge)
pumpkin seed butter honey balls
quinoa tabouli
rack of lamb (or rib chops) with garlic, rosemary, and mint
raf's cuban rice and beans
raspberry streusel bars
ratatouille
red wine vinaigrette
renaissance salad
rice pilaf
rice salad
rigatoni with italian sausage, peppers, and onions
roast chicken with root vegetables
roast turkey breast
rolled maple sugar cookies
roman rabbit
rosemary garlic fingerling potatoes
royal fusilli with asparagus, fresh peas, and tomatoes
rye bread with dates
saffron jasmine rice
sausage, dried fruit, and apple stuffing
seeds/seed butters (if permitted)
shepherd's pie
simple red sauce
snacks (allergen-free)
soft granola bars
soft pretzels
spaghetti with turkey meatballs
spaghettini with spicy eggplant
spirals with grilled vegetables (and chicken)
steak with thyme
stuffed cabbage
stuffed mochi puffs
substituting the substitutions
sunbutter fruit roll ups
sunflower lentil loaf
swedish meatballs
sweet grits
sweet potato cranberry muffins
sweeteners
tagliatelle with bolognese ragu
tarragon roast potatoes
thai yellow curry with eggplant and sweet potato
thanya's corn salad
the lady from naples red sauce
tips for a whole foods diet
tomatoes stuffed with italian pork sausage and rice
tortilla pizzas
tortilla soup
trail mix
turkey burgers with caramelized onions
turkey meatloaf
turkey noodle soup with spinach
vanilla frosting
vegetables
venison osso buco with saffron jasmine rice
vichyssoise
vietnamese summer rolls with sweet chili dipping sauce
waldorf salad
white bean spread
wild boar tenderloin with green mole
wild mushroom bisque
wild rice pilaf with cherries, zucchini, and carrots

---
---
Cook'n Is Several Products in One!