Vicki's Vegan Kitchen Cookbook
by Vicki Chelf
---
List Price: $17.95
Your Price:
$14.36
You Save: 20%
---
NOTE: You must have Cook'n installed to use this download!
---
Over 375 kitchen- tested recipes
Easy-to-follow step-by-step recipe instructions
Lots of cooking tips
Helpful food preparation guidelines
Instructional illustrations throughout
Detailed glossary of ingredients
Sprouting instructions
Health benefits of the vegan diet
New Cook'n Theme included.
Save time and money by using Cook'n
Vicki's Vegan Kitchen Cookbook
Eating with Sanity, Compassion & Taste
Come on in. There's always room for anyone who wants to experience the pleasures of vegan cooking. After all, it's no secret that dishes made with fresh local ingredients that are properly prepared are absolutely delicious . . . and the healthiest that the planet has to offer. As Dr. T. Colin Campbell's comprehensive China Study has shown, there is an undeniable link between a vegan diet and the prevention of serious health conditions, including heart disease, cancer, type II diabetes, and autoimmune diseases. And as you are about to discover, Vicki's Vegan Kitchen is the perfect cookbook to support this healthy dietary lifestyle. In it, author Vicki Chelf-cooking teacher and decades-long follower of the vegan diet-shows you just how easy it is to prepare divinely delicious plant-based foods.
About the Author
Vicki Chelf is an experienced natural foods cooking instructor, an accomplished artist, and an internationally recognized food writer. She has also served as head chef at a top natural foods restaurant. Ms. Chelf has written and coauthored numerous cookbooks, including The Arrowhead Mills Cookbook and Cooking for Life.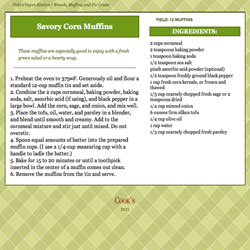 New Cook'n theme included.
Recipes and Articles Included:
Beef Stew
Real Food
A Word About Tofu
About Seitan "Wheat Meat"
Acknowledgments
Adzuki Beans with Winter Squash
African Stew
Almond Butter and Jam Cookies
Almond Milk
Apple Cinnamon Pizza
Apple Crisp
Apple Pancakes
Apple Tahini
Apple, Spice, and Oatmeal Muffins
Apple-Cranberry Porridge
Appliances and Cookware
Arame Condiment
Arame Orange Watercress Salad
Arame Rice Salad
Artichoke and Tomato Pizza
Avocado Mousse
Avocado Vichyssoise
Avocado Yogurt Dressing
Avocados Rule!
Baba Ganoush
Baby Lima Bean Soup
Baked Cauliflower Puree
Baking Products and Thickeners
Banana-Walnut Muffins
Barley with Oyster Mushrooms
Basic Appliances and Utensils
Basic Kanten
Basic Whole Wheat Bread
Bay and Orange Infused Tofu
Beans and Soy Foods
Beans to the Rescue
Bechamel Sauce
Beets with Tops
Bell Pepper Relish
Best Blueberry Muffins
Black Bean Stuffed Peppers
Black Bean, Corn, and Tomato Salad
Blender Muesli
Blueberry Crumble
Bread Making for the Busy Cook
Breakfast Banana Wrap
Breakfast Millet with Dates
Broiled Endives
Brown Basmati Coconut Pilaf
Brussels Sprouts Simmered in Tomato Sauce
Buckwheat Stuffed Cabbage Rolls
Buckwheat with Tofu and Thyme
Bulgar and Sweet Potato Pilaf
Bulgar Pecan Rolls
Bulgar with Lentil Sprouts
Buying Commercial Pasta
Buying, Storing, and Preparing Grains
Cabbage in Red Wine
Cajun Style Okra
Carob Drop Cookies
Carrot Almond Salad
Carrot and Rice Cream
Carrot Maple Cake
Cashew Bechamel
Cashew Cream Sauce
Cashew Milk
Cashew-Olive Spread
Cauliflower Croquettes
Celery-Rice Curry
Check Those Labels
Cherie's Salsa in a Glass
Chestnut Porcini Bisque
Chili Con Seitan
Chili Mac
Chocolate Almond Date Candy
Chocolate Macadamia Nut Mousse
Cilantro Pesto
Cinnamon Pecan Sticky Rolls
Cinnamon Raisin Muffins
Cinnamon Raisin Swirl
Cinnamon-Flax Topping
Cleaning and Cutting Leafy Greens
Cleaning Leeks
Coconut Milk
Coconut Pie Crust
Coconut Upside Down Cake
Cold Japanese Noodles with Tofu
Composters and Gardening Supplies
Conclusion
Cooking Cereal in a Rice Cooker
Cooking Couscous
Cooking Dried Beans
Cooking Grains
Cooking Ideas for Tempeh
Cooking Methods
Cookware and Bakeware
Corn Stuffed Tomatoes
Cranberry Fruit Sauce
Cravin' Bacon?
Cream of Three Mushroom Soup
Creamy Corn Bake with Red Beans
Creamy Hemp Seed Dressing
Creamy Leek Quiche
Creamy Peach Pie
Creamy Pine Nut Gazpacho
Creamy Polenta
Create a Wrap
Create-a-Pasta Dish!
Creating a Complete Meal Salad
Crockpot Lima Beans and Wheat Berries
Cucumber Wakame Salad
Cucumber Yogurt Salad
Curb-Your-Cravings Smoothie
Curry Roasted Sweet Potatoes
Daikon Condiment
Date Filled Tahini Cookies
Delicious Onion Rolls
Don't Get Stick in a Sliced Bread Rut
Down South "Milk" Gravy
Dried Fruit for Breakfast
Earsly Spring Miso Soup
Easy Sleepy Time Cocktail*
Easy Tahini Sauce
Eat Well For Less
Eggplant and Sun Dried Tomato Pizza
Eggplant Quiche
Emerald Miso Soup
Equipment
Faux Cheez Whiz
Favorite Flax Oil Dressing
Favorite Papaya Smoothie
Fennel Waldorf Salad
Fettuccine with Porcini Wine Sauce
Fettuccine with Ratatouille
Flavor Enhancers and Preservatives
Florida Salad
Flourless Flax Pancakes
Foods
Foods to Avoid
Foreword
Freezing Fruit and Fruit Juice
Fresh Coconut Maple Granola
Fresh Mango Chutney
Fried Green Tomatoes
Fruit and Nut Squares
Fruit 'n Nut Butter Sandwich
Garden Sauce
Garlicky Butternut Squash over Quinoa
Garlicky Stuffed Mushrooms
Gazpacho Supreme
Getting All Your Nutrients
Getting Creative
Gingered Tofu
Gingery Broccoli
Glossary of Ingredients
Golden Cashew Cream
Golden Squash Bread
Gomashio
Grains and Flours
Grandma's Potato Soup
Great Garnishes
Green Bean Salad
Green Hummus
Green Power Smoothie
Greens and Rice Soup
Greens with Carmelized Onions
Ground Seitan
Growing Your Vegan Kitchen
Guacamole
Guidelines for Following the Recipes
Hazelnut Vinaigrette
Herb and Spice Substitutions
Herbed Pecan Condiment
Hippie Burgers
Holiday Red Spice Smoothie
Homemade Applesauce
Homemade Stuffed Ravioli
How Many Calories Do I Need To Lose Weight?
How Many Calories Do I Need To Maintain My
Weight?
Hummus
Introduction
Jody's Marinated Carciofi
Judy's Banana Custard Smoothie*
Judy's Raw Cranberry Applesauce
Kale, Cabbage, and White Bean Soup
Lambie's Raw Kale Salad
Lazy Guy's Favorite Spaghetti
Lemon Shoyu Dressing
Lemony New Potatoes with Chives
Lentil Carrot Loaf
Lentil Pie
Lentil Soup
Lentil Sprout Saute
Light Tahini Sesame Sauce
Local Vegetable Choices in Winter
Louise's Onion Pizza
Luscious Tomato Garlic Sauce
Macaroni and Vegetable Casserole
Making Homemade Pasta
Making Homemade Soymilk
Making Nut and Seed Butters
Malted Peanut Spread
Mango Dressing
Maple Baked Acorn Squash
Maple Icing
Maritime Salad
Masoor Kidal
Melon Sorbet
Miso-Mustard Dressing
Mmmm, Pizza
More Cooking Ideas for Seitan
Mr. Singh's Potato Eggplant Curry
Mung Dal
Mushroom Wine Sauce
My Best Summer Vegetable Soup
New Brunswick Chowder
No Bake Blueberry Pie
No Bake Oatmeal Cookies
No-Excuse Quick Bread Crumb Crust
Nori-Maki
Nuts and Nut Butters
Oat Milk
Oils
Old Fashioned Apple Pie
Olive and Almond Pate
Organizations and Services
Pan Seared Tempeh Marsala
Pasta with Black Beans
Pasta with Spinach and Red Pepper Sauce
Pattypan Squash with Red Peppers
Peaceful Cocktail*
Peachy Morning Smoothie*
Peanut Butter Oatmeal
Pearl Buck Radishes
Peasant Style Kasha and Potatoes
Pecan Butter
Pecan Pie Crust
Pecan Stuffed Thanksgiving Loaf
Penne with Black Olives and Rose Sauce
Perfect Porridge
Petit Coconut Ginger Scones
Pie Baking Tips
Pie Crust Pointers
Pine Nut Dressing
Pinto Beans A Ma Facon
Plantains for Breakfast
Poblano Pepper and Red Bean Dip
Polenta Stuffed Portabellas
Porcini Pizza
Pot Liquor Sauce
Potage Of Cauliflower and Leek
Potato Cakes
Potato Kale Soup
Potato Pie Crust
Potatoes and Turnips au Gratin
Preface
Preparing Dried Legumes
Preparing Fresh Coconut
Pressure Cooked Brown Rice
Prune Date Sauce
Pumpkin Seed Pate
Putting It Into Practice
Quick 'N Easy Tomato Sauce
Quinoa with Green Beans
Raisin Bread
Raspberry Cream Pie
Raw Almond Pate
Raw Gluten
Recommended Reading
Red Gem Salad
Red Pepper Sauce
Red, White, and Blue Muesli
Rice and Apple Pudding
Rice Cream
Rice Milk
Roasted Garlic and Bell Pepper Dressing
Roasted Garlic Mashed Potatoes
Roasted Garlic Tapenade
Roasted Garlic Vinaigrette
Roasting Bell Peppers
Roasting Garlic
Robin's Easy Mushroom Pate
Rosemary and Garlic Focaccia
Rosemary Millet Puree
Ruby Red Borscht
Rutabaga and Sweet Potato Casserole
Safe Citrus Peel
Salad Dressings
Sandwiches
Sauteed Eggplant over Fettuccine
Sauteed Leeks
Save the Starch Water
Savory Corn Muffins
Savory Lemon Dressing
Savory Peanut Spread
Savory Tomato-Basil-Corn Muffins
Scrambled Tofu Carrot Curry
Sea Vegetables
Seitan
Seitan Crumbles
Seitan Subterfuge
Sesame Cloverleaf Rolls
Sesame Oil Dressing
Shiitake and Arame Saute
Silken Spinach
Silken Tofu Whipped Topping
Simple Berry Smoothie
Simple Ideas for Filling Your Lunchbox
Simple Red Dal with Miso
Simple Rice Croquettes
Simple Teff Porridge
Skillet Hashbrowns
Smoothies-Easy Do-It-Yourself Drinks
Snow Pea and Quinoa Stir Fry
Soup Making Tips
Soupe Provencal (Garlic Soup)
Sourdough Rye
Sourdough Starter
Southwestern Tomato Squash Soup
Soyannaise
Special Appliances
Spiced Stewed Apples
Spicy Peanut Sauce
Spinach Green Sauce
Spinach Quiche
Spread That Bread!
Sprouted Pea Soup
Sprouted Wheat Breakfast
Sprouted Wheat Treats
Sprouting A Garden in Your Kitchen
Stewed Rhubarb
Strawberries in Rose Water Sauce
Stuffed Eggplant
Stuffed Figs
Summer Squash and Coconut Curry Soup
Sun Chokes with Tomatoes and Herbs
Sun Dried Tomato Cream Sauce
Sun Dried Tomato Dressing
Sunny Citrus Sauce
Susan's Energizing Tonic*
Sweet and Sour Tempeh
Sweet Potato Pie
Sweeteners
Tabouli
Tahini Miso Sauce
Tahini Umeboshi Dressing
Tahini-Carrot Spread
Tangerine Dream Sorbet
Tartar Sauce
Teff Chocolate Pudding
Teff Patties
Tempeh Pizza
Tempeh Salad
The Bread-Making Method
The Importance of Organic
The Ingredients
There's Is No Fu Like a Tofu
Thermos-Cooked Wheat Berries
Tips for Bean Digestibility
Tofu "Fish" Sticks
Tofu and Greens with Onion Sauce
Tofu Bourguignon
Tofu Carob Brownies
Tofu Crumbles
Tofu Dumplings
Tofu Mushroom Sauce
Tofu Shepherd's Pie
Tofu Veggie Corn Cakes
Tofu with Chard and Shiitake
Tomato Avocado Salad
Tomato Salsa
Tropical Hibiscus Punch
Try a Mochi Waffle
Try Some Roasted Chestnuts
Tunisian Coucous
Tuscan Spelt Salad
Tuscan White Bean Soup
Udon Noodles with Asparagus
Umeboshi Cream
Under Pressure Cream of Broccoli
Vegan "Chopped Liver"
Vegan Cheese Please
Vegan Cornbread
Vegan French Toast
Vegan Lasagna
Vegan Pesto
Vegetable Chili
Vegetable Pate
Veggie Delights
Vicki's Favorite Green Juice
Vicki's Flaxseed Muffins
Weight Control for Vegans
What Should I Do With...
Wheat Balls
When Cooking Beans
When It Comes To Potatoes...
When Making Green Salads...
Where To Shop
Whipped Tahini
White Bean and Roasted Garlic Puree
Who Doesn't Love Pizza?
Whole Wheat Noodles
Whole Wheat Pie Crust
Whole Wheat Pizza Crust
Whole Wheat Press-In Crust
Whole Wheat Waffles
Wild Blueberry Coulis
---
---
Cook'n Is Several Products in One!