The Sourdough Bread Bowl Cookbook
by John Vrattos & Lisa Messinger
---

List Price: $11.24
Your Price:
$8.99
You Save: 20%
---
NOTE: You must have Cook'n 10v installed to use this download!
---
Perfect for parties
Over 100 kitchen-tested recipes
Easy-to-use instructions
Suitable for both dinner & buffet tables
Fun & simple to prepare
Includes recipes from famous chefs
New Cook'n Theme included
Save time and money by using Cook'n
The Sourdough Bread Bowl Cookbook
Over 100 Creative Fun Recipes for Appetizers, Soups, Salads, Entrees and More
Piping hot clam chowder served in a crusty sourdough bread bowl may have had its start on San Francisco's legendary Fisherman's Wharf, but it has since become a fashionable choice in restaurants throughout the United States. As the dish's popularity grew, so did the culinary uses of bread bowls. Not just for chowder anymore, these hollowed-out rounds serve as beautiful party centerpieces filled with luscious dips and mouthwatering spreads. They are also chic edible vessels for salads, appetizers, entrées, and even desserts. Now, gourmet cook John Vrattos and best-selling food writer Lisa Messinger have created an easy-to-follow, fun-to-use cookbook to help you get started preparing and serving meals in this unique way.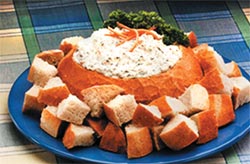 Whether you're using sourdough or pumpernickel, and whether your loaf is out-of-the-oven fresh or store-bought, John and Lisa begin by showing you the simple method for hollowing out a bowl that is both beautiful and functional. What follows are over 100 sumptuous kitchen-tested recipes, ranging from traditional dishes such as Fisherman's Wharf-Style Clam Chowder to innovative creations like Teriyaki Chicken Bowl and Warm Baja Shrimp Taco Dip. Throughout the book you'll also find outstanding bread bowl recipes developed by top restaurant chefs who have honed their culinary skills at such restaurants as the famous Scoma's on Fisherman's Wharf and the prestigious Tadich Grill-San Francisco's oldest eatery.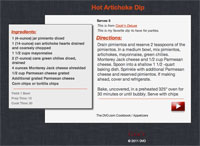 Whether you're hosting a Super Bowl party, preparing a meal for the family, or simply cooking an intimate dinner for two, make your event a little more special with a selection from The Sourdough Bread Bowl Cookbook.
New Cook'n theme included.
---
Recipe Included with this Cookbook:
After Dinner Vanilla Parfait
Antipasto Bread Bowl
Apple Sausage Stew In A Pumpernickel Bowl
Baked Muffuletta Dinner Sandwich
Baking Off the Round
Banana Yogurt Bread Bowl
BLT Bread Bowl Omelet
Blue Cheese Soup
Boston Baked Bean Bowl
Brandied Yam Soup
Bread Bowl
Bread Bowl Bruschetta
Bread Bowl Quiche Lorraine
Broccoli Cheddar Soup
Brunch Style Chili
Buffalo Wing Appetizer
Caesar Salad In An Italian Bread Bowl
California Mandarin Orange Chicken Salad
California Wine and Cheese Stew
California-Stlye Barbecued Chicken Pizza Bowl
Candied Walnuts
Caramel Apple Casserole
Carmelized Onion and Blue Cheese Dip
Cheesy Garlic Bread
Chef Bren Boyd's San Francisco Style Eggs Sardou
Chef Bruce Paton's Pancetta, Couscous 'N' Cheese
Chef Chris Vrattos's Sourdough Bread Pudding
Chef Clyde Serda's Green Chile and Pork Country Stew
Chef Ian Morrison's Chiles Rellenos Shrimp Casserole
Chef Jay Veregge's Shrimp, Prawn, and Lobster Bisque
Chef John Kane's Dijon Mustard Chick Breast
Chef Peter Vrounggos's Carrot Ginger Dip In A Whole Wheat Bowl
Chef Salvatore John Campagna's Christmas Tenderloin
Chicken 'N' Sourdough Dumplings
Chicken and Dumplings
Chicken Casserole With Apricot Preserves
Chicken Noodle Casserole
Chicken Parmigiana Hero
Choosing the Right Ingredients
Cocktail Weenie Bowl
Cooking In Your Bread Bowl
Corn 'N' Crab Chowder
Crab Louis Salad
Creamed Corn Fritter Casserole
Creamed Green Onions With Parmesan And Bacon
Creamy Date-Nut Spread
Creamy Peanut Soup
Creating A Starter
Eggplant and Tomato Custard
Farallon's Crab Imperial Gratin
Fisherman's Wharf-Style Clam Chowder
Fourth of July Chili Dog Casserole
Francesca's Seafood Chowder
Fresh Peas With Thyme
Garlic Lamb Stew With Bread Bowl Dumplings
Gourmet Ham And Cheese On Rye
Grandma's Goulash
Ham and Green Bean Casserole
Hearty Chicken Stew With Basil
Hit-The-Trail-Mix Parfait
Hollowing Out the Bread Bowl
Hot Italian Sausage Stew
Indian Cucumber Raita
John's Mixed Green Masterpiece
Juevos Rancheros
Lemon-Garlic Barbecued Lamb
London Broil Coffee-Cup Casserole
Mexican Lasagna
Mimosa Bowl
Minestrone That's A Meal
Minted Fresh Pea Soup
New Year's Champagne Chicken al'Orange
Noodle Kugel In A Pumpernickel Bowl
Peaches and Cream Coffeecake Crumble
Pesto Mushroom Saute
Poached Salmon With Mustard-Dill Sauce
Popcorn Shrimp Gumbo
Roux
S'mores Sourdough Fondue
Scoma's-Inspired Warm Cioppino Salad
Serving From Your Bread Bowl
Shopping For The Right Bread
Shrimp With Saffron Cream Sauce
Sir George's Royal Cranberry Sauce
Sizzling Beef Fajita Salad
Sky-High Reuben On Rye
Sourdough Paella
Sourdough Starter
Southwestern Shepherd's Pie
Spaghetti And Meatballs In An Italian Bread Bowl
Spaghettini Casserole
Spicy Lamb Easter Basket
Spicy Southwestern Ground Beef Stew
Spinach Dip With Portabella Mushrooms and Pine Nuts
Stefatho
Storing Your Bread Rounds
Strawberry Blintz Casserole
Strawberry Fields Salad
Sweet Potatoe Shepherd's Pie
Teriyaki Chicken Bowl
Three Cheese Ball In A Bowl
Three-Cheese Spinach Bake
Time to Get Started
Tropical Meringue Nest In A Hawaiian Sweet Bread Bowl
Tuna Melt Casserole
Turkey Breast Putanesca
Turkey Cranberry Pot Pie
Very, Very, Very Good Vegetable Stew
Warm Baja Shrimp Taco Dip
Warm Cobb Salad
Why Sourdough
Wine Country Onion Soup
Yia Yia's Meatball Bowl
---
Cook'n Is Several Products in One!