The Sophisticated...
Olive
Cookbook
by Marie Nadine Antol
---

List Price: $13.95
Your Price:
$11.16
You Save: 20%
---
NOTE: You must have Cook'n installed to use this download!
---
Designed for lovers of the olive
Part One explore the rich and fascinating history of the olive
Part Two offers over 80 Recipes
History as old as the Bible
Cocktails, Appetizers, Salads, Entrees, and so much more
New Cook'n Theme included
Save time and money by using Cook'n
The Sophisticated...
Olive
Cookbook
The Complete Guide to Olive Cuisine
Simple. Elegant. Refined. With a history as old as the Bible, the humble olive has matured into a sophisticated culinary treasure. Enter any fine restaurant and you will find the sumptuous flavor of olives in cocktails, appetizers, salads, entrees, and so much more. Designed for lovers of the olive and, of course, its golden oil here is a complete guide to understanding and enjoying this glorious fruit.
Part One of The Sophisticated Olive begins by exploring the rich and fascinating history of the olive, from its ancient legends to its many biblical citations to its place in the New World. It then details the olive's journey from tree to table, highlights its proven effectiveness as both a medicine and a cosmetic, and provides an introduction to the many delectable olives and olive oils found around the world. Finally, this section presents everything you need to know to grow an olive tree in your own backyard a delight you can enjoy even if you live in the coldest of northern climes!
Part Two offers over eighty recipes designed to put a smile on the face of any olive lover. First, it explains the many ways olives can be cured at home. Then, it presents a vast array of beverages, salads, dressings, tapenades and spreads, infused oils, soups, side dishes, entrees, breads, and even cakes, all made with either the olive or its luscious oil. And from The Perfect Dry Martini to Olive-Oil Roasted Potatoes to Old-Fashioned Olive Bread, every recipe is hand-selected, kitchen-tested, and guaranteed to please.
Whether you only occasionally nibble a cocktail olive or you joyfully revel in flavorful tapenades and fragrant bowls of dipping oil, this is a book that will entrance you by revealing the fascinating faces of the sophisticated olive.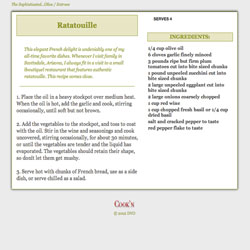 New Olive Theme Included
About the Authors
Marie Nadine Antol is a professional writer with more than fifteen titles to her credit. She focuses her writing skills in many areas, including that of the culinary arts. Ms. Antol's bestsellers include Healing Teas, The Incredible Secrets of Mustard, and Confessions of a Coffee Bean. Currently, she resides in the Los Angeles area.
Table of Contents
Introduction
PART ONE

TheLifeandTimesoftheOlive
1. The History of the Olive
2. From Tree to Table
3. Olives of the World
4. Olives, Health, and Beauty
5. Olives in Your Own Backyard

PART TWO
The Tastes and Pleasure sof the Olive
6. The Art of Olive Making
7. Cooking With Olives and Olive Oil

Conclusion

---
---
Cook'n Is Several Products in One!