Taste of Broadway
by Carliss Retif Pond
---
---
NOTE: You must have Cook'n installed to use this download!
---
Delicious Recipe from NYC Restaurants
40 Unique Pictures of NYC
15 Quotes about the best of NYC
Fantastic New York City Restaurant Directory
New Cook'n Theme included.
Save time and money by using Cook'n
Taste of Broadway
Restaurant Recipes from NYC's Theater District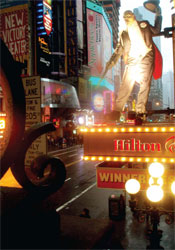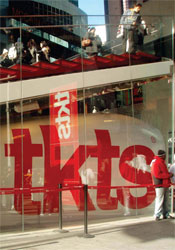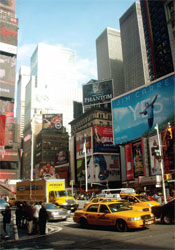 Read Megan's detailed Review of Taste of Broadway Cookbook.
Thirty of the Great White Way's best restaurants. Whether you want a souvenir of a special night on the town or are dining in with friends, Taste of Broadway is a cookbook that will delight. For a fabulous dinner at home, start with something like Crabmeat Stuffed Avocado from Broadway Joe, then Chunky Potato Leek Soup from Café Un Deux Trois. Choose an entree from Sardi's, the "21" Club, Orso, Victor's Cafe or Meson Sevilla. End with a sweet Strawberry Mousse from Trattoria Dopo Teatro, Saintly Zeppoles from Patsy's or Flan from Brazil Brazil. Drinks are on the house from the Algonquin, Frankie and Johnnie's Steakhouse, Russian Tea Room, or Chez Josephine.
Since before Sinatra found his favorite table at Patsy's, Theater District restaurants have been frequented by celebrities and locals alike. And they have simply overflowed with the youthful vibrancy of wannabe actors, singers, and playwrights who staff them. Dashes of local color make this cookbook a treasure for any cook's kitchen.
Carliss Retif Pond earned a master's in English literature from the University of New Orleans. She gained her culinary education at Le Cordon Bleu, Paris, and Ritz Escoffier School. She has been a culinary advisor for Bloomingdale's and a banquet coordinator for the Plaza Hotel. She is the author of Sizzle in Hell's Kitchen and lives in New York City.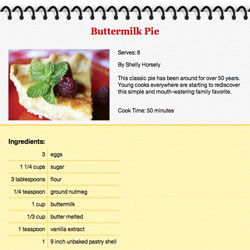 New Cook'n theme included.
Recipes Included:
Arugula con Gamberetti
Asparagus Gratinee
Au Revoir
Avocado Salad with Mango Dressing
Baby Arugula with Crispy Prosciutto
Bartolito
Bean and Tubetti Soup
Belgian Endive, Roquefort, and Roasted
Walnut Salad
Berkshire Pork Chops with Apple and
Cranberry Chutney
Black Sea Bass with Potatoes, Asparagus,
and Citrus Dressing
Boeuf Bourguignon
Braised Lamb Shanks with Early Artichoke,
Spring Potato, and Fava Beans
Brazilian Collard Greens
Brazilian Flan
Bubble and Squeak
Cadillac Margarita
Calamarata Mare and Monti
Camarao con Coco
Caprino Salad
Caviar Crusted Sturgeon
Channa Chat
Cheese and Cherry Blintzes
Chicken Catupiri
Chicken Hash
Chicken Kiev
Chicken Satay
Chicken Tikka Marsala
Chilean Tilapia with Eggplant and Olive Sauce
Chorizo al Vino Tinto
Chunky Potato Leek Soup
Classic Martini
Concord Grape Martini
Cosmopolitan
Costillas de Cordero a las Finas Hierbas
Crabcakes with Chipotle Remoulade Sauce
Crabmeat-Stuffed Avocado
Creamed Spinach
Creamy Polenta
Crevettes Provencales
Crispy Duck a l'Orange
Crushed Potatoes
Crusted Boiled Tomatoes
Do-Ahead Braised Short Ribs
Eggplant Involtino
Ensaladilla Rusa
Fettucini in a Mushroom Cream Sauce
Folies Bergere
Frankie and Johnnie's Special
French Onion Soup
From Russia with Love
Garden Vegetable Soup
Garganelli with Prosciutto and Spring Peas
Gazpacho with Shrimp
Gorgonzola and Mango Salad
Grilled Atlantic Salmon
Hanger Steak with Roquefort Sauce
Haricots Verts
Iridium Salad
Jazz Berry Burger
Lemon Ricotta Torte
Lemon Tart Brulee
Linguine Alle Vongole
Love Me Tenders with Honey Mustard Sauce
Lyonnaise Potatoes
Mango Lassi (Non-Alcoholic)
Mango Mojito
Manhattan
Manzanas al Horno
Marie's Chicken Livers
Marinated Oven-Roasted Chicken with White
Wine, Butter, and Lemon Sauce
Matilda
Mojito Bordelaise
Moscow Mule
Moules Mariniere
Mustard Crusted Salmon with Mustard Beurre
Blanc
Onion Rings
Pan con Tomate
Panna Cotta
Pasta e Fagioli
Patsy's Chopped Salad
Penne Sauce Pistou et Saumon
Petit Fillet of Beef with Tarragon Cognae
Mustard Sauce
Polenta e Cinghiale (Wild Boar and Polenta)
Pollo Extremena
Pollo Manigua
Popeye's Spinach Salad
Portobello Ole
Potatoes Gratinee
Poulet Basquaise
Racahel's Mac and Cheese
Rasputin
Ravioli Dopo Teatro
Red and Yellow Beet Salad
Red Passion
Rigatoni Caprese
Rigatoni Sorrentino
Russian Borscht
Saintly Zeppoles
Salad of Mission Figs, Baby Fennel, Frisee,
Pecornio, and Italian Truffle
Salmao a Brazileira
Sangria
Sauteed Julienned Portobellos
Sauteed Swiss Chard
Sea Scallops with Lemon Thyme, Mint, and
Tomato Sauce
Seared Sea Scallops on Spinach Beds
Senegalese Soup
Shrimp Enchilada
Shrimp Scampi
Sidecar Normand
Smoked Trout and Fingerling Potato Cakes
Sopa de Ajo
South Side
Spaghetti Bolognese
Spice Rubbed Pork Chops with Port Wine and
Plum Sauce
Spinach Tagliatelle with Duck Confit and
Exotic Mushrooms
Steak au Poivre
Steak Fiorentina
Steak Tacos al Carbon
Steak Tartare
Stracci Alle Fave
Strawberry Mousse in Flourless Pastry
Strawberry-Sauced Filet Mignon
Stuffed Clams
Tabbouleh
Tagliolini Verdi Gamberetti e Zucchine
The Cavitini
The Count's Stroganoff
Tilapia with Crabmeat Dressing
Tostadas de Vino
Traditional Chicken Noodle Soup
Trout Amadine
Ultimate Crabcakes with Cucumber, California
Olive, and Red Onion Salad
Waldorf Salad
White Fallow Venison Hash
Zuppa de Broccoli
Zuppa Di Pesce Adriatica
---
Cook'n Is Several Products in One!