Stevia
by Rita DePuydt
---
---
NOTE: You must have Cook'n installed to use this download!
---
Over 100 Stevia recipes.
Perfect way to start the new year.
Includes recipes for desserts, drinks and more!
Healthier alternative to processed sugars.
New Cook'n Theme included
Save time and money by using Cook'n
Stevia


Naturally sweet recipes for desserts, drinks and more!

Cut your Calories, improve your health and still enjoy your favorite sweet treats!

If you are concerned about too much sugar in your diet and are reluctant to use artificial sweetners, try these delicious low-sugar recipes, sweetened with an extract of the herb stevia rebaudiana.

This book is a combination of Rita's two previous cookbooks, Baking With Stevia I and II, along with new and revised recipes. Includes information on how to use stevia as a substititue for other sweeteners.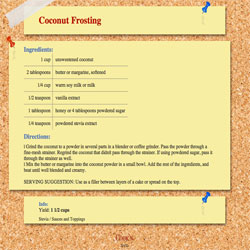 Cork Board Theme Included
Recipes Included:
"Whipped Cream"
About the Author
Acknowledgments
Almond Delights
Almond Milkshake
Almond or Cashew Milk
Apple Bran Muffins
Apple Butter
Apple Crisp
Apple Filling
Apple Mousse
Applesauce
Applesauce Gingerbread
Apricot Sauce
Baked Pears
Baking Equipment Sources
Banana Bread
Banana Cake
Banana Coconut Custard
Banana Date Pudding
Berry Sauce
Blackberry Cream Pie
Blueberry Muffins
Blueberry Pie
Blueberry Tofu Bundt Cake
Breakfast Sweet Rolls
Carob Brownies
Carob Date Frosting
Carob Pecan Cake
Carob Pudding
Carrot Cake
Carrot Muffins
Cashew Coconut Chews
Cashew Cream
Cheesecake
Chocolate Brownies
Chocolate Cheesecake
Chocolate Chip Cookies
Chocolate Ice Cream
Chocolate Pudding
Chocolate Sauce
Chocolate Tofu Cheesecake
Coconut Banana Cream Pie
Coconut Fig Chews
Coconut Frosting
Cranberry Gelatin Salad
Cranberry Orange Muffins
Cream Cheese Frosting
Creamy Baked Rice Pudding
Creamy Cranberry Sauce
Creamy Date Shake
Crepes
Crisscross Peanut Butter Cookies
Date Bars
Date Nut Bread
Date Nut Cookies
Deep Dish Apple Pie
Dutch Apple Cake
Flan
Foreword
Frozen Fruit Yogurt
Fruit Compote
Fruit Juice Gelatin
Fruit Juice Sauce
Ginger Ale
Granola Energy Bars
Holiday Cranberry Sherbet
Hot Carob "Cocoa"
Hot Cocoa
Introduction
Jam
Jam Dot Cookies
Lemon Cream
Lemon Icing
Lemon Meringue Pie
Lemon Poppyseed Cake
Lemonade
Mango Papaya Smoothie
Maple Nut Ice Cream
Maple Tofu Cheesecake
Mint Stevia Iced Tea
Molasses Cookies
Oatmeal Raisin Cookies
Orange Cooler
Orange Pop
Orange Sherbet
Peach Crumble
Peach Muffins
Peanut Butter Banana Chocolate Chip Muffins
Peanut Butter Bars
Pear Custard Pie
Pecan Sandies
Plum Sauce
Product Directory
Pumpkin Bars
Quick Berry Ice Cream
Quick Cranberry Punch
Raspberry Cream
Raspberry Sherbet
Refrigerator Cutter Cookies
Sesame Crisps
Sources of Stevia Products
Sparkling Gelatin
Spice Cake
Squash Corn Muffins
Stevia Books and Cookbooks
Strawberry Cream Cake
Strawberry Cream Pie
Strawberry Filling
Strawberry Nog
Strawberry Pina Smoothie
Strawberry Topping for Cheesecake
Summer Fruit Salad
Sweet Potato Rice Pudding
Tapioca Berry Pudding
Tapioca Pudding
Tofu "Whipped Cream"
Tofu Pumpkin Pie
Traditional Pumpkin Pie
Tropical Fruit Bars
Vanilla Pudding
Yam Drop Biscuits
Yam Pecan Muffins
Zucchini Muffins
---
---
Cook'n Is Several Products in One!