Smoothie Power Cookbook
by Robert Oser
---
---
NOTE: You must have Cook'n installed to use this download!
---
Over 90 kitchen- tested recipes
Raw Ingredients
Natural Sweeteners
Allergy-Free Foods
Nutritional Supplements
Health Boosters
Quick, Delicious Drinks for any taste, occasion, or lifestyle
New Cook'n Theme included.
Save time and money by using Cook'n
Smoothie Power Cookbook
Creative and Refreshing Fruit and Vegetable Combinations!
Imagine for a moment preparing a food so delicious that it will please almost everyone, regardless of age, gender, religious or political affiliation, nationality or culture, occupation, or lifestyle. Imagine that this magical food is inexpensive to prepare, and doesnít need fancy or expensive equipment or time-consuming, labor-intensive techniques to prepare. Imagine also that it can be made by almost anyone even a child's regardless of their culinary experience, usually in a matter of a few minutes, without cooking and little to no chopping (if you would rather not chop). This magical dish can be prepared from all raw ingredients, preserving all the nutrients and enzymes. It can easily be prepared without any animal ingredients. You need not add any foods that may cause you an allergic reaction to wheat, no gluten, no yeast. However, if you wish, you can add all sorts of nutritional booster wheat germ, bee pollen, spirulina, flaxseed oil, psyllium seed husks, you name it. Small children love it and will ask for more (and you won't mind giving it to them). Hard-to-please teenagers make their own, their way. Athletes enjoy them after a workout to replenish lost nutrients and calories. Harried students and workers enjoy them for a quick, nutritious breakfast. Body builders add extra protein, calories, and nutrients to theirs for bulking up. For dieters, they can be made low-fat, low-calorie, and nutritious . . . Or they can be gussied up as a very decadent or romantic dessert. Of course you know we're talking about smoothies, those wonderful, nutritious, refreshing drinks made so easily just by throwing a few ingredients into a blender.
The recipes in this book will provide you with the directions to create your own quick, delicious smoothies. There are smoothies for most any taste, occasion, or lifestyle. My family and I had a wonderful time creating these recipes and are confident you and your family and friends will enjoy them as much as we have.
So, get out the blender and start filling it with delicious fruits and goodies! Call in the family and friends, and experience the refreshing goodness of smoothies!
Robert Oser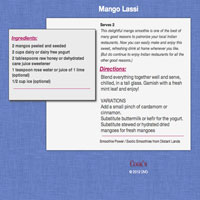 New Cook'n theme included.
Recipes Included:
Fruit Salad Smoothie
Almond Ginger Smoothie
Almond Lassi
Apples and Pears
Apricot Almond Orange Smoothie
Apricot Banana Frappe
Apricot Nectarine Smoothie
Apricots and Peaches
Aprict Ginger Smoothie
Arctic Forest Frappe
Arizona Heatwave
Avo-Banana Whip
Avocados
Banana Blizzard Blast Shake
Banana Brandy Amazake Smoothie
Banana Cappuccino Froth
Bananas
Betty Carotene Cooler
Bilberries
Black and Blue (Berry) Smoothie
Black Cow
Black Forest Shake
Blackberries, Blueberries, Raspberries, and
Boysenberries
Blueberry Bubble
Butterscotch Shake
Candy Bar Shake
Cantaloupe-Melon Cooler
Cantaloupes and Honeydews
Caribbean Egg Nog
Carrots
Cashew Vanilla Smoothie
Cherries
Cherry Vanilla Creme Frappe
Chocolate (or Carob) Malt
Cinnamon Roll Smoothie
Coconut Cream Pie Shake
Coconuts
Code Red Smoothie
Coffee Date Smoothie
Cookies and Cream Shake
Coronado's Golden Dream
Cranberries
Cran-Raspberry Whip
Dancing Star Smoothie
Dark Cherry Frappe
Dates
Equipment and Techniques
Figgy Figgy Smoothie
Figgy Flax Frappe
Figs
Flavorings
Funky Monkey Smoothie
Fuzzy Navel Smoothie
Golden Sunset Smoothie
Grapefruit
Grapes, Raisins
Guava Passion Smoothie
Guavas
Hawaiian Breeze Pina Colada Smoothie
Hazelnut Torte Shake
High C's Smoothie
Honeydew Mint Cooler
Hot Tomato Cooler
Ingredients
Jade Dynasty Cucumber Whip
Jasmine Apple Smoothie
Key Lime Whip
Kiwi Lime Whip
Kiwis
Lemon Ginger Echinacea Immune Builder
Lemon Peppermint Smoothie
Lemons
Limes
Mango Lassi
Mangoes
Maple Butter Pecan Frappe
Maple Pecan Tree Hugger
Mega Smoothie
Midnight Snack Smoothie
Milk and Nondairy "Milks"
Mocha Cooler
Moroccan Delight Smoothie
Moroccan Orange Smoothie
Nectarines
New York Cheesecake Smoothie
Nutritional Additives
Oatmeal Cookie Shake
Old Fashioned Ice Cream Parlor Strawberry
Malt
Orange Almond Joy
Orange Tangerine Smoothie
Oranges and Tangerines
Other Ingredients
Papaya Creamsicle Smoothie
Papayas
Passionfruit
PB and J Smoothie
Peach Cappuccino Smoothie
Peach Chai Smoothie
Peachy Buttermilk Frappe
Peanut Butter Twist Smoothie
Pear Bilberry Smoothie
Pear Whip
Peppermint Coconut Carrot Frappe
Persimmon Cinnamon Smoothie
Persimmons
Pineapple Tangerine Margarita
Pineapples
Pirate's Parrot Juice
Pistachio Banana Smoothie
Plums
Power Breakfast Smoothie
Prunes
Pumpkin
Pumpkin Pie Shake
Purple Cow (or Bean) Smoothie
Rainbow's End Smoothie
Raspberry Orange Smoothie
Rhubarb
Rhubarb Custard Smoothie
Rice Coconut Frappe
Ruby Tuesday Smoothie
Runner's High Protein Power Surge
Sangria Smoothie
Savory Coconut Mint Lassi
Sonoran Cinnamon Silence
Southwest Smoothie
Spicy Lassi
Strawberries
Strawberry Kahlua Shake
Strawberry Kiwi Frappe
Sunflower Seed Oat Bran Smoothie
Sweet Date Shake
Sweeteners
Tahitian Sunrise Tropical Breakfast Smoothie
Tamarind Smoothie
Thai Ginger Pineapple Smoothie
Tips and Notes about the Recipes
Tooty Fruity Smoothie
Triple A Smoothie
Tucson Tonic
Tummy Soothing Smoothie
Vegan Holiday Nog
Watermelon
Watermelon Smoothie
Wheatgrass Orange Juice Smoothie
White Chocolate Hazelnut Frappe
Wilcox Apple Pie Shake
Yam Orange Smoothie
Yams, Sweet Potatoes
---
---
Cook'n Is Several Products in One!