SECRETS
from the
White House Kitchens
by John R. Hanny
---
List Price: $27.99
Your Price:
$22.95
You Save: $5
---
NOTE: This download contains the recipes ONLY. You must have Cookn 9v installed to use this download!
---
Over 300 unique recipes enjoyed by American Presidents
Stories and anecdotes of the first families, their food, entertaining and dining preferences
New Custom Theme based on the cookbook
Save time and money by using Cook'n
SECRETS
from the
White House Kitchens
What Would it be Like to Dine at the White House?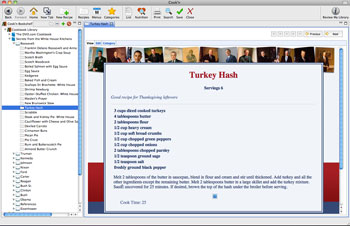 As heads of state sit down to a glittering well-appointed table, imagine the bustling activity in the kitchen as an army of chefs and staff prepare their elegant meal. Now, with this beautiful cookbook you can treat friends and family to dishes worthy of world leaders. Whether you love the hearty country fare enjoyed by the Eisenhowers or prefer the sophisticated haute cuisine served by the Reagans, Secrets from the White House Kitchens offers a wide range of delicious recipes that will make any occasion as special as a state function.
A unique cookbook that is also a food lover's history of America. Join award-winning restaurateur John Hanny as he takes us behind the scenes of what is possibly the most famous kitchen in the world
- The White House Kitchen

John R. Hanny is a well-known figure on the international culinary scene. He received his masters during the Kennedy Administration and has been awarded many honors for his work in the French wine industry. A successful restaurateur and the owner of a catering company, he has been a food consultant for two presidential administrations. Mr. Hanny lives and works in Washington D.C.

Photos from the cookbook Secretes from the White House Kitchen
---
---
I recently purchased "Secrets From the White House Kitchens" from DVO Cook'n, and wanted to tell you how much I've enjoyed it so far. I've read some of it, and plan to try a couple of the recipes soon. The historic anecdotes and quotations at the beginning of each chapter are a pleasure to read.
Respectfully,
Sandy
Cook'n Is Several Products in One!