Raw Food Made Easy
for 1 or 2 people
(revised)
by Jennifer Cornbleet
---
List Price: $14.55
Your Price:
$13.10
You Save: 20%
---
NOTE: You must have Cook'n installed to use this download!
---
Over 150 Recipes
Learn how to avoid health-busters
Convert traditional recipes into nutritious treats
Recipes for Raw On the Go
New Cook'n Theme included.
Save time and money by using Cook'n
Raw Food Made Easy
for 1 or 2 people
(revised)
Getting 5 servings of fruits and vegetables a day has never been so delicious and easy.
Well-known Bay Area cooking instructor, Jennifer Cornbleet, shares her favorite no-cook recipes in quantities ideal for one or two people. With essential time-saving tips and techniques, plus Jennifer's clear instructions, you don't have to toil in the kitchen in order to enjoy nutritious, delicious raw food.
From the Author
My name is Jennifer Cornbleet and I'm the author of Raw Food Made Easy for 1 or 2 People. I'm here to help you satisfy your appetite at any time of the day or night with recipes that are easy, good for your body, and really delicious.
When you're stressed out, running behind schedule, and hungry...or company's coming...or the kids are clamoring for a snack...raw food recipes are the perfect answer. All you need are all-natural ingredients from Mother Nature's pantry to quickly create satisfying meals and treats, without turning to processed food that's so often high in cost, but low in taste and nutrition:
Stir up a large batch of muesli, a breakfast cereal made with rolled oats, raisins, raw nuts, sunflower seeds, and raw honey, to replace the box of commercial cereal that's made with refined flour and sugar and not much nutritional value.
Re-define the traditional high-carb, high-fat tuna sandwich by substituting crisp romaine lettuce leaves for bread and a sunflower, almond, celery, parsley, and onion paté for the fish.
Stuff sweet bell peppers or ripe tomatoes with guacamole for an easy summertime dinner that's ready in minutes, but beautiful enough to serve guests.
Enjoy silken soups even if you can't or don't want to eat dairy products by letting creamy avocado add richness and smoothness to favorites like cream of tomato, cream of cucumber, and cream of zucchini.
Keep your salads waist-friendly by combining cucumber, lemon juice, dill weed, yellow onion, garlic and olive for a dressing that is so luxurious you'd never guess it was low fat. Add a dash of cayenne for a kick of spice.
Get your teens to eat more vegetables with Latin-inspired raw food favorites like Mexican salsa, made with fresh tomatoes, cilantro, onions, lime juice, garlic, and a dash of cayenne or and a Spanish fig cake made with figs, almonds, walnuts, and fresh berries
Teach raw food nutritional goodness to children by serving them a banana or stalk of celery made with homemade, all-natural raw almond butter and naturally sweet raisins.
Raw food recipes are a wonderful option for busy, health-conscious people who love to eat. They require no actual cooking time and can be ready in a matter of minutes. Or you can prepare many of the components to a raw feast in advance so you always have a grab-and-go meal ready when you're hungry. And because the recipes are raw, the ingredients are loaded with everything Mother Nature intended us to enjoy: vitamins, enzymes, fiber, and scrumptious natural flavor.
About the Author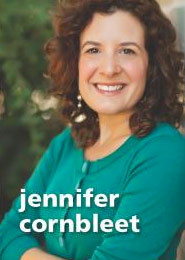 Jennifer Cornbleet is a nationally recognized raw-food chef and instructor and a long-time faculty member at Living Light Culinary Institute in California. She lectures, holds classes, and offers online trainings in the Bay Area and internationally.
Her first book, Raw Food Made Easy for 1 or 2 People, has already sold over 100,000 copies. Two companion DVDs, Raw Food Made Easy and Raw in a Rush, are also available. Jennifer's second book, Raw For Dessert, provides recipes for delicious cakes, cookies, pies, tarts, ice creams, and candies.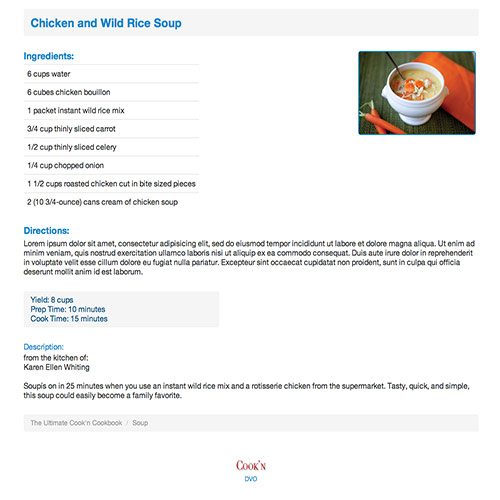 Basics theme included.
---
Recipe Included with this Cookbook:
almond and sunflower seed cereal
almond butter
almond cookies
almond crust
almond flour
almond milk
apple crisp
apple crumb cake
apple pie or tart
apple sandwiches
apple vinaigrette
apple-banana green smoothie
applesauce
arame salad
avocado boat
avocado fruit salad
avocado-lime dressing
banana ice cream
banana pudding
banana shake
banana-grape green smoothie
basic green juice
berries and almond cream
berry smoothie
blackberry crisp
blueberry green smoothie
blueberry pie or tart
brownies
caesar salad
california rolls
cantaloupe smoothie
caprese salad
carob pudding
carrot-apple-ginger juice
carrot-celery-beet juice
carrot-celery-cucumber juice
carrots with moroccan spices
carrots with parsley and walnuts
cashew milk
chia-blueberry breakfast pudding
chocolate chip cookie dough
chocolate green smoothie
chocolate malt
chocolate mousse
chocolate pie or tart with strawberries
chopped salad
citrus sunshine juice
classic Vinaigrette
coconut milk
coleslaw
composed salad with pears
cream of cucumber soup
cream of tomato soup
cream of zucchini soup
creamy berry green smoothie
creamy cucumber dressing
creamy dill dressing
crudités
crumble topping
cucumber lemon water
cucumbers with fresh mint
curried cream of carrot soup
dilly slaw
dried fruit compote
energizing-purifying juice
fall green smoothie
fasting juice
fig crust
fig dressing
flourless chocolate cake
frosty banana-apple green smoothie
garden salad
garden vegetable green smoothie
garden vegetable soup
garden wrap
gazpacho
goddess dressing
granola
grapefruit and avocado salad
greek salad
green salad
green salad with fennel and cherry tomatoes
ground seed mix
guacamole
guacamole sandwich
harvest salad
hemp milk
honeydew green smoothie
hummus sandwich
indian carrot and cucumber salad
jerusalem salad
key lime mousse
key lime pie or tart
lasagne
latin american cabbage
lemon glaze
lemon herb dressing
lettuce, tomato, and avocado salad
mango and avocado salad
mango and collard greens smoothie
mango and red bell pepper dressing
mango pudding
mango salsa
mango sorbet
marinara sauce
marinated vegetables
mediterranean kale
minty green smoothie
miso soup
mock peanut sauce
mock sour cream and chive dip
muesli
multiseed porridge
nonsweet green smoothie
not meatballs
not peanut butter cookies
not tuna pâté
not tuna sandwich
olive tapenade
papaya-banana breakfast pudding
papaya-lime soup
pasta avocado
peachy apple green smoothie
pear and parsley green smoothie
pesto
pesto dressing
pineapple green smoothie
pink apple juice
pizza sandwich
piña colada smoothie
rainbow salad
ramen
ranch dressing
raspberry sauce
salsa
shaved beet salad
simple berry green smoothie
sloppy joe
southern greens
spanish fig cake
spinach-apple soup
spring roll
strawberries with raspberry jam
strawberry cashew yogurt
stuffed bell pepper
stuffed dates in marinara sauce
stuffed mushroom
summer fruit platter
sunflower seed–herb pâté
super green juice
sweet mustard dressing
sweet orange cream sauce
sweet tahini mayonnaise
swiss chard with pine nuts and raisins
tabouli
taco salad
tahini-lemon dressing
thai salad
the wedge
tomato stack
trail mix salad
tricolor salad
tropical fruit pie or tart
tropical fruit salad
V-7 juice
vanilla crème sauce
vanilla ice cream
veggie sub
walnut crust
walnut pâté
walnut pâté sandwich
walnut-raisin cake
whole oatmeal
zucchini hummus
zucchini pasta al pesto
---
Cook'n Is Several Products in One!